Sports > Outdoors
This pack offers security along with storage
Sun., June 19, 2005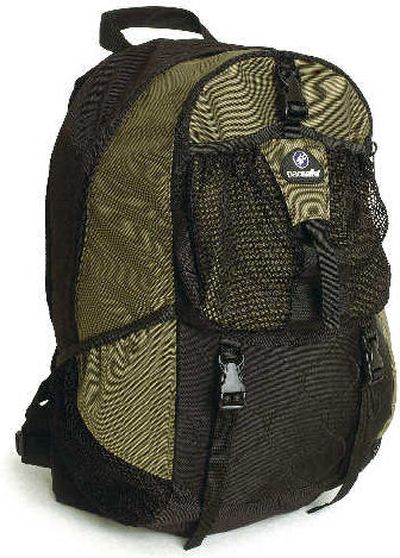 Talk to any group of well-traveled people and the stories of surreptitiously lifted purses, picked pockets and swiped backpacks will eventually start to propagate the conversation.
Passports, cash, credit cards, plane tickets, camera and hotel key can be lifted quiet and clean in an instant, forcing a woebegone trek to the American embassy for identity reclamation, phone calls and money wired in from mom and dad.
Pacsafe's line of security travel products are of the few items I consider to be on-the-road essentials. The company gained notoriety years ago with its Pacsafe Backpacker, a lockable net made of high-tensile stainless steel cable that cinches around a backpack to ward off opportunistic thieves.
My favorite Pacsafe product is the Travelsafe 100, a small nylon pouch made with steel netting hidden under the nylon body.
The company's latest product is a midsize backpack impregnated with stainless-steel mesh. At first glance, the Daysafe, which retails for about $100, looks like a regular backpack. It has an over-the-shoulder harness, a sternum strap, mesh exterior pockets and a regular zipper-accessed compartment. It's 18 inches high and has about 1,500 cubic inches of capacity.
Inside the Daysafe is a second compartment lined with steel mesh. It cinches closed and locks with a small padlock. Like all Pacsafe products, it has a long steel cable that can be pulled out, looped around a stationary object and then locked back onto the pack to keep it from walking away with a thief. A padlock and keys are included.
Another advantage: The Daysafe's mesh-protected compartments are slash-proof. In some heavily touristed and downtrodden locales thieves may forgo swiping a bag from, say, an American college student waiting in line for a subway train. Instead, a razor blade is quickly slashed over the nylon fabric and a small hand goes in for the goods.
In more peaceful settings, the Daysafe can be used as a normal backpack with its lockable interior compartment left open. The retractable cable snakes inside the nylon case and out of the way.
Beyond travel use, the company recommends the Daysafe for college campuses and business settings. Locking up a laptop computer would be a common scenario.
The pack has no hip belt and is not sleek enough for serious athletics like mountain biking. It has no tie-down straps on the exterior and is not large enough for extended trips with a sleeping bag.
But for an average day out on the tourist trail, the Daysafe provides a one-of-a-kind security solution that offers asset protection and peace of mind.
Local journalism is essential.
Give directly to The Spokesman-Review's Northwest Passages community forums series -- which helps to offset the costs of several reporter and editor positions at the newspaper -- by using the easy options below. Gifts processed in this system are not tax deductible, but are predominately used to help meet the local financial requirements needed to receive national matching-grant funds.
Subscribe to the sports newsletter
Get the day's top sports headlines and breaking news delivered to your inbox by subscribing here.
---