News > Spokane
Dedicated group has rocket-powered hobby
Mon., June 20, 2005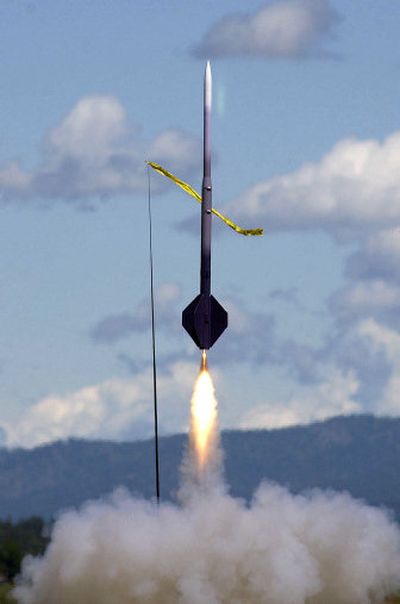 Mark Howe describes himself as a born-again rocketeer.
After first enjoying hobby rockets as a child, the Spokane resident took it up again and regained the enthusiasm he had as a kid when he saw his first flight.
"I had a buddy launch off a rocket in the schoolyard, and thought it was so cool," Howe remembered on Sunday. "I had my parents go out the next day to buy me a kit."
Howe and about 60 others turned out over the weekend near Deer Park for two days of the Spokane Area Rocket Club's (SPARC) high-flying launches.
Sunday was perfect rocket weather, said SPARC Treasurer Bob Yanecek, who lives in view of the launch site graciously offered to the group by a Deer Park farmer.
Fourteen-year-old Joel Phillips has been into rockets since sixth grade. Next year he'll be a freshman at Spokane Valley Christian High School.
"I like it all, the building and the launching," Phillips said. On Sunday, he launched several rockets, including one that takes aerial pictures.
Many of the rockets are small pieces of artwork. At Sunday's launch there was a small rocket made to look like a pencil, fittingly called Skywriter. And then Howe launched his "Wile E. Coyote" rocket, a crooked, multicolored creation that looked like it couldn't possibly fly, but did so fabulously.
For Jonathan Owens, 9, the fun is definitely in the launching.
The Finch Elementary student eagerly pressed the remote launch button throughout the afternoon.
Anyone can get into rocketry, said Howe. Simple rockets are often assembled and launched (under adult supervision) by schoolchildren.
And the hobby doesn't have to be expensive. Kits including a launch pad, controller, a couple of one-time-use motors and the rocket parts start at about $20.
Fans of high-powered rockets, however, can spend thousands of dollars.
The club provides the site and ground control equipment for such launches, which require a waiver from the Federal Aviation Administration.
Though most of the rockets land within a few hundred feet of the launch site, some drift far away and land in a nearby wheat field. That's prompted some to install beepers in their rockets so they can be located in the waves of grain.
SPARC members will head to Lethbridge, Alberta, on July 14-19 for the annual "Large and Dangerous Rocket Ships" event, where some of the highest-flying hobby rockets are typically launched.
This is the first time the event has been held in Canada.
SPARC members have been working on a club rocket that is a one-quarter replica of a Nike Hercules missile – minus the guidance system and explosives, of course.
But misunderstandings about what rockets do means the hobby is under fire in Washington, D.C., where some in Congress believe rockets could pose a terrorism threat, said Yanecek.
"One pound of black powder will do more damage than any of these things can," he said.
SPARC doesn't usually host launches in August because of fire danger, so the next local opportunity to see rocket flights will be Sept. 10-11. The group's events are free to spectators and those launching the smallest hobby rockets. Those wanting to launch large rockets can pay a launch fee or join the club.
Local journalism is essential.
Give directly to The Spokesman-Review's Northwest Passages community forums series -- which helps to offset the costs of several reporter and editor positions at the newspaper -- by using the easy options below. Gifts processed in this system are not tax deductible, but are predominately used to help meet the local financial requirements needed to receive national matching-grant funds.
Subscribe now to get breaking news alerts in your email inbox
Get breaking news delivered to your inbox as it happens.
---