Sports
Endangered species
Mon., June 20, 2005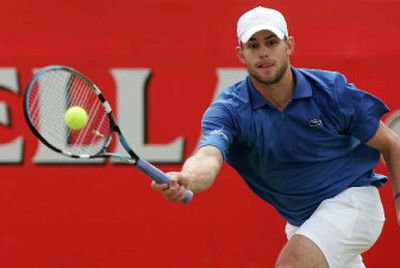 WIMBLEDON, England – When Andy Roddick won the 2003 U.S. Open, he strutted into his post-match news conference and, slapping a table for emphasis, declared with a smile: "No more, 'What's it feel like to be the future of American tennis?' "
Well, kid, it's time to rephrase the question. Something along the lines of: What's it feel like to be the only thing going in American men's tennis?
Unless a U.S. man wins Wimbledon two weeks from now – and Roddick is the only one with a realistic shot – it would mark seven straight Grand Slam tournaments without an American champion, dating to Roddick's breakthrough in New York. That would be the longest such drought in more than 15 years.
The final remnant of the previous generation of American tennis players, Andre Agassi, is 35 and fading, and he pulled out of Wimbledon for the second year in a row. So when the grass-court major's seedings were announced last week, No. 2 Roddick was the lone U.S. man in the top 16. It's the first time there weren't at least two since Wimbledon first seeded 16 players in 1968.
"It is worrisome to me," U.S. Davis Cup captain Patrick McEnroe said. "Clearly, it is a problem for us."
Perhaps everyone was spoiled by all the championships and increased interest brought home by Agassi, Pete Sampras, Jim Courier and Michael Chang. Still, there is plenty of other evidence that this is a fallow period for U.S. men in tennis.
To wit:
"Even with Agassi and Roddick in the fold, the United States lost to Croatia in the first round of the Davis Cup in March. That extended the Americans' drought since their last Cup title to a decade, the longest gap since the 1930s.
"No U.S. man made it past the second round at the French Open in 2004, the first time in more than 30 years that happened at any major. Then it happened again at this year's French Open.
"In last week's ATP Tour rankings, there were just four American men in the top 50: Roddick, Agassi, No. 30 Taylor Dent and No. 41 Vince Spadea. That's only one more representative than Belgium, a nation of 10 million people. There were just eight Americans in the top 100, fewer than Spain or Argentina or France. Argentina has five players in the top 20.
Roddick, 22, could be a leading man for years to come, along with two-time defending Wimbledon champion Roger Federer of Switzerland and 19-year-old Spanish phenom Rafael Nadal, who won the French Open in his tournament debut. There's the potential for a neat, three-way rivalry at the top – their styles of play and personalities are all different.
Look past Roddick, though, and there doesn't appear to be an up-and-coming American ready to excel on the tour. It could be years of waiting for Donald Young, who won the Australian Open junior title in January to become, at 15, the youngest to top the boys' rankings.
The outlook doesn't seem a whole lot brighter for the U.S. women, either. There are 10 in the top 100, and none is younger than 23. Contrast that with Russia, which has 11 women in the top 50, just one older than 23.
"There are no young women coming up," TV analyst Mary Carillo said. "So it's a big concern."
Why are other countries surpassing the United States?
"Tennis is the second-, third-biggest sport in most European countries. Certainly, in South America, it's just more popular," McEnroe said. "It's a way out. They're hungry. These kids are hungry."
True, Roddick and, say, McEnroe's older brother John, didn't exactly grow up wondering where their next meal would come from. But that's only part of the story.
A lack of top American men hurts the sport in two ways: It can have a rollover effect when kids don't have role models who inspire them to take up tennis, and it can sap interest among fans right now.
In surveys conducted by the Tennis Industry Association, the number of people saying they played tennis has been stagnant for a few years, while those classifying themselves as frequent players declined each year from 1999 to 2003.
And look at the TV ratings. Roddick's loss to Federer in last year's Wimbledon final drew the best ratings since 2000 – the last time an American was involved. Last year's U.S. Open final, in which Federer beat Australia's Lleyton Hewitt, set a record for the lowest rating, a 29 percent drop from when Roddick won in 2003.
Just 2 percent of U.S. households turned in for the French Open final between Nadal and Argentina's Mariano Puerta. That's XFL territory.
"It's something that we need for the success of tennis, particularly in this country, but around the world, too," McEnroe said. "We need Americans."
On the other hand, the sport appears to be doing just fine elsewhere. Attendance increased from 2003 to 2004 by about 4 percent on both the men's and women's tours. Sponsors keep pumping in money.
"I still contend that we are in the early stages of a resurgence for the sport," USTA executive Arlen Kantarian said. "We've had more television and sponsorship interest in this sport in the last two years than in any previous two-year period in the last 20."
Kantarian maintains that even if Roddick is the only top American, players such as Federer and Nadal appeal to enough people to transcend nationality.
More likely, though, U.S. players are needed to spur the sport's popularity. And, eventually, they will come along. They always do.
"Before we wring our hands in total despair, remember the days of McEnroe and Jimmy Connors that were never going to return? Less than a generation later, there was the Sampras-Agassi-Chang era," said Cliff Drysdale, a former pro who's been calling tennis at ESPN. "Is it a disaster for tennis in America? No, it's not. The fact that we don't have stars right now is a temporary thing."
Local journalism is essential.
Give directly to The Spokesman-Review's Northwest Passages community forums series -- which helps to offset the costs of several reporter and editor positions at the newspaper -- by using the easy options below. Gifts processed in this system are not tax deductible, but are predominately used to help meet the local financial requirements needed to receive national matching-grant funds.
Subscribe to the sports newsletter
Get the day's top sports headlines and breaking news delivered to your inbox by subscribing here.
---