News > Features
Getting their heads in gear
Mon., June 20, 2005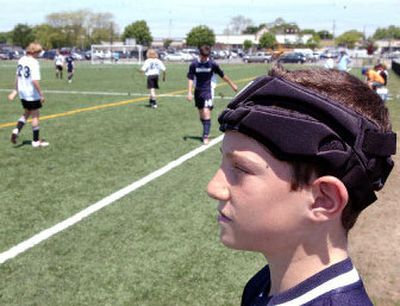 A midfielder with the Albertson, N.Y., Soccer Club, Michael Cott was reluctant to wear protective headgear at first – even after two concussions, one of which landed him in a hospital. But his father, Noel Cott, a club coach, put his foot down. Michael, an eighth-grader, had to wear the headgear or else.
"The thought of wearing any sort of headgear for soccer turned me off," Michael said. But his father was persistent. "It took a while for it to sink in that I wasn't going to be allowed to play unless I wore it," Michael said.
"Until my son got injured, I was unaware the risk of injuries was as likely as it is," Noel Cott said.
Cott, who began coaching soccer in the mid-1990s, said that contrary to common thought, a number of studies he found on the Internet indicated that the majority of soccer injuries resulted from direct contact between players or from contact with hard surfaces, and not from repeatedly heading the ball.
Cott said he couldn't find any statistics documenting claims that incidents of concussion in soccer are rising, but after learning about the headgear produced by a California-based equipment manufacturer, he saw no alternative for his son.
"I wanted to give my son, who loves the game, the opportunity to continue playing," said Cott, the father of three boys.
He said the club did not mandate the wearing of the headgear, but more of the younger teams tend to wear the gear. Some of the older players are more reluctant, he added.
Soccer ranks as the second-largest participatory sport in the United States behind basketball, according to the Sporting Goods Manufacturing Association. The group said about 18.6 million people in the United States play soccer, with participation growing at a rate of 5 percent to 6 percent a year in the past decade.
Like Cott, Jeff Skeen, the founder and chief executive of Full90 Sports Inc. of San Diego, a manufacturer of protective headgear, has first-hand experience when it comes to soccer head injuries. His daughter, Lauren, was 15 when she endured the first of two head injuries about five years ago.
"The neurologist told me you better make sure she doesn't get a third because that will open the door to future problems," Skeen said.
So Skeen, who has been in the protective headgear business for 20 years, designed one for soccer players. Cott learned about Skeen's company on the Internet.
Skeen, in a promotional campaign, supplied the Albertson club with about 1,000 headgear for free. "In the U.S., we have over 100,000 youth players wearing the gear," Skeen said. He would like to see the trend spread nationwide, but it's been a slow movement.
Lloyd Mott, assistant director of the New York State Public High School Athletic Association, said a survey the group conducted five years ago pointed to a very low incidence of head injury in soccer. Moreover, he said, standards exist for helmets in football, baseball, softball and lacrosse, but not soccer.
"We need some type of safety standard to follow before we put headgear on kids," he said.
But Michael Cott is undeterred. "I still love to play the game," he said. "It's always been my favorite sport because it's about lots of speed and lots of contact."
Local journalism is essential.
Give directly to The Spokesman-Review's Northwest Passages community forums series -- which helps to offset the costs of several reporter and editor positions at the newspaper -- by using the easy options below. Gifts processed in this system are not tax deductible, but are predominately used to help meet the local financial requirements needed to receive national matching-grant funds.
Subscribe now to get breaking news alerts in your email inbox
Get breaking news delivered to your inbox as it happens.
---