Sports
Horry's shot leaves Pistons gassed
Mon., June 20, 2005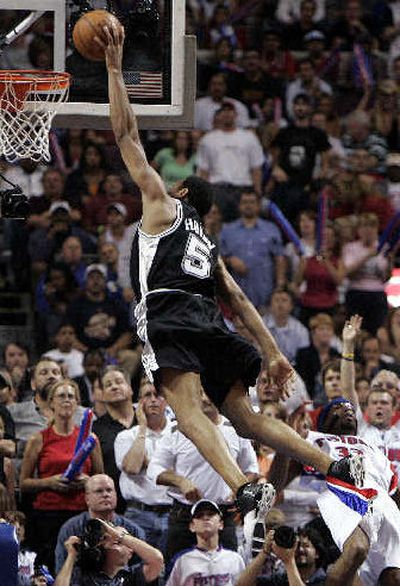 AUBURN HILLS, Mich. – Robert Horry was all set to cut through the lane after inbounding the ball with 9.6 seconds left when a strange thing happened – extremely strange, actually, considering his postseason history.
Rasheed Wallace suddenly went to double-team Manu Ginobili in the corner, leaving no one within 15 feet of one of the best clutch shooters in NBA postseason history.
Bad idea. Very bad.
"I saw Rasheed bite and said: 'Oh, let me stay out here,' " Horry said after he knocked down a wide-open 3-pointer with 5.8 seconds remaining in overtime Sunday night to give San Antonio a 96-95 victory over Detroit in Game 5 of the NBA Finals.
Horry, the veteran dubbed "Big Shot Bob" whose clutch postseason 3-pointers have defined his career, gave the Spurs a 3-2 lead in the best-of-7 series. San Antonio bounced back from a pair of lopsided losses to defeat the defending champs in their own building and send the series back to Texas needing just one more victory for a third title in seven years.
"The play was for me to take that shot, but then I saw Rasheed coming," Ginobili said "My first option in those moments was Robert. He's a winner. He's been in that situation so many times. Everyone knows what he does."
The Pistons had one final chance after Horry's shot, but Richard Hamilton missed a runner from the lane and Bruce Bowen rebounded to end it.
After four blowouts, this was the type of game everyone had been waiting almost two weeks to see – an intense, closely-fought nail-biter befitting of a championship series. The fourth quarter was close throughout, with clutch shots coming from Chauncey Billups and Hamilton for the Pistons, and Horry and Ginobili of San Antonio.
The player who wasn't hitting the big ones was two-time NBA Finals MVP Tim Duncan, who missed six straight foul shots and a putback at the end of the fourth quarter that would have won it for the Spurs.
"An absolute nightmare, yes," Duncan said. "(Horry) pulled me out of an incredible hole that I put myself in."
Game 6 will be Tuesday night, and Game 7, if necessary, on Thursday.
The Pistons haven't won in San Antonio since 1997, and the Spurs had the NBA's best regular-season home record.
Horry finished with 21 points, Duncan had 26 points and 19 rebounds, Ginobili scored 15 and Tony Parker 14. Billups led Detroit with 34 points.
"It was the kind of game where you hate to see anybody lose," Pistons coach Larry Brown said.
Of the prior 23 times a finals series has been tied 2-2, the Game 5 winner has gone on to win the title 17 times. The most recent time it has happened was 2003, when San Antonio defeated New Jersey. A Game 5 loser won following a 2-2 tie most recently in 1994, when the Houston Rockets defeated the New York Knicks in Games 6 and 7.
Duncan also missed San Antonio's first two shots of overtime and lost control of an entry pass with 56 seconds left in the extra period with Detroit ahead 95-93.
An offensive rebound gave Detroit two possessions while running down the final minute of overtime, but Billups missed on a drive with 9.4 seconds remaining. After a timeout, Horry knocked down the 3 that won it.
"You can't go back and say shoulda, woulda, coulda. It was caught in the corner and I just tried to double. Now we have a day and a half. We're cool," Wallace said.
The late 3 wasn't the only big shot by Horry, whose offensive poise was a direct contrast to Duncan's troubles.
The Pistons were ahead 87-85 before Horry caught a pass and quickly launched a 3-pointer that dropped through with 1:17 left in regulation, giving him seven straight points for the Spurs. Duncan had a chance to extend the lead after Hamilton missed a jumper, but the career 69-percent foul shooter missed a pair from the line with 1 minute remaining.
Billups scored on another of his crafty drives to give Detroit an 89-88 lead, and the Pistons fouled Duncan when he got the ball down low on the next possession. With the crowd noise at its loudest of the series, Duncan missed the first foul shot – making him 0 for 6 in the period – but made the second.
San Antonio's best defender, forward Bruce Bowen, took over guarding Billups on the next possession, and there appeared to be contact as Billups drove the lane and missed. But no foul was called, and San Antonio got the ball back with 16.9 seconds left able to hold for the last shot.
Ginobili dribbled the clock down and drove on Tayshaun Prince, but missed. Duncan was there for the rebound, grabbed the ball with two hands and had a wide-open chance for an easy putback, but his shot somehow came up short. He walked off with his hands balled into fists covering his mouth.
Coach Gregg Popovich said he spent 90 percent of his preparation time focusing on the mental aspect of what his team needed to do, the other 10 percent on X's and O's. The Spurs were much more aggressive in terms of taking the ball to the basket – the one things they had done best in the first two games – and Ginobili was especially effective in the early going.
Billups had a pair of airballs early in the third quarter, one of which hit the supports behind the backboard, but he came back with a long jumper and a three-point play in transition for a personal 6-0 run that tied it at 61-all before Horry ended the quarter with a 3-pointer – a preview of what was to come.
Notes
Officials Ron Garretson, Steve Javie and Mike Callahan worked Game 5. The Pistons are 0-5 in the playoffs with Garretson on the court. … Recording star Kid Rock sang "America the Beautiful" while wearing a vintage Rick Mahorn warmup jersey.
Spurs 96, Pistons 95 (OT)
San Antonio (96) – Bowen 4-8 0-0 10, Duncan 11-24 4-11 26, Mohammed 3-4 0-0 6, Ginobili 5-16 5-5 15, Parker 7-15 0-0 14, Barry 1-3 0-0 3, Horry 7-12 2-3 21, D.Brown 0-0 1-2 1. Totals 38-82 12-21 96.
Detroit (95) – Prince 5-10 0-0 10, R.Wallace 6-15 0-0 12, B.Wallace 4-9 5-6 13, Hamilton 7-15 1-2 15, Billups 11-26 10-11 34, McDyess 4-6 1-2 9, Hunter 0-3 2-2 2. Totals 37-84 19-23 95.
| | | | | | | | |
| --- | --- | --- | --- | --- | --- | --- | --- |
| San Antonio | 21 | 21 | 22 | 25 | 7 | — | 96 |
| Detroit | 23 | 19 | 21 | 26 | 6 | — | 95 |
3-Point Goals—San Antonio 8-20 (Horry 5-6, Bowen 2-5, Barry 1-2, Parker 0-3, Ginobili 0-4), Detroit 2-9 (Billups 2-7, Prince 0-1, Hunter 0-1). Fouled Out—None. Rebounds—San Antonio 52 (Duncan 19), Detroit 52 (B.Wallace 12). Assists—San Antonio 20 (Ginobili 9), Detroit 17 (Billups 7). Total Fouls—San Antonio 26, Detroit 20. Technicals—San Antonio Defensive Three Second, Detroit Defensive Three Second. A—22,976. (22,076).
Local journalism is essential.
Give directly to The Spokesman-Review's Northwest Passages community forums series -- which helps to offset the costs of several reporter and editor positions at the newspaper -- by using the easy options below. Gifts processed in this system are not tax deductible, but are predominately used to help meet the local financial requirements needed to receive national matching-grant funds.
Subscribe to the sports newsletter
Get the day's top sports headlines and breaking news delivered to your inbox by subscribing here.
---