News > Nation/World
Blair blames rivals over EU's woes
Tue., June 21, 2005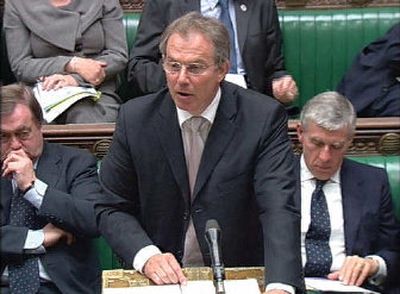 LONDON – Prime Minister Tony Blair bluntly defended his vision for Europe on Monday, telling Parliament his rivals on the continent were to blame for the collapse of a European Union summit because they blocked economic reforms needed to compete in a new global era.
"The crisis is not about the failure of Europe's leaders to reach agreement with each other," Blair told legislators, drawing applause from opponents and from members of his own Labour Party. "The crisis is about the failure of Europe's leaders to reach agreement with the people of Europe about the issues that concern them."
Many European leaders had cast the British leader as the villain in the dramatic failure of last week's EU summit, where Blair's steadfast defense of his country's budget rebate won him points among the euroskeptic British public.
But on Monday, Blair sought to cast his disagreement with France and Germany over funding as part of a deeper question of how Europe can remain competitive if member nations insist on generous social subsidies and inflexible labor markets.
He told Parliament the EU faced an "immense global competitive challenge" from the United States and Asian economies and insisted it must spend more money on science, technology and education rather than farm subsidies.
"It simply does not make sense in this new world for Europe to spend over 40 percent of its budget on the Common Agricultural Policy," he said. "This isn't a budget fit for purpose in the 21st century. … Europe just cannot wait 10 years or more for change."
While Blair's position may boost his domestic standing following electoral setbacks last month, it could create difficulties as he sets out to achieve his goals for hosting the upcoming Group of Eight summit and his assumption of the EU presidency.
Blair hopes to secure a sweeping aid package for Africa at the G-8 summit, and he also will be taking over the difficult task of leading the EU out of crisis following the stunning rebukes of the EU constitution by voters in France and Holland.
The antagonism Blair has earned from some EU leadersmay prove formidable obstacles in both of those challenges.But Europe's disarray also provides Blair with a rare opportunity to leave his personal imprint on the European project. On Thursday, the prime minister will set out his vision for Europe at a meeting at EU headquarters in Brussels, Belgium.
Local journalism is essential.
Give directly to The Spokesman-Review's Northwest Passages community forums series -- which helps to offset the costs of several reporter and editor positions at the newspaper -- by using the easy options below. Gifts processed in this system are not tax deductible, but are predominately used to help meet the local financial requirements needed to receive national matching-grant funds.
Subscribe now to get breaking news alerts in your email inbox
Get breaking news delivered to your inbox as it happens.
---