News > Nation/World
Bush defends his military policies
Tue., June 21, 2005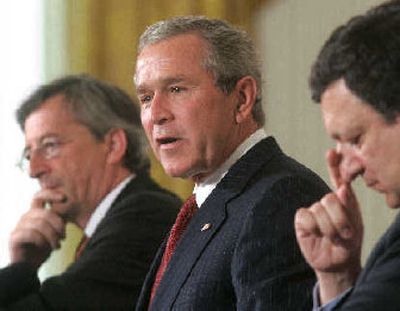 WASHINGTON – President Bush said Monday he thinks about Iraq "every day because I understand we have kids in harm's way," yet he is determined to complete the mission there. He defended U.S. tactics in Iraq and at the prison camp at Guantanamo Bay.
At a joint news conference with European leaders, Bush said relations frayed by the war in Iraq were on the mend.
"There may have been past differences over Iraq, but as we move forward there is a need for the world to work together so that Iraq's democracy will succeed," Bush said.
A week after the White House signaled Bush would sharpen his Iraqi message to explain more clearly the stakes, Bush expressed empathy for families who have lost loved ones in battle.
"I want those families to know: One, we're not going to leave them – not going to allow their mission to go in vain. And two, we will complete the mission, and the world will be better off for it," Bush said.
The White House meeting came two days before an 80-nation conference on Iraq in Brussels, jointly sponsored by the United States and the European Union. And it comes amid disarray over the European Union's future. The world's largest trading bloc has been shaken by its failure to agree on a budget and to ratify a constitution.
Bush met at the White House with European Commission President Jose Manuel Barroso and Luxembourg Prime Minister Jean-Claude Juncker, president of the rotating European Council.
"The European Union is, and will remain, a very strong and reliable partner for the United States," said Barroso. "It's true that we have complex systems in Europe … so it's no surprise that in this process, some problems may occur."
"We made clear in our frank and open talks with the president that the EU is not at its knees," Juncker said after the meeting. "The Europeans are playing their role in the international scene."
Bush and the European leaders vowed continued cooperation in pressing Iran to give up its nuclear program, persuading China to ease trade barriers and battling global piracy and counterfeiting.
"There have been past differences over Iraq," Bush said. "But as we move forward there is a need for the world to work together so that Iraq as a democracy will succeed."
While the U.S. human-rights image has been tarnished by allegations of inmate abuse at the Abu Ghraib prison in Iraq and the U.S. jail in Guantanamo Bay, Cuba, Bush said the detainees were being treated humanely and invited journalists to go to Guantanamo and see for themselves.
"I seriously suggest you go down there and take a look," Bush told reporters in the East Room. "Look at the facts."
At the same time, Bush did appear to recognize the problem with those still held in Guantanamo without being charged or brought before a judge.
"About 200 or so have been released back to their countries. There needs to be a way forward on the other 500 that are there," Bush said. "We're now waiting for a federal court to decide whether or not they can be tried in a military court, where they'll have rights, of course, or in the civilian courts. We're just waiting for our judicial process to move – to move the process along."
He reiterated that many detainees "are dangerous people."
On Iraq, Bush said he would not bow to "cold-blooded killers that will kill Americans or kill innocent Iraqis in order to try to drive us out of Iraq.
"I think about Iraq every day. Every single day, because I understand we have kids in harm's way," the president said. "And I worry about their families; and I obviously, any time there's a death, I grieve."
But, Bush said, "We're making progress." He said he had spoken earlier in the day with Gen. John Abizaid, the American military commander in the Persian Gulf region.
Local journalism is essential.
Give directly to The Spokesman-Review's Northwest Passages community forums series -- which helps to offset the costs of several reporter and editor positions at the newspaper -- by using the easy options below. Gifts processed in this system are not tax deductible, but are predominately used to help meet the local financial requirements needed to receive national matching-grant funds.
Subscribe now to get breaking news alerts in your email inbox
Get breaking news delivered to your inbox as it happens.
---