News > Nation/World
Civil rights trial jurors evenly split
Tue., June 21, 2005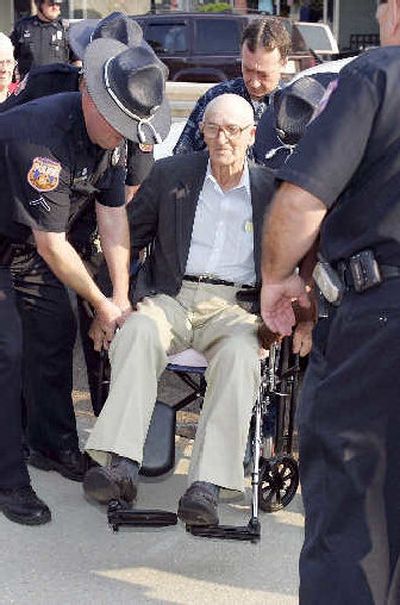 PHILADELPHIA, Miss. – Jurors in the "Mississippi Burning" murder trial told the judge Monday they are split right down the middle.
After 2 1/2 hours of deliberations Monday, forewoman Shirley Vaughn, a 56-year-old office manager, told Judge Marcus Gordon that the jury is split 6-6 on whether to convict Edgar Ray Killen, 80, of murdering three civil rights workers in 1964.
The sequestered jury, three blacks and nine whites, will resume deliberations this morning – the 41st anniversary of the killings that shocked the nation and galvanized the civil rights movement.
Killen is charged with three counts of murder in the slayings of Michael Schwerner and Andrew Goodman, both of New York, and James Chaney of Mississippi. The jury can opt to convict Killen of manslaughter, a lesser charge.
The three young men had gone to Philadelphia, Miss., to build a community center for black children and to register black voters. A mob of Ku Klux Klansmen cornered and shot them on a rural road on June 21, 1964.
Outside the courtroom, Schwerner's widow, Rita Bender, did not want to comment on the split jury. But Chaney's brother, Ben, said he is discouraged but not altogether surprised.
"(Defense attorney James) McIntyre connected with the people in Mississippi and brought them back to the us-versus-them attitude," Ben Chaney said of the lawyer's closing arguments. "That's the reason why we are where we're at today."
Earlier in the day, McIntyre told the jury that Killen had nothing to do with the murders and that the trial is politically motivated by outsiders.
"When justice is done, they'll all go back to New York or wherever they came from and leave us down here," he said. "We're going to have to live with this trial."
Prosecutors insisted that Killen had orchestrated the slayings. Mississippi Attorney General Jim Hood reminded jurors that Killen could be found guilty even if he hadn't pulled the trigger.
"He knew there was going to be a murder," Hood said.
"He recruited the Klan down here, showed them the ropes, then like a coward, hid in a funeral home" while the killings occurred, Hood said.
Local journalism is essential.
Give directly to The Spokesman-Review's Northwest Passages community forums series -- which helps to offset the costs of several reporter and editor positions at the newspaper -- by using the easy options below. Gifts processed in this system are not tax deductible, but are predominately used to help meet the local financial requirements needed to receive national matching-grant funds.
Subscribe now to get breaking news alerts in your email inbox
Get breaking news delivered to your inbox as it happens.
---