News > Features
Program focuses on youngest eyes
Tue., June 21, 2005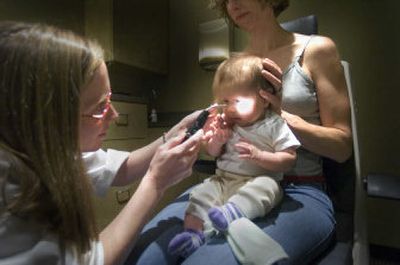 EVEN THOUGH 4-MONTH-OLD Jaea Ledgerwood can't tell her eye doctor, Heavin Maier, which direction a giant E is facing or whether one lens makes a clearer picture than another, at an appointment last week Maier was able to determine that the baby's eyes were developing normally.
Optometric physicians from around the country want more parents to have their infants' eyes checked. The American Optometric Association and Johnson & Johnson's Vision Care Institute launched a program this month called InfantSEE, which provides one-time, comprehensive eye exams to babies between 6 months and 1 year of age, regardless of families' income levels.
At least 25 optometrists in the Spokane and Coeur d'Alene area, including Maier, participate in the program.
Although babies can't communicate with words, doctors can learn a lot by looking into their eyes. They can catch cataracts, retinal cancer and amblyopia, also known as lazy eye. Doctors also can prescribe glasses to children as young as 6 months old.
"The whole point is to catch things early," Maier said.
If left untreated, vision problems can become permanent and can make learning difficult. Undiagnosed problems might cause an older child to be frustrated and restless during school, resulting in a misdiagnosis of attention deficit hyperactivity disorder or other disabilities, Maier said.
Jaea sat on the lap of her mother, Katrina Ledgerwood, during last week's exam. Maier quickly put two paddles in front of Jaea – one was solid gray, the other had black and white stripes. Jaea's eyes were attracted to the striped, or more interesting, paddle, just as a healthy baby's eyes should.
Jaea also was able to look up and to the side when Maier squeaked a toy. And when the doctor dilated Jaea's eyes, she got a closer look at the baby's vision.
Maier recommends that children have eye exams between 6 months to a year, at 3 years of age, upon entering first grade and once a year after that.
To find a doctor participating in the InfantSEE program or learn more, visit www.eyes.org.
Busy doctor, healthy patient
The old rule for finding a good hair stylist apparently holds true for doctors and hospitals, too. Go to the ones with the busiest schedules.
That's especially true for practices that treat pancreatic, esophageal, gastric and rectal cancers, a review of studies published in the current issue of the British Journal of Surgery found. All 41 studies examined showed that as patient volume increased, death rates went down.
Oscar the Grouch: 1 Big Bird: 0
Turns out pessimism might be good for your health.
An article in the current issue of the journal "Brain, Behavior and Immunity" by the University of Kentucky's Suzanne Segerstrom concludes that optimists don't always fare better than pessimists when their immune systems respond to stress.
Studies show that pessimists tend to withdraw and avoid the dwelling on disease, while optimists focus a lot of energy on their illness, potentially draining their immune system.
"When an optimist is faced with a serious health or other problem that cannot be resolved, the disappointment —and thus the negative immune response — is greater than that of the pessimist, who did not have high hopes in the first place," a news release about the article stated.
Segerstrom isn't recommending a glass-half-empty attitude, however. Instead, she provides this advice for seriously ill patients: "Conserve some energy for your immune system to work if you have a condition that requires a lot of immune activity," she wrote.
Besides, pessimism has its setbacks, including depression and prolonged stress.
Midwifery on display
An exhibit honoring the 30 years that certified nurse-midwives have been delivering babies in Washington is on display at the downtown Spokane Library this month.
The exhibit includes a timeline of milestones in midwifery and other nuggets of information, such as the fact that the word midwife means "with woman." It's OK, guys. Despite the word's origin, men can be midwives, too.
There's also contact information for Spokane's 13 certified nurse-midwives.
If the exhibit doesn't satiate your appetite for information on midwives, check out a book on the subject, such as "The Red Tent" by Anita Diamant, while you're there.
For more information, visit www.midwivesofwa.org.
Local journalism is essential.
Give directly to The Spokesman-Review's Northwest Passages community forums series -- which helps to offset the costs of several reporter and editor positions at the newspaper -- by using the easy options below. Gifts processed in this system are not tax deductible, but are predominately used to help meet the local financial requirements needed to receive national matching-grant funds.
Subscribe now to get breaking news alerts in your email inbox
Get breaking news delivered to your inbox as it happens.
---