News > Features
Return of the 'Ross Man'
Tue., June 21, 2005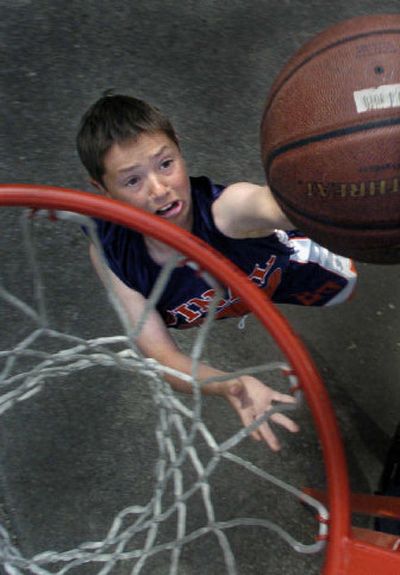 Ross Muelheim probably shouldn't even have been at Hoopfest last year. Just the month before, right in the middle of little league season, doctors diagnosed the now 11-year-old Spokane boy with bone cancer.
He had just finished his first chemotherapy sessions in the days before the big 3-on-3 street basketball tournament.
"He was sick as a dog and white as a sheet," his mom, Julie, recalls.
But Muelheim, who has played in every Hoopfest since he was a second-grader, couldn't miss it.
He needed special permission from his doctors, but he was there. For every game. Even in the pouring rain.
His teammates named him honorary captain. Even though he couldn't play, he picked the coin tosses and joined the team for warm-ups.
"Everybody just really wanted to do well for Ross," says Earl Eisenrich, who coaches the group's Hoopfest team.
And they did. Muelheim's team, Final Four, ended up winning every game it played last year.
This weekend, "The Ross Man" — as his teammates call him — won't have to watch Hoopfest from the bench.
Muelheim's back in action.
"It's pretty amazing just to be playing with the kid," Eisenrich says. "You've got to remember what he's gone through in the last year. That kid is one of the most resilient kids I've ever met in my life."
The Muelheim family's life changed forever just over a year ago, when Julie found a large lump behind her son's right ear.
"We though it was an ear problem," says Ross' dad, Mark.
A biopsy revealed something much more ominous: Ewing's sarcoma.
The cancer, which only strikes children, typically causes tumors in the long bones of the arms and legs. But tumors can also lurk in the pelvis, skull or other areas. The cancer sometimes spreads to the lungs.
Ewing's accounts for just five percent of all childhood bone tumors. Only about 150 U.S. kids receive the diagnosis each year.
When caught early (as it was in Muelheim's case), the long-term outlook for patients is very good.
That's the good news, of course. But to call the recommended treatment course brutal is an understatement.
First, surgeons removed Muelheim's tumor. They inserted a central line into his chest to more easily deliver medication.
And Muelheim began what would be eight months of chemotherapy sessions, once every two weeks. He underwent six weeks of radiation therapy at the same time.
"It made you sick," Muelheim says, in typical understated pre-teen fashion.
After each treatment, he would spend anywhere from three to six days in the hospital. Ross' dad quit his job as a corporate jet pilot to be with his son, while Julie, 42, continued to work and take care of the couple's then 6-year-old twin daughters, Megan and Abby.
Muelheim would go days without eating. He'd vomit, and go right back to playing his video game. He needed multiple blood transfusions. But as soon as he could get out of the hospital after each treatment, he catapulted back into normal 10-year-old boy life.
The risk of contracting an infection kept him from his fifth grade class at Hamblin Elementary. But he visited at recess when he could.
He hit balls in the batting cage. He went to all of his basketball team's games and practiced with them when he was able. He even threw out the first pitch at a Mariners' game last summer.
"The one thing we didn't want to have happen is get the 'oh-poor-me syndrome,'" Mark Muelheim, 48, says.
"You just go through it. You endure it. You never have time to sit around and feel sorry for yourself. You just adapt to it."
People who spent time around Muelheim during his treatments were amazed by his toughness.
"He was just a trooper," says Mike Monasmith, who coached Muelheim's AAU basketball team. "I originally didn't think he would be able to participate physically. It gave everybody a lot of inspiration."
Muelheim celebrated the end of his treatments in February. His hair has grown back, a bit lighter and finer than before. He still hasn't regained all of the 15 pounds he lost. But Muelheim says he feels like he did before cancer.
He'll need scans every three months for the next five years, to make sure the cancer does not come back.
Other than that, he'll return to being a regular kid.
He's signed up for football, baseball and basketball camp this summer.
"He missed out last summer," his dad says. "This summer he gets to do them all."
And, of course, he'll be back at Hoopfest this year, playing with the friends he has known since kindergarten.
"Hoopfest is just a big marker," his mom says. "To be back to perfectly normal a year later."
Ross, who wears a basketball T-shirt that says "Never too much of a good thing," is a man of few words.
Ask him his favorite thing about Hoopfest and you'll get this succinct response:
"Winning," he says.
But, as his coach says, Muelheim's done that before he even sets foot on the court.
"We already won this year just having him play with us," Eisenrich says. "That's the big gift. Just getting out on the court with him is the victory I'm looking for."
Local journalism is essential.
Give directly to The Spokesman-Review's Northwest Passages community forums series -- which helps to offset the costs of several reporter and editor positions at the newspaper -- by using the easy options below. Gifts processed in this system are not tax deductible, but are predominately used to help meet the local financial requirements needed to receive national matching-grant funds.
Subscribe now to get breaking news alerts in your email inbox
Get breaking news delivered to your inbox as it happens.
---