News > Spokane
Summer makes waves at area pools
Tue., June 21, 2005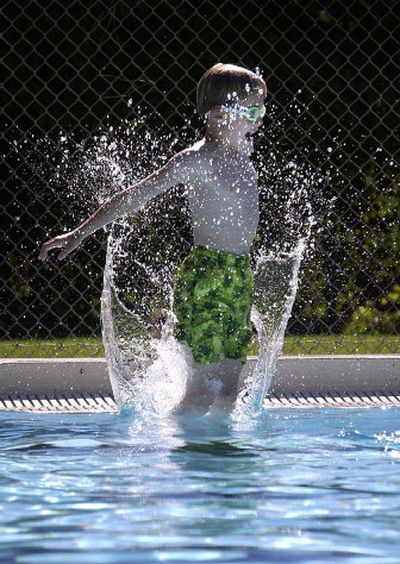 The blue skies and warm weather arrived Monday morning just in time for the kids enrolled in swim lessons at Terrace View Park in Spokane Valley.
Lessons began at 9 a.m., and a steady stream of parents and children came and went during the morning.
"We've come to this pool for probably eight years," said Debbie Campbell as she watched her three children learn to improve their swimming. Her youngest, Paige, is 8 and a beginning swimmer. But even her older children came along for a more advanced lesson at the other end of the pool.
"It gives them so much more endurance," she said. "It just gives you peace of mind."
Dominic Hiner, 6, was attending his first lesson Monday. "I liked it when we put our heads under water," he said after he climbed out of the pool. His sister Alyssa, 5, also enjoyed splashing around. Both kids were tempted into the water with a promise from their mom that if they took a lesson they could venture into the lake without wearing "floaties."
But it didn't all go swimmingly. Twins Ashton and Riley Hands, nearly 3 years old, didn't take to their first lesson. They screamed for their mom, reaching for her imploringly as they were held in the water by their instructor. Mom Julie Hands said that the boys actually love the water, but they were uncomfortable in a new environment with a stranger. "I'm right here," she called from the edge of the pool as they sobbed.
This is the first year the Spokane Valley pools have been operated by the Valley YMCA. "The pools are off to a slow start compared to last year," said Sue Schmoe, the aquatics director at the Y. "The weather went bad on us for a week and that just happened to be the week we were signing up. It's hard to predict what June will be like."
Last year about 1,000 people signed up for swimming lessons, said Spokane Valley Parks and Recreation Director Mike Jackson. Even more flocked to the open swim sessions, with 16,100 youth and adults paying $1 to get in to the open swim times at Spokane Valley pools in 2004. That number doesn't include children under 5 who get in free and children under 12 who can enter the pools free with a paying adult on the weekends.
Each pool can accommodate 130 swimmers at a time and Terrace View proved to be the most popular last year. All three pools have open swim times at 1 and 3:45 p.m. Monday through Friday, and at 1, 4 and 6:15 p.m. every Saturday and Sunday. Park Road and Terrace View have evening open swim sessions at 6 p.m. every Tuesday, Thursday and Friday while Valley Mission has its evening sessions at 6 p.m. on Monday, Wednesday and Friday.
"The majority of weekdays the pools fill to capacity," said Jackson. "There's often a line waiting for the next session."
Some changes will be coming to those pools, but the Parks Department is still working on what the changes will be. The city will host a public meeting on the future of the pools tonight at 6:30 at City Hall, 11707 E. Sprague Ave.
"We're looking at some level of renovation of each of the three pools," Jackson said.
Local journalism is essential.
Give directly to The Spokesman-Review's Northwest Passages community forums series -- which helps to offset the costs of several reporter and editor positions at the newspaper -- by using the easy options below. Gifts processed in this system are not tax deductible, but are predominately used to help meet the local financial requirements needed to receive national matching-grant funds.
Subscribe now to get breaking news alerts in your email inbox
Get breaking news delivered to your inbox as it happens.
---