News > Spokane
Vietnam leader tours Microsoft, talks with Gates
Tue., June 21, 2005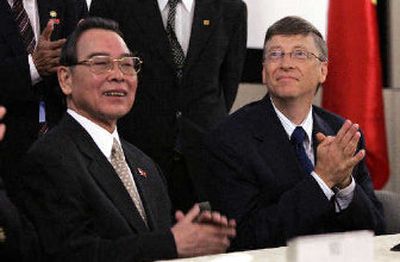 REDMOND, Wash. – Vietnam's prime minister hoped to bolster his country's economy as he toured Microsoft Corp. on Monday, part of a weeklong visit that marks the first trip to the United States by a Vietnamese leader since the end of the war 30 years ago.
Phan Van Khai met privately with Microsoft Chairman Bill Gates at the software company's Redmond headquarters. Details of the meeting were not disclosed.
The two announced that the Vietnamese government and Microsoft had signed two memoranda of understanding, to train and develop more Vietnamese information technology companies, and to offer computer and software training to more than 50,000 teachers in the country.
Gates also said during a brief joint appearance before reporters that he wants to promote a better understanding of intellectual property rights and software piracy in Vietnam. In addition, Microsoft wants to make donated computer equipment more accessible for students and offer educational software to Vietnamese schools.
Khai has said that economic and social reforms in Vietnam – along with increased trade, defense and diplomatic cooperation with the United States – had converged to produce the best timing for his visit.
Through agreements with Microsoft, "We'll be able to reach new highs in information technology and software development," Khai said through an interpreter. "Our success in the future will be a tribute to you, Mr. Bill Gates."
Khai invited Gates to visit his country. Microsoft employs 10 people in Vietnam, with offices in Hanoi and Ho Chi Minh City.
In March, Microsoft introduced a Vietnamese language package – available in Vietnam, Thailand and Malaysia – for its Windows operating system and Office business software. Since then, Gates said, the package has been downloaded more than 18,000 times.
"That really makes us rededicate our commitment to Vietnam," he said.
Khai also was given a tour of Microsoft's "home of the future" display of consumer technology and a company research center.
He arrived at Microsoft in a motorcade with a police escort, and there were no signs of demonstrators who had protested his U.S. trip the day before.
At a news conference Sunday at a downtown Seattle hotel, Khai called on Vietnamese emigres to help strengthen ties between the two countries. But Vietnamese demonstrators who gathered across the street rejected those appeals and said Khai has not done enough to improve Vietnam's human rights record.
Khai, 71, hopes to strengthen ties with the United States during his U.S. tour, particularly as Vietnam tries to gain admittance to the World Trade Organization. He is scheduled to meet with President Bush today.
In the 10 years since diplomatic ties were restored, the United States has become Vietnam's top trading partner. The two-way trade was worth $6.4 billion last year.
During his Northwest stop, Khai also met Sunday with representatives at Boeing Co.'s plant in Renton, to oversee the purchase of four 787 airliners by Vietnam Airlines.
Local journalism is essential.
Give directly to The Spokesman-Review's Northwest Passages community forums series -- which helps to offset the costs of several reporter and editor positions at the newspaper -- by using the easy options below. Gifts processed in this system are not tax deductible, but are predominately used to help meet the local financial requirements needed to receive national matching-grant funds.
Subscribe now to get breaking news alerts in your email inbox
Get breaking news delivered to your inbox as it happens.
---