Sports > Outdoors
Climbers set speed record
Sun., June 26, 2005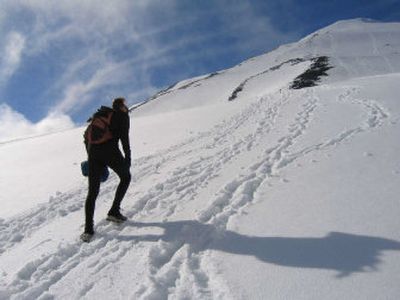 A speed record for climbing three major volcanoes in the Cascades was set by two Colorado mountaineers on June 9-10.
The endurance athletes from Boulder came to the Pacific Northwest and climbed Mount Rainier, Mount Adams and Mount Hood in 28 hours and one minute, according to John Waller of Uncage the Soul Productions in Portland.
Buzz Burrell, 53, and Peter Bakwin, 43, used standard routes and took advantage of support crews.
They departed the Paradise parking lot at Mount Rainier at 2:42 a.m. on June 9. After returning for the summit, they drove south to do Mount Adams and then drove to Mount Hood, where they made the climb and returned to Timberline lodge at 6:43 a.m. on June 10.
Rainier at elevation 14,411 feet, Adams at 12,281 feet and Hood at 11,249 feet are the three highest volcanoes in the Cascades. Burrell and Bakwin traversed 42,000 vertical feet of elevation change — 21,000 feet of ascending — in a total distance of 36 miles.
Although the region's mountaineering clubs have linked similar marathon-climbing challenges dating back to the 1920s, no one seems to dispute that Burrell and Bakwin have set a speed record for the feat.
Numerous responses on the Cascade Climbers Web site chatroom generally applaud the endurance required to accomplish the Cascade Trifect, as the climbers called it.
However, a few responses frowned on the push to make climbing a speed sport. "What is up with all the speed ascents?!" one climber wrote. "What kind of burden do all these people carry in their souls that they need to race through life, punishing themselves along the way. I feel for them."
Burrell and Bakwin are skilled mountaineers and were well-equipped, although they were able to go ultralight with minimal packs because they were supported by other climbers. In some cases, the support crews put out wands to mark the route through conditions of poor visibility. At times they wore clothing one might see on a cool weather runner as they jogged off the slopes.
"Adverse weather and snow conditions on Rainier and Adams slowed the climbers considerably from their planned schedule," Waller said, noting that Burrell fell into a crevasse when a snow bridge collapsed on Rainier. Burrell was able to extract himself from the crevasse while belayed by Bakwin.
"We had hoped to go under 24 hours," said Bakwin, "but we know that would be very hard, and conditions were not optimal, especially on Rainier where we had to move slowly to stay safe.
"The trip was especially rewarding for me, since I had never set foot on any of these beautiful mountains before."
The Cascade Trifecta, as they call it, was documented and verified by Uncage the Soul Productions, a video and Portland photography production company. The team consisted of 11 videographers and photographers staged in advance of the climbers on each of the three peaks, Waller said.
The team verified departure and summit times, made more than 700 photographs, eight hours of video footage, and assisted the climbers with route finding, but offered no additional climbing or transportation support, he said.
Local journalism is essential.
Give directly to The Spokesman-Review's Northwest Passages community forums series -- which helps to offset the costs of several reporter and editor positions at the newspaper -- by using the easy options below. Gifts processed in this system are not tax deductible, but are predominately used to help meet the local financial requirements needed to receive national matching-grant funds.
Subscribe to the sports newsletter
Get the day's top sports headlines and breaking news delivered to your inbox by subscribing here.
---