Sports > Outdoors
GRADUATION CLIMB
Sun., June 26, 2005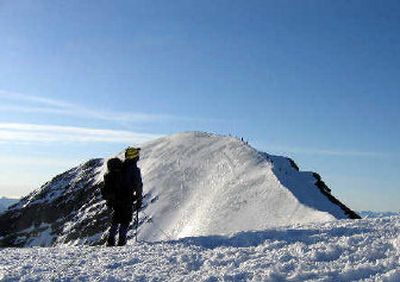 Last in a series: On Memorial Day weekend, Maryanne Gaddy, 30, scaled Mount Athabasca along with a group of students and instructors on the graduation climb for the 2005 Spokane Mountaineers Mountain School. This story concludes her series on the 14-week-long climbing course taught by a club that's been exploring the Inland Northwest backcountry for 90 years.
The final test would consume us for 12 hours.
Months of classes, practice hikes and specialized training had led us to Mount Athabasca in Alberta's Jasper National Park. At a lofty 11,452 feet, it's not the highest mountain, and our route was not the most difficult to climb.
But no mountain on earth looked more spectacular to the 27 Mountain School students who made the nine-hour drive to Athabasca's base. We couldn't wait to put our newly honed skills and muscles to the test.
The Spokane Mountaineers' volunteer instructors had taught us plenty to this point, but we soon learned there's no substitute for the education a climber gets from the mountain itself.
Most of us were too high-strung to get more than an hour or two of sleep before the climb. The sky was light until nearly 11 p.m. Shortly after that, climbers from the lead teams drifted into the main camp, the clinking of gear betraying their presence before they stepped into the lantern's glow.
To catch the firmest and safest snow conditions, we set out at midnight, two teams every 15 minutes.
Equipment was checked and double-checked. Did crampons fit? Did everyone have enough food and water? Extra warm clothes?
An unreal, almost dream-like air hung about the area; everyone was excited and ready to go, but voices were hushed and the tone subdued. We drank our coffee, said goodbyes and the first groups disappeared into the night. No one anticipated how much adventure the day would bring.
My team set out just before 1 a.m., starting with a scramble through fields of loose rock at the base of the mountain. A sheet of stars hung overhead, so much larger and brighter than those visible in the city. On the mountain, however, rocks were sliding every which way and slopes dropped steeply from the path. The night sky was quickly forgotten as we picked our way higher.
After pulling ourselves up a short, choppy cliff to the toe of the glacier, we tied into our team rope. Travel on the snow and ice of the glacier proved much easier than scrambling over the rock, but altitude sickness and the flu forced two team members to turn back.
I know my fellow student had worked just as hard as anyone and wanted it just as badly. Watching her go was the hardest moment of my climb.
Before the climb was over, several others, mostly strong, experienced instructors, made the difficult but prudent decisions to turn back for similar reasons. Rope teams evolved all through the day, ranging from two to five persons.
My team, suddenly reduced, moved on after we trapped crampons onto our boots at the head of the glacier. I was the last person on the last of nine teams spread out on the face of the mountain. The glow of the climbers' headlamps looked like a string of Christmas lights snaking up the hill.
From my vantage, I could clearly see the seeds of what grew into the drama of the day. The line was splitting. Some climbers were going the wrong way.
A lead group, sent up the wrong little valley in the dark, soon found themselves topped out on a sheer outcropping of rock with no easy path out. After a thorough discussion, they decided to traverse a short, yet steep snow slope back to the main route.
The snow felt solid, and the going was fine at first. As they rounded a corner, however, sections of snow began to fall way, revealing sheets of ice beneath. The first person on the team, Nik Reed, shrugged out of his pack, retrieved an ice screw from its depths, quickly screwed it into the wall, and attached their rope. An extra measure of security to be sure, but not much if the weight of four people fell on it.
At a particularly treacherous ice chute, Elissa Bauer began to struggle, her dull crampons failing to gain purchase.
"I could hold a Volkswagen on this," the team's instructor, Lloyd Hixson, called out referring to his stance on snow with firmer footing. "Well, maybe a Yugo. Definitely a Yugo."
That humor and calmness under pressure helped Bauer maintain the confidence to continue. She took a breath and went for it. She slipped and fell, but rather than sliding down the slope, her teammates held her and she was able to recover and continue.
They were on the ice so long, my team came all the way up a long, steep headwall and arrived on a nearby ridge a few minutes ahead of them. They were cold and tired but still in good spirits. The mountain had no sympathy. Chilling winds were blasting across that ridge making it the coldest spot on the climb.
We donned down coats and pulled them around our faces. The cold penetrated everything we wore.
As I pressed on toward the summit behind my team leader, Mark Steward, I kept looking back for the Icewall Four, as they became known, but they never appeared below us.
Later I learned that one of their members was suffering from hypothermia and altitude sickness. They could have waited for another team to come along to take him down so the rest could summit, but they'd been through so much and had bonded so tightly as a team, there was no way they were leaving their friend, Bauer said.
They turned around on their rope and went down together.
Bauer said that turning back short of the summit and sticking with her team was the best thing that happened to her that day. She learned she could have a fabulous experience even without reaching the goal.
We kept moving, very slowly at times, and nine hours after we left camp, leaden legs finally carried us onto that insanely beautiful mountaintop. Jagged, snow-covered peaks fanned out endlessly in every direction with no sign of civilization in sight. A glacial river ran down the valley far beneath us. Decades of glacial recession seemed to be marked in inches.
I scrambled by myself to the top of a snow berm that marked the very highest point on the summit and fell to my knees to snap some photos.
There I was, the highest I'd ever been. I'd just finished something harder than I'd ever done, a triumph humbled when I realized I couldn't stand up because my crampons were stuck to my butt. Another lesson learned.
After a hasty lunch and rounds of summit shots, we headed down, our rope order reversed to put me at the front. I hadn't felt much on the summit, no sense of accomplishment, no joy, nothing but relief to be there. Halfway down, however, Steward began expounding from behind me on our beautiful surroundings in the Canadian Rockies and how lucky we were.
The endorphins began to kick in.
I suddenly wanted to skip and hop across that glacier; laugh and swing in circles, whirling my ice ax overhead. Other climbers later shared that they had similar feelings.
There'll be no holding back the emotions next time.
I learned so much in those 12 intimate hours with the mountain: Take food you know you can eat; crampons really will stick to solid ice; and if you take just one more step, then another and another, you'll suddenly find yourself on top of the world.
You can turn back without regrets. No summit in the world is worth the health and well-being of your friends.
Every person who stepped onto Athabasca that day was among the one in a thousand who would even look up at the summit and think, "I can do that."
They all joined the one in a million who ever tried.
Local journalism is essential.
Give directly to The Spokesman-Review's Northwest Passages community forums series -- which helps to offset the costs of several reporter and editor positions at the newspaper -- by using the easy options below. Gifts processed in this system are not tax deductible, but are predominately used to help meet the local financial requirements needed to receive national matching-grant funds.
Subscribe to the sports newsletter
Get the day's top sports headlines and breaking news delivered to your inbox by subscribing here.
---