Sports
Mayweather dominates
Sun., June 26, 2005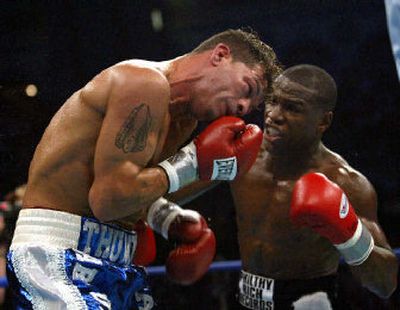 ATLANTIC CITY, N.J. – Floyd Mayweather Jr. exposed Arturo Gatti as the club fighter he said he was, giving the brawler a vicious beating Saturday night and taking the WBC 140-pound title when Gatti's corner called it quits after six rounds.
Showing speed and power that Gatti had no answer for, Mayweather pounded him with shots to the body and head for six rounds before a stunned sellout crowd at Boardwalk Hall that had come to cheer on their local hero.
Mayweather, a heavy favorite entering the ring, remained undefeated and won his third title in as many weight classes with the performance of his career. He easily avoided Gatti's punches and landed his own with crisp precision while Gatti's face swelled as the rounds went on.
The end came after the sixth round, when Gatti was taking punch after punch to the body and the head while offering little response. When he walked back to his corner, he staggered toward the ropes and barely made it back to his stool.
"I'm stopping it, baby. I'm stopping it," Gatti's trainer, Buddy McGirt, told his fighter, who protested only briefly. "No more. No more. Your eyes are closing."
Mayweather had claimed all along that Gatti's skills were suspect and that he was little more than a club fighter who had enough talent to beat other club fighters.
He was kinder afterward, calling Gatti a great fighter who showed heart.
"He's a tough fighter," Mayweather said. "Tonight I was the better man."
Gatti didn't have nearly the talent to match Mayweather, who fought brilliantly through all six rounds. Mayweather was so dominant that ringside statistics showed him landing 168 punches to only 41 for Gatti.
"This was one of his most dazzling performances," Mayweather's trainer, Roger Mayweather, said. "Floyd is used to big fights. I am not surprised what happened."
Gatti was knocked down in a bizarre sequence late in the first round when Mayweather hit him twice on the break and Gatti turned to referee Earl Morton to complain. When Gatti turned his head, Mayweather hit him with a left hook, knocking Gatti into the ropes forcing Gatti to take an eight-count.
Mayweather not only outboxed Gatti, but he outslugged the slugger whose brawls in this casino city had made him somewhat of a cult hero. Gatti took punishment to the head almost every time he tried to press the fight, often taking three or four hard punches to the head before he could get out of the way.
By the end of the third round, the sellout crowd at Boardwalk Hall had quieted and Gatti's trainer was imploring his fighter to try and do something to turn the tide.
"Go out there and fight like I know you can fight," McGirt told Gatti.
Gatti never went down, but took so much punishment that there were times the referee was looking to see if the fight might be stopped.
It was the biggest non-heavyweight fight ever in this casino city.
Local journalism is essential.
Give directly to The Spokesman-Review's Northwest Passages community forums series -- which helps to offset the costs of several reporter and editor positions at the newspaper -- by using the easy options below. Gifts processed in this system are not tax deductible, but are predominately used to help meet the local financial requirements needed to receive national matching-grant funds.
Subscribe to the sports newsletter
Get the day's top sports headlines and breaking news delivered to your inbox by subscribing here.
---