News > Nation/World
Wildfire in Utah forces 200 to evacuate
Sun., June 26, 2005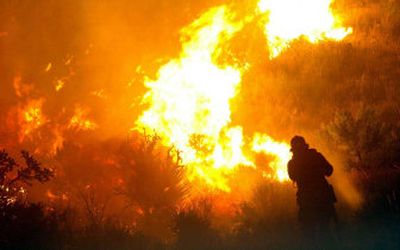 GUNLOCK, Utah — About 200 people were evacuated from their homes Saturday as a wildfire that has burned about 40,000 acres approached their southwestern Utah community.
Elsewhere, firefighters continued to battle blazes in California, Arizona and Nevada that have already consumed a total of 166,000 acres.
The blaze threatening Gunlock, about 330 miles southwest of Salt Lake City, was a combination of five smaller fires started by lightning on Wednesday that had joined and was expected to continue spreading Saturday.
"Depending on what the winds do, it definitely could get close to Gunlock," Bureau of Land Management spokesman David Boyd said.
Hyrum Smith, who runs a cattle ranch near Gunlock, said he wanted to wait and see if the fire got any closer before leaving his land.
"Nobody knows what it's going to do so we're just kind of watching it hour by hour here," he said. "They're taking precautions and asking people to evacuate, which is the smart thing to do. But it would have to cross some pretty rugged area to get to the town."
Also Saturday, firefighters near Kelso, Calif., struggled to surround a 52,000-acre wildfire in the rugged Mojave National Preserve, which includes historic mines and sites with ancient Indian pictographs.
The blaze has destroyed five homes and two cabins built in the late 1800s, while several dozen other homes were threatened with strong winds expected Saturday. The fire was fueled by grass, sagebrush, juniper and pinyon pine that had grown unusually dense after last winter's abundant rainfall.
The fire was only 15 percent contained Saturday, Ranger Linda Slater said.
A brush and grass fire that has charred 60,000 acres in Arizona was about 20 percent contained Saturday after turning away from an upscale community northeast of Phoenix. Evacuees began returning home Friday.
Arizona fire officials were concerned about a threat of more thunderstorms that could fan flames and generate lightning.
And in southern Nevada, a pall of smoke had drifted over the Las Vegas Strip from 19 blazes that charred nearly 54,000 acres.
Local journalism is essential.
Give directly to The Spokesman-Review's Northwest Passages community forums series -- which helps to offset the costs of several reporter and editor positions at the newspaper -- by using the easy options below. Gifts processed in this system are not tax deductible, but are predominately used to help meet the local financial requirements needed to receive national matching-grant funds.
Subscribe now to get breaking news alerts in your email inbox
Get breaking news delivered to your inbox as it happens.
---