Sports
Stewart holds on for victory
Mon., June 27, 2005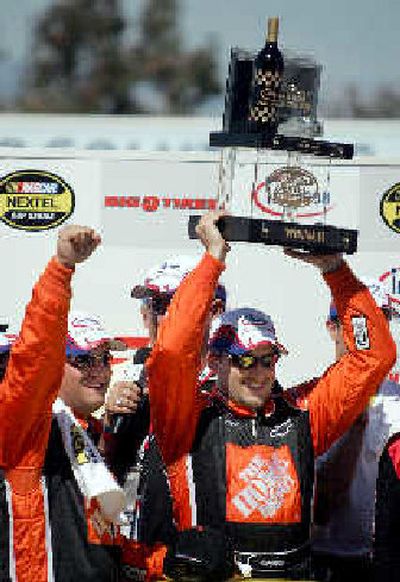 Tony Stewart found his way back to Victory Lane – and he did it with one hand.
With fourth gear gone and third gear going in his Joe Gibbs Racing Chevrolet late in Sunday's NASCAR Nextel Cup Dodge/Save Mart 350 at Sonoma, Calif., Stewart held his car in gear with one hand and steered with the other as he caught and passed Ricky Rudd for the lead and the win.
The former series champion took the lead at Infineon Raceway when pole winner and race favorite Jeff Gordon faltered with his own transmission trouble. It was Stewart's first victory since last August at Watkins Glen International, the only other road circuit on the Cup schedule.
This one was in doubt nearly to the end, though.
"I was just holding (the gearshift) with one hand in the end stages," Stewart said, grinning. "That was getting tough, especially when you're trying to pass Ricky Rudd."
Several cars, including those driven by veterans Rusty Wallace and Rudd, had pitted only a handful of laps before and stayed on the track when Stewart made his final stop under the seventh of eight cautions in the race. Stewart restarted 14th on lap 73 of the 110-lap event.
As Rudd, whose last Cup win came here in June 2002 – beating Stewart – caught and passed Wallace for the lead on lap 83, Stewart steadily shot toward the leaders. He moved into second place on lap 85, still trailing the leader by 2.7 seconds – about half the main straightaway.
It was only a matter of time, though, as Stewart, who had three second-place finishes this season before finally breaking into the win column, closed in. His No. 20 Chevy finally got past Rudd's No. 21 Wood Brothers Ford with an inside move on the final turn – a slow, hairpin right-hander – on lap 100.
Rudd got one more shot at the leader when the caution flag waved on lap 103 because of debris on the track. But Stewart shot away on the restart on lap 106 and went on to win by 2.266-seconds, about 20 car lengths.
Stewart, who started seventh, had worked his way up to second and was pushing Gordon hard before the leader slowed. From that point to the end, the 2002 Cup champion was easily the fastest car on the track, leading three times for 39 laps.
Champ Car Grand Prix
Paul Tracy's face was even redder than last year. There wasn't smoke coming out his ears, though.
Tracy, whose race in 2004 ended when he got hit from behind on the first turn, avoided trouble to win the Champ Car Grand Prix of Cleveland for the first time since 1993.
"We came back and showed what we could do," an exhausted Tracy said afterward. "This was very tough. The pace was relentless. The speed was relentless. I was going hard the entire race."
A year ago, a furious and frustrated Tracy stormed off the course after he was hit from behind at the course's treacherous Turn 1, knocking the pole-sitter off track and out of the race just seconds after it began.
But starting on the front row again, the 36-year-old Canadian made it safely through Burke Lakefront Airport's tricky first hairpin turn and navigated all 900 other bends, twists and swerves to a satisfying victory.
It was the 30th career win for Tracy, moving him into seventh place on Champ Car's all-time list – one behind Al Unser Jr.
Starting on the pole again, Tracy finished 3.113 seconds ahead of A.J. Allmendinger.
Oriol Servia finished third, Alex Tagliani fourth and two-time defending Cleveland champion Sebastien Bourdais was fifth.
NHRA
Brandon Bernstein ended a 26-race winless streak in Top Fuel competition, turning a 4.553-second pass at 324.59 mph to beat Morgan Lucas at the Sears Craftsman NHRA Nationals at Gateway Raceway in Madison, Ill.
Other winners in the 12th of 23 events in the series included Ron Capps in Funny Car, Kurt Johnson in Pro Stock and Angelle Sampey in Pro Stock Motorcycle.
Bernstein won for the first time since May 2004 at the OReilly Summer Nationals in Topeka.
"That's definitely true, the monkeys off our back," Bernstein said.
Local journalism is essential.
Give directly to The Spokesman-Review's Northwest Passages community forums series -- which helps to offset the costs of several reporter and editor positions at the newspaper -- by using the easy options below. Gifts processed in this system are not tax deductible, but are predominately used to help meet the local financial requirements needed to receive national matching-grant funds.
Subscribe to the sports newsletter
Get the day's top sports headlines and breaking news delivered to your inbox by subscribing here.
---