News > Spokane
Thousands enjoy friendly Hoopfest
Mon., June 27, 2005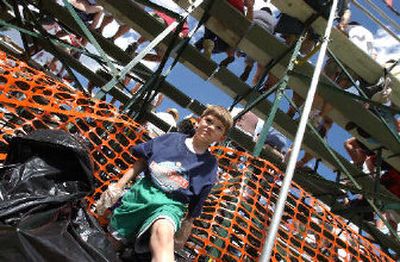 If variety is the spice of life, Hoopfest is a habanero pepper.
While some players and fans traveled across town or across the country for serious competition, other attendees at the world's biggest 3-on-3 basketball tournament were there for the food, the fun and the view.
"The car. I swear, the car!" Chris Stolle claimed that was the subject of a picture he snapped on his cell phone camera Sunday morning. Never mind the five or so Thomas Hammer Coffee girls, in their short skirts and coifed hair, posing in front of the vehicle.
"This won't get to my girlfriend, right?" the Spokane resident asked.
About 150,000 people – including 24,282 players – filled downtown Spokane Saturday and Sunday for the games. With team names like Short but Deadly and The Basketcases, they hustled on courts lining 45 city blocks.
Ron Lovell, 47, came from Potlatch, Idaho, to play on a team with his two sons, Brant, 26, and Bruce, 24. The Lovells have played in the tournament for years, but this was the first time they entered the family division.
"Nobody else would play with him," family friend Jeff Strong explained.
But that's probably not true, considering Lovell was the basketball coach at Potlatch High School until recently and the trio was preparing for the family division's championship game.
Some people at Hoopfest were there for the money. Charity money. Melinda Leavitt, 14, and Ben Gallion, 15, collected trash in a wagon in return for a cash donation to the Cheney High School band and a church mission trip. Gallion said the crowd seemed to be cleaner than in years past, but he was amazed by how wasteful some can be.
"They take one sip out of a Gatorade bottle, then leave it," he said.
But that's not the most disturbing thing he has seen on the garbage rounds. He once picked up a bag to find a rat inside hissing at him.
Sunday's weather was typical for Hoopfest: sunny with high temperatures in the low 80s and a lingering chance of thunderstorms. At next year's event, sweaty attendees should be able to cool off in a play fountain being built in Riverfront Park by the city parks and recreation department and Rotary Club 21.
But Spokane Valley resident Lilly Anderson, 3, couldn't wait a year for relief from the heat. She giggled as she splashed through the fountain outside the Opera House with her grandmother, Martha Bauder, watching.
Shayla Williams, of Wallace, Idaho, didn't share Lilly's enthusiasm for the water. Family members dragged the 19-year-old into the fountain, where she landed on her knees. Williams had the wherewithal, though, to fill her water bottle as she exited the water and empty it on her mother's head.
The scene was hot at Center Court, too, where Team Atlanta beat Wheatland Bank, composed of Gonzaga University players, in a midday elite matchup. The game was plagued by missed free throws, prompting Bulldog fan Justin Hynes, 22, to cry out, "C'mon, man. It's just like at the Kennel."
Despite tight competition, the teams congratulated each other on good shots with a fist-to-fist gesture and helped one another up when they fell into a tangled mess on the court.
One basketball pastime wasn't forgotten: The crowd and some players let referees know when they didn't like their calls.
"I've been doing it for too long" to take the criticism personally, ref Dave Hansen said after the game.
Hoopfest attire was as varied as the motivation for being there. Hynes, the Gonzaga fan, wore short purple shorts and a snug T-shirt he bought at the Classy Rack second-hand store. His teammate, Luke Anderson, donned a homemade thermal underwear set that he cut into shorts and tie-dyed orange. One spectator moseyed down Wall Street wearing nothing more than a string bikini top, cut-off jeans and a feather boa around her hips.
Spokane Police Sgt. Chuck Reisenauer reported a safe Hoopfest Sunday afternoon, but shortly after the last swoosh, a fight involving about 20 people broke out near the Washington Street Bridge. A separate officer said the fight dissolved quickly but one person was taken to jail.
A few attendees had to be reminded of the no-pet rule at civic events, but no citations were issued and the pet owners left without incident.
Hoopfest Executive Director Rick Steltenpohl, who will resign from the post after 16 years with the organization, said the good weather and the lack of major problems or injuries made the event enjoyable.
"It feels pretty satisfying to have such a great weekend," he said. "It's a nice way to go out."
Steltenpohl has accepted a job in sports marketing in Arizona but plans to return to Spokane each year to play.
He thinks Hoopfest grew to be more than twice as big as any other 3-on-3 tournament because of the people behind it and the attitude in Spokane.
"There's a great spirit here," Steltenpohl said. "People have helped us at every step, with sponsorship and volunteers. There's a lot of good will in our community."
Local journalism is essential.
Give directly to The Spokesman-Review's Northwest Passages community forums series -- which helps to offset the costs of several reporter and editor positions at the newspaper -- by using the easy options below. Gifts processed in this system are not tax deductible, but are predominately used to help meet the local financial requirements needed to receive national matching-grant funds.
Subscribe now to get breaking news alerts in your email inbox
Get breaking news delivered to your inbox as it happens.
---