Sports
Briefly
Wed., June 29, 2005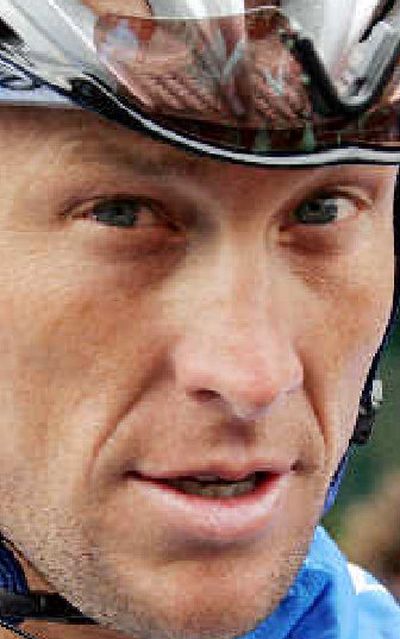 Lance Armstrong is ready to make a prediction for the last race of his career.
"This year, the Tour will be won in the mountains," he said from Paris.
Armstrong is aiming for his seventh straight Tour de France crown, and he has scouted all the crucial climbs that await in the grueling, three-week trek.
In previous years, Armstrong left his rivals behind in the mountains. This time, with retirement beckoning, he is looking toward victory in the Alps, which this year comes in the second week, and in the Pyrenees a few days later.
The 33-year-old Texan spoke to the Associated Press by telephone Monday night after what he called the last long training ride of his career – six hours on roads around Nice in the south of France. He was joined by Axel Merckx, the son of Belgian cycling great Eddy Merckx.
The elder Merckx and three other riders won five Tours – a record Armstrong matched in 2003 and then surpassed with his sixth victory last year.
"I feel strong on the bike," said Armstrong, adding that he has lost more than 3 pounds since he placed fourth in the Dauphine Libere race in France two weeks ago.
"I feel a lot better than I did in the Dauphine," he said. "I'm recovering well."
Auto racing
Michelin offers ticket refunds
Tire manufacturer Michelin offered Tuesday to refund money to those who bought tickets for the U.S. Grand Prix, which was boycotted by seven Formula One teams after the company decided its tires were unsafe at the Indianapolis Motor Speedway.
Michelin also said it would buy 20,000 tickets for the 2006 race to be given to those who attended the June 19 race during which only six drivers participated.
•The seven Formula One teams that boycotted the U.S. Grand Prix face punishments ranging from a reprimand to lifetime bans at a hearing before the sport's ruling body today.
The teams – BMW-Williams, Mercedes-McLaren, BAR-Honda, Toyota, Sauber, Red Bull and Renault – declined to race June 19 after their tire manufacturer Michelin said its tires were unsafe for the Indy circuit.
Olympics
Rice backs New York
Secretary of State Condoleezza Rice lauded New York as a global village of Olympic-sized dreams, joining civic officials at a sendoff rally promoting the city's bid to land the 2012 Summer Games.
"If you walk along the streets of New York you will see the faces and hear the accents of the entire world," Rice said.
New York is competing with Paris, London, Moscow and Madrid, with Paris regarded the front-runner. A decision by the International Olympic Committee will be announced July 6 in Singapore.
Golf
Augusta gets longer
Augusta National is getting another facelift.
The home of the Masters announced changes to six holes, lengthening the course to a staggering 7,445 yards – the second-longest layout in major championship history.
Only Whistling Straits, which played at 7,514 yards for last year's PGA Championship, has presented golfers with a longer challenge.
Augusta National underwent a major renovation leading up to the 2002 Masters, altering nine holes and adding 285 yards to the historic course designed by Bobby Jones and Alister Mackenzie.
•Annika Sorenstam will face Joanne Morley in the first round of the HSBC Women's World Match Championship on Thursday in Gladstone, N.J., and U.S. Women's Open champion Birdie Kim will begin play against Sophie Gustafson.
The pairings were released two days after Kim took the final spot in the 64-player field with her dramatic victory at Cherry Hills.
Wendy Ward of Edwall, Wash., will open against South Korean Joo Mi Kim.
Miscellany
Argentina will face Nigeria
Lionel Messi led Argentina past Brazil 2-1 in Utrecht, Netherlands, and into the World Youth Championship final, setting up a title match against Nigeria. The Nigerians beat Morocco 3-0 to reach the championship game for the first time in 16 years, while Argentina has won three of the last five tournaments and will be playing for its fifth overall title.
•The 2008 U.S. Olympic swimming team will be selected in Omaha, Neb., home of the College World Series and set to become the first city to host the trials in a temporary indoor pool. USA Swimming announced its choice, picking Omaha over higher profile finalists San Antonio and St. Paul, Minn.
•Honolulu businessman Manuel Sanchez, charged with defrauding the NFL of more than $500,000 from the selling of Pro Bowl tickets and a sponsorship fee, has been placed on five years probation. The sports and business promoter also was fined $25,000 and ordered to perform 250 hours of community service.
Sports people
Shula gets contract extension
Alabama coach Mike Shula received a one-year contract extension at his same $900,000 salary. Shula has led Alabama to 4-9 and 6-6 records in his first two seasons. … The Toronto Maple Leafs extended the contract of coach Pat Quinn. No details were released… Dallas Stars coach Dave Tippett signed a two-year contract extension. Terms weren't announced… The New England Patriots signed free-agent kick returner Chad Morton.
Local journalism is essential.
Give directly to The Spokesman-Review's Northwest Passages community forums series -- which helps to offset the costs of several reporter and editor positions at the newspaper -- by using the easy options below. Gifts processed in this system are not tax deductible, but are predominately used to help meet the local financial requirements needed to receive national matching-grant funds.
Subscribe to the sports newsletter
Get the day's top sports headlines and breaking news delivered to your inbox by subscribing here.
---