News > Spokane
Gregoire visits local projects
Wed., June 29, 2005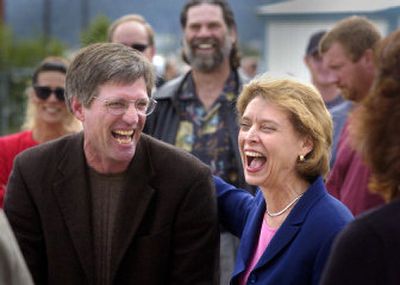 In her first visit to Spokane since a Chelan County judge upheld her election, Christine Gregoire made it clear Tuesday that she is the governor of both sides of Washington.
"I'm happy it's behind me and behind us as a state," Gregoire said of Republican Dino Rossi's legal challenge of the closest gubernatorial race in state history.
Just back from an eight-day trip to Europe, the governor of "the most trade-dependent state in the country" said neither Spokane nor Washington can allow itself to be distracted by politics in today's global competitive environment.
As she toured the Spokane area Tuesday, she paid tribute to community projects that have benefited from legislation she backed.
At the grand opening of the Washington State Patrol's new crime lab on the Eastern Washington University campus in Cheney, she was joined by WSP Chief John Batiste and Barry Logan, director of the Forensic Laboratory Services Bureau.
The lab represents the state's first partnership between academia and the forensic community, which Logan describes as just like the television series "CSI," only more exciting. The new $11 million, 32,000-square-foot facility is projected to house 30 forensic scientists and will allow EWU students to learn crime analysis in a hands-on environment.
Gregoire recently signed legislation adding 20 forensic scientists, staff and supplies to reduce backlogs in crime scene and DNA analysis at the states five crime labs
The governor repeated her now-trademark refrain later in the day when she delivered the keynote address to the Washington Association of School Administrators and Association of Washington School Principals summer conference.
Speaking to a lunchtime crowd of educators at the Spokane Convention Center, Gregoire again praised the Democrat-controlled Legislature for funding two measures approved by voters in 2000, Initiative 728, to lower class size by hiring more teachers, and Initiative 732, providing for cost-of-living adjustments for teachers.
Funding for these measures comes from a variety of sources, including the state's estate tax, reconfigured in the last legislative session, and increases in the state's cigarette tax.
"We can't continue to provide quality education to our children if we don't invest," Gregoire said.
The governor also signed legislation providing $25 million for the Learning Assistance Program to assist high schools who have not met state standards on the 10th-grade Washington Assessment of Student Learning exams due to the effects of poverty on education.
"We as a state need to be committed to testing," Gregoire said, "but that doesn't mean being committed to cookie-cutter education."
At Spokane Community College, Gregoire met with Spokane Alliance leaders who thanked her for her support of legislative and executive action on behalf of health care and sustainable jobs. Many of the alliance members accompanied Gregoire to the college's Apprenticeship and Journeyman Training Center, where she toured building site used as a training module for "green" construction.
In April, the governor signed the first "green building" legislation in the nation, mandating that all new publicly funded building projects meet environmental sustainability standards. Three new Spokane elementary schools will incorporate green building design, which is expected to result in 20 percent savings in energy and water costs.
The training center and green building is the result of a partnership between education and labor, 3rd District Democratic Rep. Timm Ormsby, D-Spokane, told Gregoire on Tuesday.
Local journalism is essential.
Give directly to The Spokesman-Review's Northwest Passages community forums series -- which helps to offset the costs of several reporter and editor positions at the newspaper -- by using the easy options below. Gifts processed in this system are not tax deductible, but are predominately used to help meet the local financial requirements needed to receive national matching-grant funds.
Subscribe now to get breaking news alerts in your email inbox
Get breaking news delivered to your inbox as it happens.
---