News > Features
Break out sneakers for first Art Walk
Thu., June 30, 2005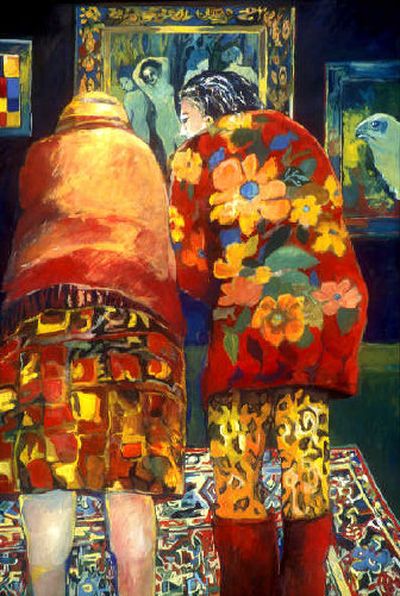 It's almost First Friday Art Walk time again – the evening event when dozens of art venues in downtown Spokane open their doors for a look at new exhibits.
This Friday's receptions are from 5 to 8 p.m., unless otherwise noted. Here's a summary of stops on the self-paced walking tour:
•Artist's Tree Gallery, 828 W. Sprague Ave., reception 5 to 9 p.m. – Seattle glass artist and 1972 Rogers High graduate, Howard Hegwer, South African artist, Elizabeth Smith of Spokane showcasing "Memories in Paint," a series of floral oil paintings.
• Avenue West Gallery, 1021 W. First Ave., reception 5 to 9 p.m. – "Casual July" spotlights Michael Folsom's photography, Linda Lowry's travel photography, Patti Reiko Osebold's Japanese dolls, Kyle Patterson's ceramics, Darrell Sullens' oils, Beth Viren's bead jewelry, Charlotte Yocom's lamps and watercolors by Cheryl Halverson, Marilyn Matherly, Nadine Kay Sherman, Keiko Von Holt, Olivia Waterman and Dian Zahner.
• Chase Gallery, 808 W. Spokane Falls Blvd., City Hall – Three regional artists: Jim Dhillon from Spokane, Justin Gibbens from Ephrata, Wash., and Ronald L. Hall from Bellevue.
• The Fox Gallery, Monroe and Sprague – Dance Center of Spokane performs live at 5:30 and 6:30 p.m. On display in mezzanine are watercolors by Olivia Waterman and Edie Dunlap. The Fox Gallery is showcasing paintings by Angelica Hardin and oils on glass by Jo Breitsprecher; the Fox Debut Gallery has works by students of Spokane Art School. Window displays include paintings by the River Ridge Association of Fine Art, oil pastels by Brenda Everett, weavings and drawings by Lynnette Lawrence, stain glass by Susan Kim and oil pastels by Sheila M. Evans.
• Galleria De Felice, 10 S. Post St. in the Davenport Hotel – Original oil paintings of landscapes and urban settings, right here in Spokane, by Spokane artist Tom Wakeley.
• GoodWorks Gallery, 1019 W. First Ave. reception 5 to 9 p.m. – "Blowing Smoke," the ceramic art of Sami Perry.
• Interplayers Gellhorn Gallery, 174 S. Howard St. – Pen and ink drawings of Spokane artist Michael Mihaylov.
• Liquid Life Espresso, 242 W Sprague Ave. – The Aquarium Art Gallery features framed poetry by Gaye Hight and vibrant sketches by new artist Kelsey Parker. The Red Room features emerging artist Andrea Faith Workman's photographic portraits of women and artist Catail's dynamic mosaics and garden art.
• On Sacred Grounds Coffee, Tea and Specialty Shoppe, Steam Plant Square, 163 S. Lincoln St., reception 5:30 to 7:30 p.m. – Mother-daughter show with Anne Trail and Sarah Trail McGovern including sculpture and paintings.
• Rainbow Regional Community Center, 508 W. Second Ave. – "Spectrum: The Human Possibilities," juried show of artists from across the nation whose works show the vast possibilities of the human race.
• Stone Crazy, Liberty Building, 203 N. Washington St. – Maloni Young's debut includes works in several mediums.
Other First Night activities
• "Bear Necessities," downtown streets – Dozens of artistically adorned life-size fiberglass bears. Fund-raiser for Ronald McDonald House of Spokane.
• Comedy Sports, 227 W. Riverside Ave. – Free tickets to Friday's 8 p.m. performance to the first 15 people to stop by and sign up between 5 and 6 p.m. Improvisational comedy played like a sport. Suitable for all ages.
• Douglas Gallery, 8 N. Post St. – "Latitudes," summer collection of exotic jewelry by designer Bonnie Cooper.
• Far West Billiards, 1001 W. First Ave. – Paintings by local emerging artists including Linda Lawrie.
• Flour Mill Gallery, 621 W. Mallon Ave. – "Mosaic Journey with Gypsy Threads," paintings in various mediums by Darrell Sullens, Shirley Hackett, Marsha Marcuson, Dennis Smith and Susie Snider; and fabric art by Dina Fernandez.
• Global Credit Union, 726 W. Riverside Ave. – Steve Belzman's pastel paintings and woodcut prints.
• Thomas Hammer, 122 N. Wall St. – Local photography and painting.
• Lorinda Knight Gallery, 523 W. Sprague Ave., open until 6 p.m. – Stephen Rue's paintings in "Representing Strangers."
• Mootsy's N. 9 Pizza, 9 N. Washington St. – Works by local artists.
• Northwest Museum of Arts and Culture, 2316 W. First Ave. – First Friday admission by donation between 5 and 9 p.m.
• Pottery Place Plus, Flour Mill, 621 W. Mallon Ave. – "Poems, Prayers and Promises," the calligraphic paintings and paper crafts of Jan Kruger.
• Rock Coffee, 920 W. First Ave. – Paintings by local artists; live acoustic music with Karli Fairbanks.
• Spokane Art School, Huneke Gallery, 920 N. Howard St., open until 7 p.m. – Joanne Warfield large-scale Polaroid photography exhibit.
• Spokane Transit Authority Plaza, upper level rotunda, 701 W. Riverside Ave. – STA and the MAC present "Seeing Spokane," century-old photographs of familiar downtown corners, capturing Spokane's rich transportation history.
Studio Felisa on Garland
Felisa Carranza's new show, "The Blue Period" includes paintings from the 1980s along with recent collages on wood.
Open receptions are Thursday and Friday from 5 to 9 p.m., at the Studio Felisa Galeria De Arte, 612 W. Garland Ave.
The show runs through July. Regular hours are Friday from 11 a.m. to 6 p.m. and by appointment; call 953-3312.
Bayview Daze arts, crafts
This holiday weekend, Bayview Daze runs Friday through Sunday in Bayview, Idaho. There is an "Arts and Crafts Fair" on Main Street all three days, a street parade at 11 a.m. on Saturday and fireworks on Saturday night at 10 p.m. For more information, visit www.bayviewidaho.org.
Sunset Gallery in Harrison
Several new artists and crafters are showing their work in the Sunset Gallery in Harrison, Idaho.
Recent additions to the gallery's list of exhibitors are metal sculptor Richard Warrington of Cheney; potter Iva Talacko; painter Debbie Hughbanks of Deer Lake, Wash.; potter Wenn Tanner of Harrison; wood carver Frank Werner of St. Maries, Idaho; wooden bowl turner Larry Ritter of Coeur d'Alene; watercolorist Kristen Bissaillon; glass artist Roy Lammers; and wood sculptor Rick Galbraith of Harrison.
An opening reception is Monday from 7 to 9 p.m., before the fireworks. The gallery is located at 200 S. Coeur d'Alene Ave. (above One Shot Charlie's Bar and Restaurant) in Harrison.
The gallery's summer hours are Thursday through Monday from 10 a.m. to 6 p.m. For directions, call (208) 659-9172 or e-mail info@sunsetgallery-harrison.com.
Local journalism is essential.
Give directly to The Spokesman-Review's Northwest Passages community forums series -- which helps to offset the costs of several reporter and editor positions at the newspaper -- by using the easy options below. Gifts processed in this system are not tax deductible, but are predominately used to help meet the local financial requirements needed to receive national matching-grant funds.
Subscribe now to get breaking news alerts in your email inbox
Get breaking news delivered to your inbox as it happens.
---