Sports
It's not a pretty picture
Thu., June 30, 2005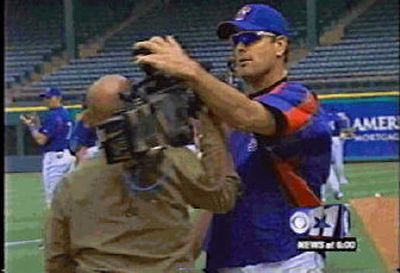 ARLINGTON, Texas – Texas Rangers pitcher Kenny Rogers shoved two cameramen Wednesday, sending one to the hospital in a videotaped tirade that included throwing a camera to the ground and threatening to break others.
Rogers, who missed his last start for the struggling Rangers with a broken pinky caused by another outburst earlier this month, erupted at the cameramen as they filmed him walking to the field for pregame stretching before a game against the Los Angeles Angels.
The 40-year-old left-hander first shoved Fox Sports Net Southwest photographer David Mammeli, telling him: "I told you to get those cameras out of my face."
Rogers then approached a second cameraman. He wrestled the camera from Larry Rodriguez of Dallas-Fort Worth television station KDFW, threw it to the ground and kicked it.
The 6-foot-1, 210-pound pitcher saw two other cameramen who were recording from the Rangers' dugout and walked toward them. He did not make contact with the men, who were backing away.
"I'll break every … one of them," Rogers said before he was escorted to the clubhouse by catcher Rod Barajas.
The Rangers sent Rogers home about an hour later.
KDFW news director Maria Barrs said paramedics took Rodriguez to an Arlington hospital to be checked out.
"He does have quite a bit of pain, in his shoulder and his arm and his leg," Barrs said. Rodriguez was treated and released.
Footage shot by Dallas-Fort Worth station KTVT shows Rogers pushing Rodriguez's camera, which goes over the photographer's head and falls to the ground.
As Rodriguez puts the camera back on his shoulder, Rogers approaches again, pushing the lens away and having words with the photographer.
As players begin to intervene, Rogers pulls the camera to the ground and kicks it before walking away.
Fox Sports Net Southwest spokesman Ramon Alvarez said Mammeli wasn't injured.
Rangers manager Buck Showalter, who did not witness the events, said the team will investigate.
"It's not something we'll take lightly," Showalter said. "When I have all the facts, I'll deal with it. … One person was frustrated – frustrated at not being able to win."
Texas has lost eight of 10 despite Wednesday night's win.
"I think it demonstrated an appalling lack of control," Barrs said. "The team doing poorly is no excuse for assaulting a guy who's just doing his job."
Arlington police spokeswoman Christy Gilfour said the department had been notified of the incident and was investigating. No charges have been filed, she said.
"What Kenny did was wrong and we won't condone it," Rangers owner Tom Hicks said. "It will be handled internally."
Rogers missed his turn Tuesday night against the Angels because of a small broken bone in his right pinkie.
Rogers was hurt after he came out of a game against Washington on June 17. Video clips showed him knocking multiple coolers to the ground, then looking at his right hand.
Local journalism is essential.
Give directly to The Spokesman-Review's Northwest Passages community forums series -- which helps to offset the costs of several reporter and editor positions at the newspaper -- by using the easy options below. Gifts processed in this system are not tax deductible, but are predominately used to help meet the local financial requirements needed to receive national matching-grant funds.
Subscribe to the sports newsletter
Get the day's top sports headlines and breaking news delivered to your inbox by subscribing here.
---