News > Home
July 4th a misery for pets
Thu., June 30, 2005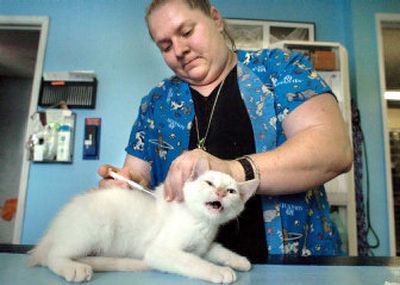 During the summer months, and in particular the Fourth of July, pets should be monitored closely, especially those with runaway tendencies.
"You wouldn't believe the number of animals that turn up missing because of their fear of the Fourth of July fireworks," said Melanie Helms, adoption counselor for the Spokane Humane Society.
Tracie Frank, owner of Dog Haven LLC, calls the holiday "one of the biggest stray collection weekends of the year."
Staff at the Pet Emergency Clinic in Spokane warns pet owners that more animals get hit by cars during the summer because people spend more time outdoors in general.
Not to mention that kids are out of school and maybe a little less diligent about locking the gate to the back yard or closing the front door.
So what's a pet owner to do? Experts offer some helpful tips for keeping your pet safe.
"First, keep your animal in a secure area during fireworks," said Frank. "If your dog isn't reliably trained to stay nearby, then make sure it's contained at all times."
The most frequent escape route for runaway pets is the door that faces no fence.
"This is commonly the front door," said Helms. "In my household, we usually use the back door because the fence is there."
Helms believes that the "wait" command is the most important lesson a dog owner could teach a pet. "Make sure everyone in the household says the command the same way," she said. "If one person is saying 'stay' and another uses 'wait' the animal might get confused. Also, the dog will learn that this rule goes for everyone."
"Always start training on leash," said Helms. "Have in your mind where the animal can go (before you said 'Wait.') Maybe it's a certain number of steps before the door, or a few feet from the gate. Then if the animal gets even a toenail over that line make them come back."
Eventually the dog will become tired of being pushed back to the acceptable stopping point and it will stay for a few seconds. Then it gets a really big treat, said Helms – like a hotdog.
Even if your dog has mastered this command, a properly fenced yard or containment system is highly important.
Both Frank and Helms agree that all pets should have proper tag identification, and preferably a micro chip as well. The American Humane Society recommends even indoor pets wear ID. Micro chips and ID tags should be kept current.
Frank reminds pet owners to check collars for a secure fit.
"It shouldn't be too tight or loose," she said. "Three fingers should slide under the collar easily."
"Pets who have IDs are about 80 percent more likely to get home," said Helms.
She learned the hard way.
"Once I had a 10-month-old Sheltie and when my husband and I went out of town we left her with my mom," Helms remembered. "The Sheltie got scared and ran away. I had taken her collar off. And this was before I knew about micro chipping, and one of the reasons I'm so supportive of them. We never found her."
If an animal does slip through a door or gate that is accidentally left open, there are a few tried-and-true techniques that could ensure your pet's safe return.
When you first realize your pet is missing, check the immediate area.
Ask any kids you see; post flyers at central locations right away. Always keep current photos on hand in case of this emergency.
When scouring the vicinity, carry a leash, treats and a favorite toy, Frank said. "Leave something with your scent on the porch so the animal can easily find the way home – a T-shirt you slept in, or maybe a pillow."
A particular smell can be just the thing that brings your pet home.
"Once a husky got loose and the owners called me," said Frank. "I asked what the dog liked and they told me he loved it when they barb-b-cued. So they cooked hamburgers all night and the dog came home."
Check the all three local shelters' lost-and-found pet hotline and visit the shelter to look for yourself.
Finally check the newspapers.
The American Humane Society warns lost pet seekers to be wary of pet-recovery scams. Ask them to describe your pet thoroughly before offering any information, and watch out for people who want reward money before your pet is returned.
Local journalism is essential.
Give directly to The Spokesman-Review's Northwest Passages community forums series -- which helps to offset the costs of several reporter and editor positions at the newspaper -- by using the easy options below. Gifts processed in this system are not tax deductible, but are predominately used to help meet the local financial requirements needed to receive national matching-grant funds.
Subscribe now to get breaking news alerts in your email inbox
Get breaking news delivered to your inbox as it happens.
---