Sports
Maybe we should call it the IBA
Thu., June 30, 2005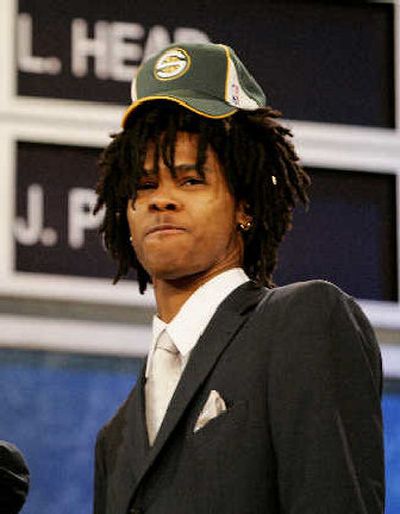 Andrew Bogut had long since left the building by the time Mickael Gelabale of France proudly strode onstage sporting a mop-top of dreadlocks that couldn't be contained by his brand new Seattle SuperSonics cap.
The shaggy-haired forward was one of 11 international players picked in the second round of Tuesday night's NBA draft at New York, as several teams tried to find the next Manu Ginobili – a player drafted 57th overall by San Antonio in 1999 who blossomed into an All-Star for the NBA champions.
"He is a very capable player. He can do everything. The call him the no-mistake guy," agent Bouna Ndiaye said of the 6-foot-7 Gelabale, who spent last season with Real Madrid in Spain.
The Spanish league also produced a lottery pick when the Orlando Magic selected Unicaja Malaga forward Fran Vasquez with the 11th overall selection.
In all, there were 18 international players among the 60 picks.
CSKA Moscow forward Yaroslav Korolev went 12th to the Los Angeles Clippers. A pair of French League players – Johan Petro of Pau Orthez and Ian Mahinmi of Le Havre – were selected late in the first round by Seattle and San Antonio, respectively.
"He was our target," Spurs general manager R.C. Buford said of Mahinmi in a telephone interview Wednesday. "Where we draft, we don't get a chance to see many 6-10 plus athletes with that type of athleticism."
The Spurs have been successful drafting international players, selecting Slovenian guard Beno Udrih a year ago, Argentine forward Luis Scola in 2002, French point guard Tony Parker in 2001 and Ginobili in 1999.
David Pendergraft, the Sonics' director of player personnel, said Gelabale might be the best athlete in Europe, but he is contractually obligated to Real Madrid for another season. Petro should join Seattle for the upcoming season, and he and Gelabale might eventually team with current Sonics Vladimir Radmanovic of Serbia-Montenegro and Vitaly Potapenko of Ukraine to give Seattle an international flavor that could rival San Antonio's.
Wizards extend offer to Brown
The Washington Wizards extended a qualifying contract offer to Kwame Brown, the No. 1 overall pick in the 2001 draft.
The offer makes Brown a restricted free agent, so the Wizards have the right to match any offer another NBA team makes him.
Brown has yet to fulfill the potential that made him the first high school player to go first in an NBA draft. He was suspended for most of the postseason after missing a practice and Game 4 of the Wizards' first-round playoff series against the Chicago Bulls.
Suns trade second-round choice
The Phoenix Suns traded second-round draft pick Marcin Gortat to Orlando for future considerations. Gortat, a 6-foot-11 forward-center from Poland, was the 57th selection overall.
Local journalism is essential.
Give directly to The Spokesman-Review's Northwest Passages community forums series -- which helps to offset the costs of several reporter and editor positions at the newspaper -- by using the easy options below. Gifts processed in this system are not tax deductible, but are predominately used to help meet the local financial requirements needed to receive national matching-grant funds.
Subscribe to the sports newsletter
Get the day's top sports headlines and breaking news delivered to your inbox by subscribing here.
---