News > Business
Scrushy named in numerous suits
Thu., June 30, 2005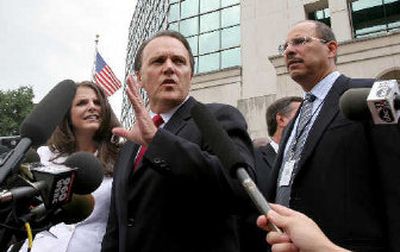 BIRMINGHAM, Ala. — Richard Scrushy's days in court are far from over despite his stunning acquittal on charges of leading a $2.7 billion earnings overstatement at HealthSouth Corp.
Aside from a lawsuit filed by the Securities and Exchange Commission, the fired HealthSouth chief executive officer and aspiring preacher is named in at least 61 other federal lawsuits filed in Birmingham over the massive fraud.
Scrushy, meanwhile, has made noises about trying to return to his old job at HealthSouth or at least trying to force the rehabilitation chain to pay his multimillion dollar legal bills — moves that could mean more lawsuits.
"I expect he will be tied up in the civil stuff for awhile," Scrushy spokesman Charlie Russell said Wednesday. "He believes and his civil lawyer believes he is still under contract as CEO and chairman. He was illegally removed from his job."
The company, which Scrushy founded in 1984, said he was removed properly in 2003 and isn't welcome back.
Paul Lapides, an expert on white-collar crime and director of the Corporate Governance Center at Kennesaw State University near Atlanta, said he can't imagine any company wanting Scrushy on the payroll. At the least Scrushy failed to detect a huge fraud going on in the very building where he worked, and Lapides said he could be a liability for a corporation.
Jurors on Tuesday rejected prosecutors' claims that Scrushy led a seven-year fraud at HealthSouth, acquitting him on 36 counts of violating the Sarbanes-Oxley act, false reporting, conspiracy, fraud and money laundering.
Government lawyers argued that Scrushy made millions in salary and bonuses from the scheme. But jurors sided with the defense, which claimed aides committed the fraud on their own and hid it from Scrushy for years.
Afterward, jurors told reporters they believed a fraud occurred, but that there wasn't any credible evidence linking Scrushy to the crime.
Jurors said they didn't believe the testimony of five one-time HealthSouth finance chiefs who testified that Scrushy was in on the fraud. They also discounted FBI recordings that prosecutors said captured him talking about the fraud with one of the CFOs, Bill Owens.
The verdict was tough on former HealthSouth executives like Emery Harris, one of 15 people who pleaded guilty in the fraud and the only person who served time for the scheme so far.
Harris, an assistant controller who served five months in prison, is still trying to put the years at HealthSouth behind him, according to his lawyer, Steve Salter.
"He is still in a job search," said Salter. "He's having a hard time getting on with a company in a mode he is used to."
Erskine Mathis, a lawyer for Virginia Valentine, a former assistant vice president who pleaded guilty and received probation, said the case against Scrushy was very different from the one against his client and the others who pleaded guilty.
Still, Mathis said, he was surprised by the full acquittal.
"I expected him to be convicted. I think most people did," said Mathis.
U.S. Attorney Alice Martin said she intends to appeal a judge's decision to throw out perjury and obstruction of justice charges before jurors got the case, meaning there could be another criminal trial if an appeals court overrules U.S. District Judge Karon Bowdre.
Local journalism is essential.
Give directly to The Spokesman-Review's Northwest Passages community forums series -- which helps to offset the costs of several reporter and editor positions at the newspaper -- by using the easy options below. Gifts processed in this system are not tax deductible, but are predominately used to help meet the local financial requirements needed to receive national matching-grant funds.
Subscribe now to get breaking news alerts in your email inbox
Get breaking news delivered to your inbox as it happens.
---