News > Home
THE COLLECTOR
Thu., June 30, 2005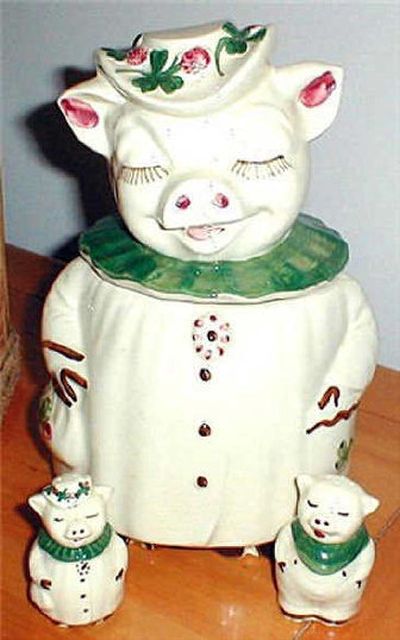 Dear Collector,
This cookie jar with salt and pepper was given to me by my great-aunt who has had them since the 1940s. On the bottom of the jar is impressed "USA." Can you tell me anything about them?
The date for your "Winnie" decorated with green shamrocks sounds about right (her male counterpart is called "Smiley"). Shawnee Pottery of Zanesville, Ohio made all three pieces, though it's unusual to find this group still together after all these years. Because of that, the trio's value could exceed $400.
Dear Collector,
I've had this old clock forever, and always wanted to know how old it is; can you help?
Made by Ingraham, your circa 1918 ornamental mantel clock is appropriately named "Majestic." A timely price for this time piece is $150.
Dear Collector,
How much is this "I Hate Elvis" button worth?
This 1956 pin back (or the corresponding "I Like Elvis") button is worth about $25.
Dear Collector,
Is there any value to this "44 Wonderful Ways to Use Philadelphia Brand Cream Cheese" cookbook?
Issued by Kraft in the 1950s, your 22-page booklet has a spread of $5 to $10.
Dear Collector,
I have an 1863 Indian Head penny; how much is it worth?
Total mintage for that year's copper-nickel coin was nearly 50 million. Value depends on condition: a penny listed as good is worth $7, while a near mint one is well over $1.000.
Dear Collector,
We came across this white pitcher buried in our yard when we put in a pool. It's marked with a circle and "NNCO Hotel." I've searched for a hotel with that name and couldn't find one. Do you know where this hotel was located?
National China Company of East Liverpool, Ohio produced hotel ware during the first three decades of the 20th century. This solves the who/what/where parts of the riddle, but still leaves the how and why a mystery.
Dear Collector,
My parents gave me this Santa Claus bank many years ago. What do you think it's worth?
Made of chalkware, your sleeping Santa in a chair dates to 1948 when Tennessee Williams won a Pulitzer for "A Streetcar Named Desire," and gasoline was only 20 cents per gallon. Value on this7-inch high bank by Banthrico, a U.S. manufacturer, is $50-$60.
Dear Collector,
I bought this space ship lunchbox without Thermos for $3.50; is it worth more than what I paid?
One side of this metal box shows the rocket launching John Glenn's Friendship 7 mission into orbit on February 20, 1962. The other side has a cutaway view of Glenn in the capsule; taken without permission from a "National Geographic" photo. Your 1963 King Seeley Thermos lunchbox has a value of about $200.
Dear Collector,
Do you have any information of our "Three Little Pigs" game?
Made in the 1930s by Kenilworth Press under contract with Walt Disney, value is determined by how well the board, box and contents have held up over the last 70 years. If all the pieces are there, and there's little or no damage, then it could be worth almost $300.
Local journalism is essential.
Give directly to The Spokesman-Review's Northwest Passages community forums series -- which helps to offset the costs of several reporter and editor positions at the newspaper -- by using the easy options below. Gifts processed in this system are not tax deductible, but are predominately used to help meet the local financial requirements needed to receive national matching-grant funds.
Subscribe now to get breaking news alerts in your email inbox
Get breaking news delivered to your inbox as it happens.
---