News > Home
Wild berries beginning to ripen
Thu., June 30, 2005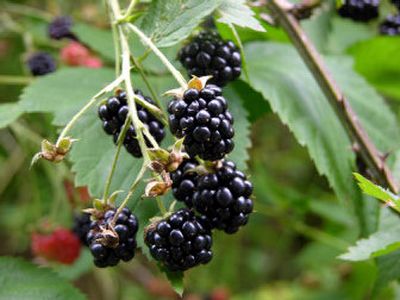 Wild berries are ripening across America and the race is on among man and animals, birds and insects, to see who will get theirs first.
Blackberries are the largest and most recognizable of the wild fruits. They are easy pickings from thickets along quiet roadsides, from shrubs in sunny meadows, growing across mountain faces and paralleling seashores from Texas to British Columbia.
For people who respect property rights, wild blackberries generally are free for the taking. But that doesn't mean you won't pay a price if you aren't wearing the proper uniform – long pants, long-sleeved shirt and boots. Be prepared for chigger and mosquito bites, skin rashes from poison ivy or sting nettles, scratches and shredded clothing from the thorny canes – and the potential for Lyme disease from infected deer ticks.
Despite all that, berries have become the darlings of the fresh fruit industry, says Matt Ernst, an extension associate with the University of Kentucky Department of Agricultural Economics.
"Health benefits, particularly the antioxidant levels, and the fact that they just plain taste good have consumers of all ages eating berries at unprecedented rates," Ernst says. "Blackberries especially appeal to our sense of nostalgia; many Americans still remember picking wild blackberries at some point in their lifetime."
Aside from seeking blackberries in the wild, people are growing them in their gardens, gathering them from commercial pick-your-own operations or buying them hand-harvested and fresh from the field at farmer's markets.
"Some Kentucky farmers are planting and marketing blackberries locally as an alternative crop in the wake of declining burley tobacco production," Ernst says.
More than 2,000 different varieties of blackberries are believed growing across the Northern Hemisphere. Loganberries (a blackberry/raspberry hybrid), boysenberries, thimbleberries and marionberries are among the most common of the wild berry siblings. Blackberries often are confused with raspberries, their domestic cousins, but there are some differences. Perhaps the easiest way to tell them apart is that blackberries when picked come with a core attached while raspberries are hollow.
Plant breeders are building on what nature has so abundantly provided by producing hardier varieties, larger and sweeter berries and friendlier or thornless plants.
Local journalism is essential.
Give directly to The Spokesman-Review's Northwest Passages community forums series -- which helps to offset the costs of several reporter and editor positions at the newspaper -- by using the easy options below. Gifts processed in this system are not tax deductible, but are predominately used to help meet the local financial requirements needed to receive national matching-grant funds.
Subscribe now to get breaking news alerts in your email inbox
Get breaking news delivered to your inbox as it happens.
---