Sports
Cusick clicks in semifinal
Sat., March 5, 2005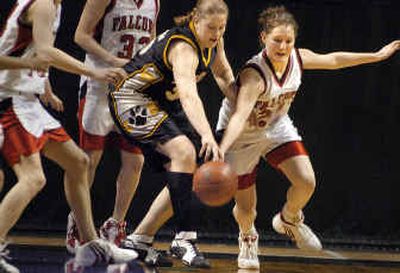 The smile said it all.
With 30 seconds left in the fourth quarter, Cusick coach J.R. Bluff pulled most of his starters, including daughter Kim, a senior forward. Kim looked over toward teammate Cara Shepherd, also coming out, and flashed her a big grin.
The Panthers were going to play for a state title.
Shepherd had 20 points and 17 rebounds, Bluff finished with 18 points, six rebounds, four assists and four steals, and Misty Ostlie finished with 19 points and eight rebounds as Cusick beat Sprague-Harrington 62-45 in a State B semifinal Friday night at the Spokane Arena.
Playing in their first state tournament, the Panthers (27-2) were clicking from the start. With Shepherd drawing fouls left and right and scoring eight points, and Bluff adding six more, Cusick jumped out to a 17-9 lead after one quarter and never looked back.
"Our goal was to jump out in front first, which we did," Shepherd said. "They're a good team. I was prepared for them to fight back because they're good at that. So we just wanted to get a big jump and just run."
Run they did, firing on all cylinders and showing Almira/Coulee-Hartline, Cusick's opponent in the today's final, that the Warriors will have a tough game on their hands come 7 p.m.
"We're good at holding on to leads," J.R. Bluff said. "We got ahead early, and once we have the cushion, we just continue to score and make them play defense. … We got good shots and when we get good shots, they're going to go in the hole."
The lead was easier protected with S-H's foul trouble. The Falcons (24-6) were called for 13 first-half fouls, three on junior guard Stacie Shields, who was in foul trouble all night.
Shields lit up Cusick for 35 points in their first meeting in the District 7 semifinals, a 70-65 overtime win for the Panthers, but this time was on the court for just more than 8 minutes and was held to four points before spraining her ankle late in the fourth quarter.
As a whole, the Falcons were called for 24 fouls to Cusick's 16.
"They did (play well)," Sprague-Harrington head coach Ed Shields said of his team, adding that Stacie Shields was doubtful for the third-place game against Curlew today at 4:30 p.m.
"We got in foul trouble, whether we weren't moving our feet or what, I thought it could have been called on both ends. … But I don't want to send that message. We didn't move our feet defensively today and our shots didn't fall. Shepherd had her way inside and you have to give them some credit. That's a good basketball team. They deserve to go (to the final)."
Sprague-Harrington's leading scorer, Abby Hatten, scored 21 points but was just 7 of 29 from the field, 4 of 13 on 3-pointers. That ability to clamp down on defense and keep the offense clicking has the Panthers feeling like they can knock off ACH, despite losing 73-38 to the Warriors in the District 7 final last weekend.
"We always believed we belonged here," J.R. Bluff said. "We always felt we could play at this level, but the districts were always our bump in the road. We were always just one game away."
Local journalism is essential.
Give directly to The Spokesman-Review's Northwest Passages community forums series -- which helps to offset the costs of several reporter and editor positions at the newspaper -- by using the easy options below. Gifts processed in this system are not tax deductible, but are predominately used to help meet the local financial requirements needed to receive national matching-grant funds.
Subscribe to the sports newsletter
Get the day's top sports headlines and breaking news delivered to your inbox by subscribing here.
---