News > Spokane
M's Spanish network struggles
Sat., March 5, 2005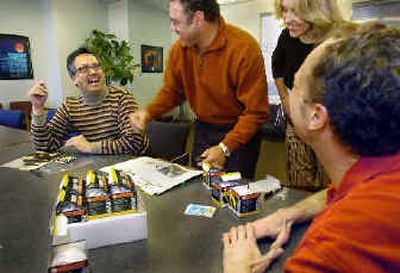 During the off-season, the Seattle Mariners went out and added several players to help fans forget last year's dismal crash and burn.
Spokane's KXLY Radio Group, which has the rights to carry all 81 home games in Spanish across the Northwest, was hoping to do the same. But it hasn't been easy, admits Roger Nelson, the manager of the three-year-old effort to bring beisbol to Northwest fans of Los Marineros.
Last year KXLY's Mariners Spanish network had five Washington state AM affiliates. This year, with opening day just four weeks away, the network has shrunk to two stations, in Yakima and the Tri-Cities.
Gone this year are affiliates in Seattle, Wenatchee and Moses Lake.
"We didn't get into this for the short-term," Nelson said Friday. Before he can expand the number of stations, Nelson and KXLY have to train radio stations to start thinking of appealing to the 800,000 Spanish-speaking residents of Oregon and Washington.
Thirty percent of all major league players speak Spanish, but America's pastime has a hard time competing with soccer among the region's Hispanics. Making money with Spanish radio broadcasts of baseball takes effort and perseverance, Nelson said.
KXLY's M's Spanish radio network lost money its first two years. Nelson hopes it can make a profit as early as this year "if we sell enough advertising."
But to do that, he knows he has to offset the loss of the three stations, plus add some others to the young radio network.
The network lost key affiliate stations in Wenatchee and Moses Lake last fall when both stations chose to carry more Mexican soccer games instead of the higher-priced Mariners games.
Seattle's Radio Sol, the one Seattle station that carried Mariners games in Spanish the past two years, backed away this week from working with KXLY during the coming season.
Nelson said he's in discussions to find another Seattle station to carry Spanish broadcasts in the team's hometown. The Radio Sol decision to not carry the games was due to a variety of factors including prolonged discussions of a new contract, said station General Manager David Fitts.
Nelson said there are more Hispanic listeners in Yakima and the Tri-Cities than in Seattle, "but yes, it's important that we have a station right there in Seattle."
In addition to Seattle, Nelson said he hopes to add other affiliate stations right up to the season opener on April 4.
Regaining a Seattle presence is important as well to Amaury Pi-Gonzalez, the voice of the Mariners Spanish Radio Broadcast Network. Pi-Gonzalez, who works the broadcasts with former Mariner infielder Julio Cruz, said he's gotten strong fan response to calling M's games for the past two years.
"This would be the first year for me that you don't have people in your home city hearing your broadcasts," said Pi-Gonzalez, who's been in baseball for more than 20 years. Pi-Gonzalez will also do Spanish broadcasts of weekend Giants games in addition to the 81 Mariner home games.
Pi-Gonzalez knows it's not that easy to make a Spanish network profitable. He worked for several years broadcasting Oakland A's games. That Spanish game network didn't make money, and Pi-Gonzalez moved first to the San Francisco Giants, and then the Mariners.
What KXLY has done, however, is "ahead of the curve by a couple of years," Nelson said. Hispanics are not only the fastest-growing ethnic group in America, they're increasingly a much-sought media audience.
"They have disposable income, and they become very loyal to the brands that appeal to them," he said.
KXLY's move into Spanish baseball followed its 2001 launch of the Cougar Sports Network on radio. That network, arranged with Washington State University, has 28 Northwest stations airing Cougar football games and 14 carrying basketball in the spring.
It became profitable in its second year, Nelson said.
Despite the fast growth of the Hispanic population, only 18 of the 30 major league teams carry a portion of their games in Spanish. Fewer than 10 carry an entire season, with only the Los Angeles Dodgers and Houston Astros having radio groups making money broadcasting games in Spanish.
Three years ago the Mariners struck a deal with KXLY for the Spanish network because "we just didn't have the background to put this kind of operation together," said Randy Adamack, vice president of communications for the M's.
"We also had worked with KXLY because they had carried our games for years and we liked their work," he added.
For two years KXLY made a yearly payment upfront for rights to the games. Adamack didn't disclose that amount, but said it was less than $150,000.
This year the Mariners chose to cut a deal with Nelson and KXLY. Instead of asking for the yearly guarantee, KXLY now will share any profits it makes with the M's, Adamack said.
That step should make it easier for KXLY's network to move toward profitability, he said.
"We want to be supportive and make this a successful package," Adamack said. "Our goal is to help make sure anyone who wants to listen to Mariners games will have that chance."
Local journalism is essential.
Give directly to The Spokesman-Review's Northwest Passages community forums series -- which helps to offset the costs of several reporter and editor positions at the newspaper -- by using the easy options below. Gifts processed in this system are not tax deductible, but are predominately used to help meet the local financial requirements needed to receive national matching-grant funds.
Subscribe now to get breaking news alerts in your email inbox
Get breaking news delivered to your inbox as it happens.
---