News > Nation/World
Scientist gets nod for top EPA post
Sat., March 5, 2005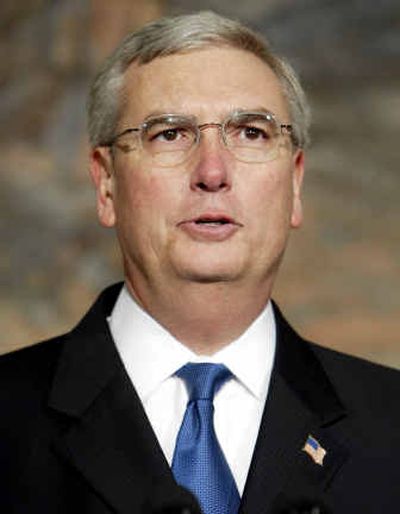 WASHINGTON – President Bush reached into the ranks of the Environmental Protection Agency on Friday and nominated its acting administrator, Stephen L. Johnson, to head the office where he has worked for 24 years.
Johnson, 53, a biologist and pathologist, would be the first scientist and first career EPA employee to head the agency, which was established in 1970 as the environmental movement took hold across the United States.
Johnson must be confirmed by the Senate. His selection drew initial support from some senators with strong environmental records, as well as others who closely follow such issues.
But skeptics questioned whether Johnson would stand up to White House officials, who critics say favor industries' needs over protection of the nation's air, water and land.
With Johnson at his side in the White House Roosevelt Room, Bush said: "He knows the EPA from the ground up, and has a passion for its mission – to protect the health of our citizens, and to guarantee the quality of our air, water and land for generations to come."
"He is an impressive pick," said Kenneth Cook, president of the Environmental Working Group, a non-profit research group. "Steve is a straight-shooter who has a reputation for being fair, paying close attention to the science and calling things as he sees them."
A less positive assessment of Johnson came from a former senior EPA official who worked with him throughout the eight years of the Clinton administration.
"He's not going to push back," said the former official, who spoke on the condition of anonymity because he continues to have dealings with the agency. "He's not ideological. He has no agenda of his own. They chose him to lower the profile of the agency."
Johnson would replace Michael Leavitt, the new secretary of the Department of Health and Human Services.
Leavitt, former governor of Utah, served in the EPA post for little more than a year. He succeeded Christie Whitman, former governor of New Jersey, who resigned.
Johnson's selection drew none of the sharp opposition that would have greeted a nominee with direct ties to the industries most closely monitored by the agency.
He is "more of a technocrat than an ideologue," said Eric Schaefer, an administration critic who once directed EPA's Office of Regulatory Enforcement.
"I think he will be cautious and loyal at the same time," said Schaefer, who heads the Environmental Integrity Project, which seeks strong enforcement of the nation's environmental laws.
The chairman of the Senate Environment and Public Works Committee, Sen. James Inhofe, R-Okla., noted that the Senate had already confirmed Johnson twice for lower ranking jobs.
Sen. Jim Jeffords, I-Vt., a committee member and frequent critic of Bush on environmental matters, said Johnson's "experience and temperament make him a solid choice to lead the agency at this time."
Local journalism is essential.
Give directly to The Spokesman-Review's Northwest Passages community forums series -- which helps to offset the costs of several reporter and editor positions at the newspaper -- by using the easy options below. Gifts processed in this system are not tax deductible, but are predominately used to help meet the local financial requirements needed to receive national matching-grant funds.
Subscribe now to get breaking news alerts in your email inbox
Get breaking news delivered to your inbox as it happens.
---