Sports
Warriors happy to be back
Sat., March 5, 2005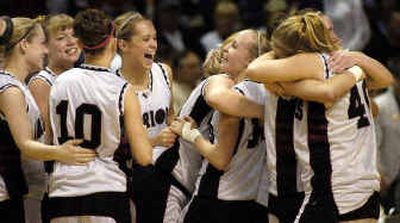 Almira/Coulee-Hartline head coach Mike Correia was fighting back tears Friday night. After watching his Warriors earn a berth in the State B finals, it wasn't hard to see why.
In a game where Curlew had ACH reeling from the start and out of sorts much of the game, the Warriors fought off the hard-nosed Cougars 50-39 in a semifinal at the Spokane Arena.
It's the second straight state final appearance, and third in five years, for the Warriors, who lost to St. George's in last year's championship game and to Tekoa-Oakesdale in 2001.
And it had the first-year coach choking up on his way to the locker room.
"The girls worked so hard; played so hard," Correia said. "It wasn't their best game, but you know what, you have to hand it to Curlew. Curlew battled and battled and battled."
That the Cougars (24-6) did. Behind the hot early shooting of senior Amanda Grumbach, who hit three 3-pointers in the first half, Curlew jumped out to an 8-0 lead and led 13-5 after the first quarter.
But the Warriors (27-2) did a fair bit of battling themselves. Molly Gwinn drew a second foul on Cougars post Nichole Miller late in the first quarter and she took a seat.
ACH used the lack of inside presence for Curlew to get Michelle Balcom going. Held scoreless in the first quarter and with the Curlew defense collapsing on Gwinn and Kami Clark, Balcom scored 11 of her game-high 19 points in the second quarter, leading the Warriors to a three-point halftime lead.
As a senior, Balcom knew it was on her shoulders to get the team going.
"I knew I had to step up as a leader," the 5-foot-4 point guard said. "They're going to feed off of me, so I knew I had to get in there and make something happen. My teammates kept telling me to shoot; they have all the confidence in the world in me. I just have to make sure I lead us."
The Cougars have a pretty capable floor leader of their own in point guard Brittany Strandberg, but the Warriors were able to keep her under wraps, holding the 5-4 senior to six points on 2-of-11 shooting.
But it was when Miller, who still finished with a team-high 12 points, went to the bench that Curlew really began to struggle.
"We got Nichole in foul trouble, and we got cold," Cougars head coach Ted Torzewski said. "We were hot from the outside and we had 'Nich' inside making a threat there, and it gave our girls time outside. Once we got her out of there, it was tough for us to get good looks from the outside."
And when their shots stopped falling, the Cougars just couldn't keep pace with the Warriors. ACH held Curlew scoreless in the fourth quarter until a Miller putback with 1:39 left, but by then it was all but over, and the Warriors were headed back to the championship game.
"This isn't a cliché; people throw this around pretty loosely, and I don't throw it around loosely: I thank God for this opportunity to be here, to coach these girls," Correia said. "I don't throw that out there as some public-relations move. I truly and honestly believe that."
Local journalism is essential.
Give directly to The Spokesman-Review's Northwest Passages community forums series -- which helps to offset the costs of several reporter and editor positions at the newspaper -- by using the easy options below. Gifts processed in this system are not tax deductible, but are predominately used to help meet the local financial requirements needed to receive national matching-grant funds.
Subscribe to the sports newsletter
Get the day's top sports headlines and breaking news delivered to your inbox by subscribing here.
---