Sports
Work in progress
Sat., March 5, 2005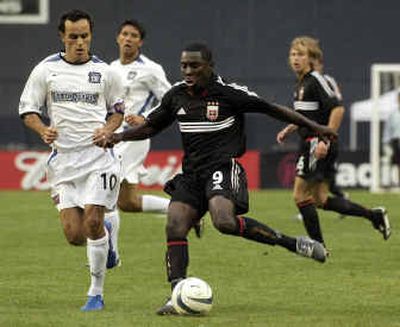 The first thing you'll notice about the new Freddy Adu is his hair — it's growing out and getting a little puffy. His D.C. United coaches and teammates tease him, bouncing the palms of their hands off it. His mother winces when she sees it. "I call him `Ugly Hair,' " Emelia Adu said, hiding a smile. "He should get a haircut."
The hair is not the only change. In the 3½ months since helping United win the MLS championship as a wildly publicized rookie, the 15-year-old Adu has undergone a startling physical transformation. He said he has added 15 pounds since the end of last season, going from 130 to 145 pounds. His chest and shoulders are wider and more defined, his upper legs bulkier.
The plan is to add five more pounds onto his 5-foot-6 frame before United's league opener April 2 against the Los Angeles expansion team, Chivas USA. Adu's first serious test will come Wednesday at Maryland SoccerPlex against Harbour View of Jamaica in the first leg of an international tournament quarterfinal.
"I don't know how I did it, really — just hard work," he said this week after team workouts at the chilly RFK Stadium auxiliary fields. "I did a lot of weightlifting, twice a day, working with conditioning people, and I've been eating a lot better, vegetables and salads, stuff like that. I hated that stuff before."
Adu's off-season work began in mid-November, three days after United had defeated the Kansas City Wizards, 3-2, at Home Depot Center in Carson, Calif., to win its first MLS Cup title in five years.
Adu, United's third-leading scorer last year with five goals, headed to IMG Academies, the vast sports training facility in Bradenton, Fla., where he had lived as part of a U.S. soccer residency program before signing with MLS in November 2003. He began an intensive conditioning program used by many elite athletes, such as Olympic track and field star Michael Johnson and Jacksonville Jaguars quarterback Byron Leftwich, that resulted in him adding significant lean muscle mass.
According to Trevor Moawad, a mental conditioning coach at IMG, Adu put on 12 pounds in 12 days in Bradenton. But what impressed Moawad most was Adu's work ethic.
"I remember being in United's locker room after they won the championship and I could see how excited Freddy was," Moawad said. "But he also said, 'I know I can be so much better next year.' It says a lot that, after a 10-month season and all he went through as a rookie, he took two days off and got down here to get back to work."
Adu is starting to notice the benefits of increased strength. In United's preseason exhibitions, he hasn't been getting shoved aside by larger opponents like last year. He is also a little faster, bigger leg muscles providing greater acceleration, he said.
"He's bigger and stronger, but we're not looking to get Arnold Schwarzenegger," United Coach Peter Nowak said. "We're looking to get the soccer player Freddy Adu. He has to grow naturally, but he also has to do this stuff in the weight room to get stronger. I think it has been good for him and it will help him grow as a soccer player."
Adu realizes he must do a lot to maintain his strength, such as shedding his finicky eating habits and trying meals other than his favorite — mom's Jollof Rice — when he's at home in Rockville, Md. He's also working out on his own and receiving guidance from United's fitness staff.
"I've got to plan how to keep that weight on," he said. "You've still got to eat right and just keep yourself in condition. I have some weights at home now, so I'm still doing it. But I'm not doing it too much because I don't want to get too big and get a little slower."
Adu, who will turn 16 in June, has also worked with Moawad on his mental preparation after a sometimes frustrating rookie season in which Nowak carefully regulated Adu's playing time and limited him to 14 starts in 30 regular-season games. On a championship team that has back most of its players, there are no guarantees he will become a full-time starter.
"My expectations are to crack into the starting lineup," he said. "I don't want to be the kind of player that comes into every game and plays 20 or 25 minutes. That's not me. I want to play. I am very competitive and I want to be out there on the field helping the team out."
Cautioned Nowak: "We know that he grew up, we know he is a better soccer player, a better team player and a better human being. The whole process has made him better. But expectations are one thing, reality is another thing. It's very difficult to change anything major in our lineup, but Freddy is doing his best to make the starting 11."
Adu seems more mature and confident after his topsy-turvy first year, more willing to express himself on the field and demonstrate the creativity that helped turn him into one of the most promising young players in the world.
He, Moawad and the United staff got together recently while the team was training in Bradenton "to make sure Freddy's expectations were in line with the team's expectations," Moawad said. "We talked a lot about how to take the next step" and contribute more to the team.
"Right now, I am riding high on confidence," Adu said. "Once you get a year under your belt and you get a championship and your teammates accept you, your confidence skyrockets because everyone is behind you. So if you work your butt off, you should be fine.
"The guys have been great. They're like, 'You know what, Freddy, just play your game.' It got to the point last year where I was playing not to make mistakes. That's not me. I play to take chances, I take people on. That's exactly what I've been doing."
Local journalism is essential.
Give directly to The Spokesman-Review's Northwest Passages community forums series -- which helps to offset the costs of several reporter and editor positions at the newspaper -- by using the easy options below. Gifts processed in this system are not tax deductible, but are predominately used to help meet the local financial requirements needed to receive national matching-grant funds.
Subscribe to the sports newsletter
Get the day's top sports headlines and breaking news delivered to your inbox by subscribing here.
---