News > Spokane
Authorities arrest 10 protesters as fire-salvage logging begins
Tue., March 8, 2005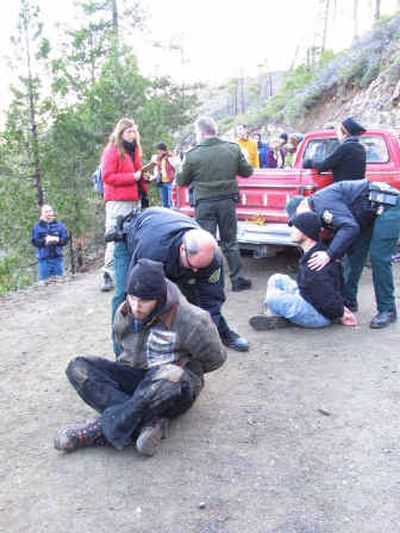 SELMA, Ore. – Loggers began falling trees inside an old growth forest reserve burned by the 2002 Biscuit fire on Monday after authorities hauled away protesters trying to block access while waiting for legal challenges in federal courts.
Five timber fallers toting chainsaws, axes and fuel cans hiked past the protest site on the Siskiyou National Forest and a short while later the roar of chainsaws and trees crashing to earth could be heard.
Authorities arrested 10 people and towed away a disabled pickup draped with an Earth First banner.
About 50 protesters assembled on the Siskiyou National Forest before dawn, first at a green steel bridge across the Illinois River, and later at the pickup truck barricade in an attempt to stall logging that had been made possible by the expiration of an injunction.
"We have no laws in our forest so we will be the law," said Joan Norman, 72, of Selma, before Forest Service law enforcement officers picked her up in her metal lawn chair blocking a logging road bridge leading to the Fiddler Timber sale.
Another person was arrested nearby.
John West, president of Silver Creek Logging. Co., said the protesters had a right to their say, but a federal court injunction that held up the logging for months has expired, and work has to proceed quickly to avoid further loss of the fire-killed timber to insects and rot.
"The people of this country have given the Forest Service the responsibility for taking care of this land," West said. "The Forest Service is trying to do that."
Attorney Lauren Regen said protesters were trying to delay the logging long enough for a U.S. District Court hearing scheduled for Wednesday on a temporary restraining order sought by the Cascadia Wildlands Project and other environmental groups.
Another hearing is scheduled for March 22 on a separate lawsuit being considered by the 9th U.S. Circuit Court of Appeals.
It also challenges logging in old growth forest reserves.
"It's not about us versus loggers," said Laurel Sutherlin, a spokesman for the Oxygen Coalition, a conservation group. "This is the front line of a national struggle."
The salvage logging on the 2002 Biscuit fire has become the focus of a national debate between conservationists and the Bush administration over how to treat the millions of acres of national forest that burn every year in wildfires and whether to log any of the remaining old growth in national forests.
One issue is whether the Forest Service should sell timber in large volumes inside old growth forest reserves, which were designated primarily for fish and wildlife habitat under the 1994 Northwest Forest Plan.
That plan was created to balance logging against habitat for salmon and the northern spotted owl.
The conflict is likely to get hotter this month when the Forest Service plans to start selling fire-killed timber inside roadless areas.
Those areas were put off-limits to logging under the Clinton administration, but the Bush administration is moving toward opening them to timber harvest.
The Forest Service and timber industry contend that by cutting trees on a small fraction of the 500,000 acres burned by the Biscuit fire, they can finance work to speed the growth of a new forest while providing much-needed timber for local mills.
Environmentalists counter that the logging promotes erosion that clogs salmon streams and removes the large trees that are the building blocks for natural regeneration of a forest.
After passing the crowd of protesters at the bridge, the convoy of about 10 law enforcement vehicles and a half dozen pickups carrying loggers stopped at an old red Dodge pickup truck with four flat tires parked across the road.
While protesters stood on the hillside above cheering, officers arrested five people standing nearby and used a saw to cut the steering wheel where a woman calling herself Black Wolf was connected by a bicycle lock around her neck.
She was also arrested.
Two men calling themselves Pax and Zelda released their grip inside a steel pipe anchored to the ground underneath the pickup when the tow truck operator began lifting the front end.
They were arrested and taken away in stretchers.
Those arrested were taken to the Josephine County jail on misdemeanor charges of obstruction of government administration and interfering with an agricultural operation, said Lt. Lee Harman of the Josephine County Sheriff's Department.
Local journalism is essential.
Give directly to The Spokesman-Review's Northwest Passages community forums series -- which helps to offset the costs of several reporter and editor positions at the newspaper -- by using the easy options below. Gifts processed in this system are not tax deductible, but are predominately used to help meet the local financial requirements needed to receive national matching-grant funds.
Subscribe now to get breaking news alerts in your email inbox
Get breaking news delivered to your inbox as it happens.
---