Sports
Neuheisel settles case, receives $4.5 million
Tue., March 8, 2005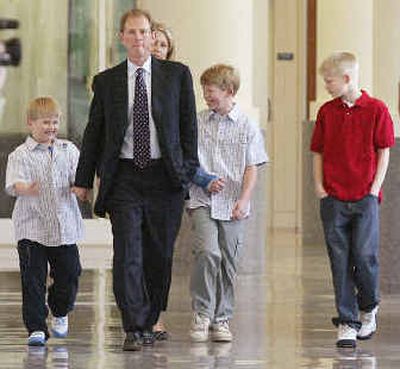 KENT, Wash. – Fired University of Washington football coach Rick Neuheisel left a King County courtroom Monday with a $4.5 million settlement in his lawsuit against the NCAA and the university.
Just as importantly, he claimed victory in the 21-month dispute that had threatened his coaching career.
"I feel fully vindicated," Neuheisel said. "Obviously, they're going to have their stories, too, but I feel like this is the best scenario. Nobody's nose gets bloodied."
The settlement was announced by Superior Court Judge Michael Spearman after five weeks of testimony, just as jurors were set to hear closing statements.
It capped a lengthy and bitter legal fight, starting with Neuheisel's firing in June 2003, that publicly exposed the NCAA and school to embarrassing administrative gaffes and left UW's once-proud football program in tatters.
"I'm elated that it's over. It's been 21 months and it's been hard," said Neuheisel, who signed autographs for jurors.
Neuheisel will receive cash payments of $2.5 million from the NCAA and $500,000 from the university. Additionally, the university agreed not to seek repayment of a $1.5 million loan.
"The legal system works," he said. "The players got together and found an amicable resolution. "
Neuheisel's lawyers put the settlement amount at $4.7 million, saying it included $200,000 in forgiven loan interest. University officials insisted the settlement included no such provision.
The genesis for a settlement was a monumental trial development Feb. 28. NCAA lawyer John Aslin disclosed that the organization failed to provide Neuheisel's legal team with an updated version of its bylaws during discovery.
At issue was whether those questioned by NCAA investigators must be notified of the purpose of the interview. It turned out the NCAA had amended its bylaws to require such notification six weeks before Neuheisel's June 2003 interview.
The finding seemed to bolster Neuheisel's argument that NCAA investigators acted improperly, since they hadn't advised him they would ask about his gambling in an auction-style pool on NCAA basketball tournament games.
NCAA president Myles Brand said in a statement Monday the organization believes its investigators acted properly. He said when the bylaw was redrafted, it wasn't meant to be interpreted so broadly.
However, Spearman decided last week to leave open the possibility of a mistrial. He also ordered restrictions on how the NCAA could present its case in the trial's final week. Aslin said that made it more difficult to present an adequate defense.
"In light of everything going on, we felt the appropriate thing to do was to resolve the case," Aslin said.
University lawyer Lou Peterson said administrators agreed to the settlement because the school "could settle for less than 10 percent of the amount sought against us. I feel we came out a winner." Neuheisel, now the quarterbacks coach of the NFL's Baltimore Ravens, insisted he bears no resentment toward Washington or the NCAA, and said "I hope I have the opportunity" to coach college football again.
Local journalism is essential.
Give directly to The Spokesman-Review's Northwest Passages community forums series -- which helps to offset the costs of several reporter and editor positions at the newspaper -- by using the easy options below. Gifts processed in this system are not tax deductible, but are predominately used to help meet the local financial requirements needed to receive national matching-grant funds.
Subscribe to the sports newsletter
Get the day's top sports headlines and breaking news delivered to your inbox by subscribing here.
---