News > Features
Memories and Meanness
Thu., March 10, 2005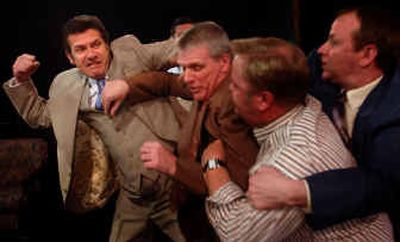 The cult of the coach – Vince Lombardi, Tom Landry, Red Auerbach – has always been pervasive in the United States.
That's one reason why "That Championship Season," which opens at the Spokane Civic Theatre's Studio Theatre on Friday, struck like a thunderclap when it first hit Broadway in 1972.
Jason Miller's play is about four members of a state high school basketball championship team gathered for a reunion with their beloved coach.
As New York Times critic Walter Kerr pointed out in his original 1972 review, this setup was already a familiar stage gambit. Usually, it paved the way for a feel-good story about male-bonding, with plenty of nostalgia about the glory days.
Yet Miller's play is a harrowing drama: an examination of the darker side of sport and the cult of authority.
"The coach, long ago, had taught all of his charges to be 'lean and mean,' " wrote Kerr. "And though they had by no means stayed leaner, the meanness had stayed with them."
The coach had taught them that "exploiting a man's weakness is the name of the game," and he considered lots of things to be a weakness – being Jewish and being black, to name a couple.
The play was a huge and immediate sensation, with Paul Sorvino playing Phil, Charles Durning playing George and Richard A. Dysart playing the coach.
It ran until April 1974 – 844 performances – which is an exceedingly long run for a straight drama. It went on to win two 1973 Tonys, for Best Play and Best Direction (A.J. Antoon). Miller also won the Pulitzer Prize for Drama.
A belated movie version arrived in 1982, starring Sorvino, Stacy Keach, Martin Sheen, Bruce Dern and Robert Mitchum. Miller directed it, yet it failed to make much of a splash.
A 1999 TV version was somewhat more successful. The cast included Tony Shalhoub, Vincent D'Onofrio and Gary Sinise. Sorvino directed and played the coach.
Miller turned to acting soon after he wrote this play and was best known for his portrayal of Father Damien Karras in "The Exorcist," for which he was nominated for a Best Supporting Actor Oscar.
He died in 2001 at age 62 while rehearsing a play at the Summer Theatre in Scranton, Pa.
The Civic's version of "That Championship Season" will be directed by Wes Deitrick and will feature Terry Sticka as the Coach. The other cast members include Dave Rideout, David Gigler, Tracy Schornick and Brad Picard.
Friday's opening-night performance will be followed by a reception to celebrate the 25th season of the Firth J. Chew Studio Theatre, the Civic's intimate "black-box" space on the lower level.
Local journalism is essential.
Give directly to The Spokesman-Review's Northwest Passages community forums series -- which helps to offset the costs of several reporter and editor positions at the newspaper -- by using the easy options below. Gifts processed in this system are not tax deductible, but are predominately used to help meet the local financial requirements needed to receive national matching-grant funds.
Subscribe now to get breaking news alerts in your email inbox
Get breaking news delivered to your inbox as it happens.
---