News > Voices
Memory lanes
Thu., March 10, 2005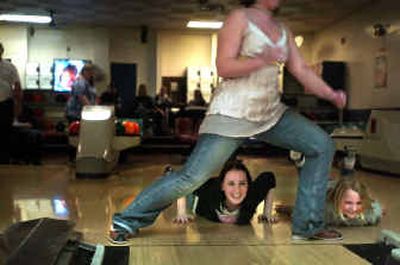 The brick exterior needs more than a fresh coat of paint. The Budweiser fixtures above the pool tables have seen brighter days, and the signs in the parking lots are as beat up as an aging boxer. But flaws and all, the Colonial Bowl has been a beautiful sight at the well-traveled intersection of Ruby and Sharp for more than 40 years, or at least the site of some beautiful memories. It will close March 18, for the sake of the changing times and Gonzaga University's growing campus.
"It's going to be sad," said former owner Helen Felice, her watery eyes looking out at the original "Colonial City Bowl" mural that stretches across the top of the 24 lanes. "I totally hate it. It's like the home you grew up in, and to see it leveled."
Felice's memories of the bowling alley could fill a stack of scrapbooks. She and her late husband, Vic, bought the business – which was about nine years old at the time – in 1969 and ran it for 32 years.
Felice sold Colonial Bowl to Gonzaga in 2001 knowing the school's plans were to destroy the building. There had been rumblings about that happening as far back at the '70s.
Kaploe Marketing Group, a national firm based in Rockville Centre, N.Y., that specializes in running bowling centers, has had a hand in the business since. Avalon Dance Studio, located in a connecting building, is run by local businessman Glenn Braunstein. It, too, is part of the Gonzaga project. Braunstein, who bought the 10,000-square-foot studio in 1992, said the last day will be April 1.
"My secret wish was for Gonzaga to keep the bowling center and use it for a student activities center and build a parking lot above it," Felice said. "Not many campuses could offer a complete activity center with food and games."
Instead, construction of a 75-unit apartment building, which will accommodate 250 students, and parking, is scheduled to begin in May. It will be done in fall 2006.
Felice, 75, hasn't been back to the Colonial Bowl, 121 E. Boone Ave., much since selling. The few times she's been there has been with her twin granddaughters, Amanda and Jessica Corigliano, ardent bowlers who are sophomores at Shadle Park High School. Other than that, she said, there haven't been many occasions to drop by. But when she does, it's like she's still behind the counter arranging rental shoes.
"They're all like family," Felice said one afternoon last week at Colonial Bowl.
And it was a family that always kept up with the Joneses, or in this case, the Brunswicks, the Columbias, and other names synonymous with the sport.
"When this was built in the '60s, it was very modern for a bowling center," Felice said.
About 14 years later, during the Expo '74 heyday, Colonial Bowl became the first center in Spokane to install automatic scoring machines. Felice remembers their first computer practically filled an entire office.
As in many mom-and-pop businesses of old, employees were loyal, working the same job for years. There was Ginnie Bailey, a dear friend of Felice's, who worked at Colonial for 36 years, and Lorraine Hatfield, who worked 25 years before retiring 11 months ago.
"I really miss the people," said Hatfield, a Spokane Valley resident who bowls in three leagues. "I was here long enough. I remember when the gals ran around the foosball tables, and now I know their kids. I'm glad I retired before they tore it down"
With the closing of Colonial Bowl, many of its regulars will make nearby North Bowl, 125 W. Sinto Ave., their home center. Kaploe took over North Bowl – the city's oldest bowling alley, dating back to 1956 – earlier this year. Boyd and Phyllis Edelin, Kaploe's managers at Colonial Bowl, will run North Bowl.
The status of other Colonial Bowl employees is still being worked out, Phyllis Edelin said.
Boyd Edelin said Kaploe representatives have been in Spokane and are looking at the possibility of building a state-of-the-art bowling center at Wandermere Mall (which is north of Fred Meyer) on property owned by Vandervert Construction Inc. He said the chances of that happening are "90 percent."
Much of the equipment and furniture from Colonial will be moved into North Bowl.
"Friday night will be business as usual, nothing special is planned," Phyllis Edelin. "We'll close a little early after leagues are finished."
Felice, meanwhile, said Gonzaga officials said she could go through the center and take any memento she wants. She said she would like pieces of the stone on the outside of the building, for herself and her family.
"There's nothing else," she said. "What do you do with it? I have lots of memories."
Local journalism is essential.
Give directly to The Spokesman-Review's Northwest Passages community forums series -- which helps to offset the costs of several reporter and editor positions at the newspaper -- by using the easy options below. Gifts processed in this system are not tax deductible, but are predominately used to help meet the local financial requirements needed to receive national matching-grant funds.
Subscribe now to get breaking news alerts in your email inbox
Get breaking news delivered to your inbox as it happens.
---