News > Nation/World
Rather signs off with courage
Thu., March 10, 2005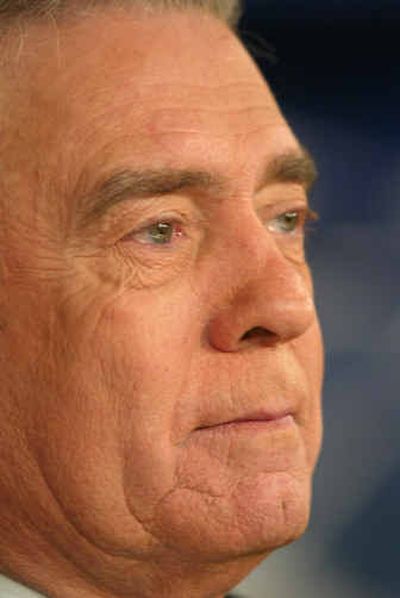 New York Dan Rather echoed a word he once used every night to sign off the "CBS Evening News" – courage – in anchoring the program for the final time after 24 years on Wednesday.
In a brief statement at the end of the broadcast, Rather paid tribute to Sept. 11 terrorist victims, tsunami survivors, American military forces, the oppressed, those in failing health and journalists in dangerous places.
"And, to each of you," he said, "courage."
He seemed to savor each word of his signoff: "For the 'CBS Evening News,' Dan Rather reporting. Good night."
Rather's reporting career spanned from the Kennedy assassination to this winter's tsunami, and he's been the public face of CBS' legendary news division since replacing Walter Cronkite on March 9, 1981.
Two charged for baby's diaper-rash death
Johnstown, Pa. The mother and grandmother of a toddler who died in December face criminal charges for allegedly neglecting his severe diaper rash, leading to a fatal infection.
Amy Livingston, 27, of Johnstown, was charged Tuesday with involuntary manslaughter and child endangerment in the Dec. 12 death of her 15-month-old son, Harley. She was charged with a second count of child endangerment because another son, 3-year-old Hunter, also had severe diaper rash, authorities said.
Her mother, Evelyn Ann Mrsnik, 60, was charged with child endangerment because she was a supervisor at a day care center Harley attended. Mrsnik had an obligation under state law to report the alleged neglect, District Attorney David Tulowitzki said.
The younger boy developed sepsis, a life-threatening infection, because the rash was so bad, Cambria County Coroner Dennis Kwiatkowski said.
"It's probably the worst I've ever seen," Kwiatkowski said.
Livingston's husband, David, was deployed by the Army when the boy died, authorities said.
Accuser and brother testify in Jackson case
Santa Maria, Calif. Michael Jackson's young accuser took the witness stand Wednesday, saying he once considered the pop star now charged with molesting him "the coolest guy in the world."
The 15-year-old was not asked about the molestation allegations before court ended for the day, but he described viewing adult Internet sites with Jackson and said the singer told him to "call me daddy" during the taping of a documentary.
With an expression that appeared to verge on a sneer, the young cancer survivor said yes when District Attorney Tom Sneddon asked him if he recognized the defendant.
The accuser followed to the stand his 14-year-old brother, who testified he saw Jackson grope his sibling in 2003.
The boy gave the same account his brother had of looking at sexually explicit Web sites on their second night at Neverland after their parents gave them permission to sleep in Jackson's room. He said it was Jackson's idea that they sleep in his room.
Ousted boater survives wild ride through dam
Austin, Texas A boater got the ride of his life when he fell overboard and was swept through a floodgate of a dam.
Authorities said the man and a female companion were boating on Lake Austin on Monday when the boat's motor quit and the current carried the boat up against the Tom Miller Dam.
A security guard atop the dam threw a rope to the woman and guided her to a rescue boat, but Dirk Hoekstra fell into the water.
"A second later is when my feet got sucked in by the water gate, and that's when I went through," Hoekstra told CNN.
He said he managed to take a good breath before he went under.
"It was twisting me around like a rag doll and threw my arms all over the place and it just keeps flipping me from whirlpool to whirlpool," Hoekstra said.
He said he surfaced a quarter- to a half-mile downstream from the dam, made his way to a house on shore and called 911.
He "is one of the luckiest persons in Austin right now," said Bryan Fitzpatrick of the Austin-Travis County Emergency Medical Services.
Russell Crowe says al Qaeda was after him
Sydney, Australia Russell Crowe says Osama bin Laden's al Qaeda terror network wanted to kidnap him as part of a "cultural destabilization plot," according to an Australian magazine.
In an interview published in the March edition of Australia's GQ magazine, Crowe said FBI agents told him of the threat in 2001, in the months before he won a best actor Oscar for his role as Maximus in "Gladiator."
"That was the first I'd ever heard the phrase 'al Qaeda,' " Crowe said. "It was about – and here's another little touch of irony – taking iconographic Americans out of the picture as sort of a cultural destabilization plot."
Crowe was born in New Zealand and has a ranch in Australia but made his name in Hollywood.
Crowe said he was shadowed by FBI agents after the threat and hired private security guards.
Shih tzu subpoenaed but won't take stand
Bentonville, Ark. Prosecutors hoping for a witness in a murder case to roll over were barking up the wrong tree.
They sent out a batch of subpoenas for anyone who had contact with Albert K. Smith while he was jailed awaiting his murder trial. One of those subpoenas went out to Murphy Smith – Smith's 5-year-old dog, it turned out.
The defendant had written his dog a letter from his cell, and that is how the shih tzu's name got on the witness list.
Prosecutors realized the mistake on Tuesday after the defendant's brother brought in Murphy to answer the subpoena and a deputy would not let them into the courthouse because no dogs were allowed.
Prosecutor Robin Green said she apologized to the brother and added, "The dog was friendly enough and probably would have been a very cooperative witness."
Albert Smith is accused of shooting to death his ex-wife's boyfriend.
Local journalism is essential.
Give directly to The Spokesman-Review's Northwest Passages community forums series -- which helps to offset the costs of several reporter and editor positions at the newspaper -- by using the easy options below. Gifts processed in this system are not tax deductible, but are predominately used to help meet the local financial requirements needed to receive national matching-grant funds.
Subscribe now to get breaking news alerts in your email inbox
Get breaking news delivered to your inbox as it happens.
---