News > Business
A range of opportunities
Fri., March 11, 2005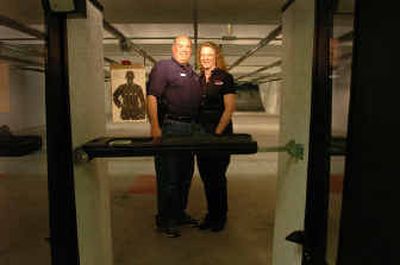 POST FALLS – Just because you can shoot doesn't mean you can teach shooting.
While in the military, Ed Santos noticed the need for good firearms training — and a dream was born.
Last December, Santos and his wife, Peggy Brock Santos, opened Center Target Sports, a full-service indoor shooting range and training facility in Post Falls. Already, Ed Santos projects the company will have gross sales this year of about $2 million.
The business is divided into three areas: training, shooting ranges and retail gun sales. Center Target Sports has two indoor shooting ranges, one specifically designed for tactical exercises for law enforcement.
"Our whole purpose for being in existence is training — top quality training at reasonable prices," Santos said. Classes range from the civilian-oriented, non-gun-related "fundamentals of personal protection," which teaches heightened awareness, to advanced shooting courses for law enforcement personnel, such as "advanced low light tactics."
Santos is the chief instructor and designed the courses himself, except for classes offered in conjunction with the National Rifle Association.
He retired after 20 years in the Army, where he served as a Chief Warrant Officer, but Santos said he's been involved with guns his entire life, shooting competitively and teaching shooting skills.
"I've always run up against tremendous deficiencies in training," he said. "It takes more than being able to shoot to be an instructor."
Santos is a Kootenai County Reserve Deputy Sheriff, a certified law enforcement firearms instructor and an NRA-certified firearms instructor. He's also a certified low light firearms instructor. "Low-light shooting is one of my specialties," he said.
One of the more popular civilian classes offered at Center Target is the "concealed firearms course." At the beginning of March, the $75 class was booked up through April. Santos says it's one of the most stringent such courses around, requiring participants to qualify in shooting as well as learn the legalities of carrying and using a concealed weapon.
"We spend a lot of time talking about the law. A lot of people don't have a clue about lethal force and the law," he said.
Other civilian courses include "handgun safety and familiarity," "defensive handgun skills" and "tactical pistol."
Courses for law enforcement include "barricade and draw" and "engaging multiple threats."
Center Target Sports' Web site lists the company's full course offerings.
"Guns are here to stay in North Idaho," said Peggy Santos, who handles administrative tasks for the company. "People need to learn safety and responsibility when it comes to handguns."
Center Target's emphasis on training extends to its gun sales: with every purchase, it offers a free orientation class.
Despite its short time in business, the company's reputation has traveled beyond North Idaho. A security team from Alaska is scheduled for training, for example. Civilians headed to Iraq to work for private contractors also have received training at Center Target. And Navy Reservists from Spokane have registered to brush up on their marksmanship before deploying.
Center Target's main goal is to create a comfortable, inviting, recreational environment, Peggy Santos said. The 16,000-square-foot facility is well lit, airy and open. Activities such as shooting leagues are planned for the future. "The goal is to have a family-oriented shooting and training facility," she said, adding, "people don't expect what we have here."
Local journalism is essential.
Give directly to The Spokesman-Review's Northwest Passages community forums series -- which helps to offset the costs of several reporter and editor positions at the newspaper -- by using the easy options below. Gifts processed in this system are not tax deductible, but are predominately used to help meet the local financial requirements needed to receive national matching-grant funds.
Subscribe now to get breaking news alerts in your email inbox
Get breaking news delivered to your inbox as it happens.
---