A&E > Entertainment
Austen tale becomes Bollywood bash
Fri., March 11, 2005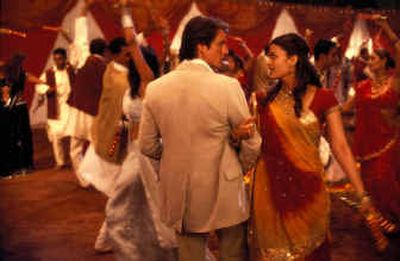 To watch "Bride & Prejudice" is to enjoy the rave new world of east and west, the multiculti polyrhythms that redound inside the soul of Gurinder Chadha.
She's the British-Punjabi filmmaker who mixed Indian family politics with the pop vibe of soccer star David Beckham for "Bend It Like Beckham." Now she's Bollywooding Jane Austen's "Pride & Prejudice" with incense and postmodern sensibility, as Aishwarya Rai and Martin Henderson dance romantic rings around each other.
The Bennets of Austen's novel become the Bakshis of Amritsar, India, who want to marry off their five daughters to the wealthiest men available.
Visiting from Britain is hunky, wealthy and very eligible Balraj "Raj" Bingley (Naveen Andrews from the hit TV show "Lost"), who has returned to the old country to bag a bride. He has brought along his dance-challenged, cooler-than-thou American pal, Will Darcy (Henderson). He's a rich lad, this Will. He's looking for a hotel his hotelier family can invest in.
Raj has eyes for oldest daughter Jaya (Namrata Shirodkar), to her parents' delight. And Will can't help noticing Jaya's next youngest sister, Lalita (Rai). A headstrong person, she's not afraid to bust him over patronizing opinions about India. And when the foursome take a trip to a beach resort – so the prospective Will can check out a luxury hotel there – the ideological wrangling continues. So does the romantic warfare. Lalita takes a liking to a good-looking hunk named Johnny Wickham (Daniel Gillies), who has bad blood with Will.
Screenwriter Paul Mayeda Berges' cross-cultural changes from, and similarities to, the novel are intriguing. But in the end, the plot's not so much an Austen-like story as a click track. "Bride & Prejudice" is about its song-and-dance numbers: colorful riots of henna red and marigold yellows; foot-stirring spice-pop from India and the west; ribbons, scarves and saris to brighten the darkest February night; and pelvically fluid dancing.
There's another crucial difference between book and movie: Austen's novelistic world carries a more repressive backdrop – the weight of being a woman in a patriarchal society. The womanly perspective is an omniscient force of good, a quiet revolution in the parlor. It's micro.
But Chadha's film is clearly macro. It's about two distinct and proud worlds, the east's Capulets and the west's Montagues, if you will, each with their own flaws and sanctimoniousness. And each with something to learn from the other.
Everyone's free to verbally hack at each other, openly debating their differences. You Indians arrange marriages! There's no choice! Oh, yeah? Well, how come you Americans get divorced all the time? And don't you choose people in your station anyway? And so on.
"Bride" works because of its heedless, heart-on-its-sleeve spirit. Lalita and Will's sitcom-like jousting may lack the wit and resonance of the conflict between Austen's Elizabeth Bennet and the haughty Mr. Darcy, but the couple certainly engages the eyes. The gem-eyed Rai wasn't voted Miss World for her approach to humanity. And Henderson has washboard abs you could use to accompany Cajun music. This film's about good bodies and racial integration, but the latter isn't presented as deep and abiding tract. It's just something Chadha wishes the world could dance to more often.
Local journalism is essential.
Give directly to The Spokesman-Review's Northwest Passages community forums series -- which helps to offset the costs of several reporter and editor positions at the newspaper -- by using the easy options below. Gifts processed in this system are not tax deductible, but are predominately used to help meet the local financial requirements needed to receive national matching-grant funds.
Subscribe to the Spokane7 email newsletter
Get the day's top entertainment headlines delivered to your inbox every morning.
---