A&E > Entertainment
Emerging Artist: Jacob Wellman
Fri., March 11, 2005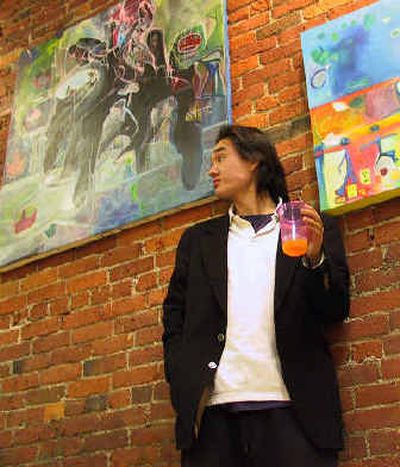 Age: 22
Born in Saporo, Japan; now living in Cheney
College: Senior at Eastern Washington University
Day job: Art student
Where can people see your art: Artist Cafe in Cheney; Bachelor of Fine Arts Capstone Exhibit in May, Eastern Washington University Art Gallery.
Your influences: Jackson Pollock, Takashi Murakami, Yoshi Nara, Pablo Picasso, Inka Essenhigh, Julie Mehretu and Vincent VanGogh.
Kind of art: Abstract art with cartoonish characters in it. "I like more of the expressionist stuff that speaks for itself," Wellman says.
Talk a little about your process: "I go in the canvas not knowing what the final product is going to be," Wellman says. "I just let myself loose, let everything go, and start off with some words that describe the way that I am feeling at the moment. It's all about investigation, and what I get from the process, so process is very important for me."
What is your intent with your art? "I want to create art that inspires people," Wellman says. "Mostly my intent is to make sense of the chaos of the world. It is to organize what is going on in my head. I want to reach out to people who can understand my struggle."
Anything you want to add about your work? "My work is very exciting in a way, because of the techniques that I use. It has multiple layers that create a total new dimension that only exists in my painting. I do my best at trying to be unique."
E-mail: Jaman_hale85@hotmail.com
Local journalism is essential.
Give directly to The Spokesman-Review's Northwest Passages community forums series -- which helps to offset the costs of several reporter and editor positions at the newspaper -- by using the easy options below. Gifts processed in this system are not tax deductible, but are predominately used to help meet the local financial requirements needed to receive national matching-grant funds.
Subscribe to the Spokane7 email newsletter
Get the day's top entertainment headlines delivered to your inbox every morning.
---