Sports
Gonzaga Prep bounces back; Ferris gets bounced
Fri., March 11, 2005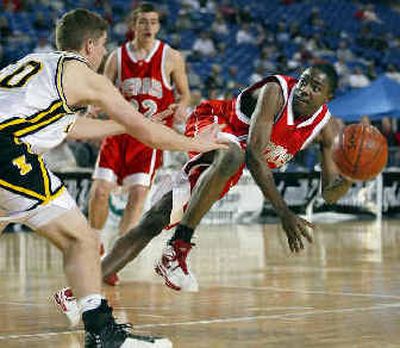 TACOMA – Gonzaga Prep found a way to win Thursday and the Ferris Saxons couldn't, so only the Bullpups' State 4A boys basketball tournament will continue.
G-Prep, which trailed its consolation game by three points with 52 seconds left in overtime, rallied to top Evergreen of Vancouver 56-55 on Travis Walker's free throw with 10.8 seconds remaining.
Ferris, in a later consolation, lost to Inglemoor 63-52. The Saxons trailed by 13 points early in the second half, rallied for a tie early into the fourth quarter, but were outscored from there 21-10.
Gonzaga Prep 56, Evergreen 55
The Bullpups (19-10) broke quickly and held a lead through most of three quarters. But the Plainsmen (20-9) went on an 8-0 run late in the third quarter to take their first lead (27-25) with 1:24 left. From there, Evergreen seemed in control, building four- and five-point leads, only to see G-Prep come crawling back.
When Evergreen's Brian Durham converted 1 of 2 free throws with 30.6 seconds left, G-Prep trailed 44-40 and there didn't seem to be enough time for another comeback.
Brandon Kennedy thought otherwise. He had scored the first two points of the game for G-Prep and hadn't scored since. To make matters worse, the senior point guard had nine turnovers in between.
But instead of playing passively, he drove to the hole and scored. Then G-Prep pressed, Evergreen tried a long pass and Ian Parry of the Bullpups was able to deflect it off Evergreen's Josh Troyer and out of bounds with 20 seconds left.
Once again Kennedy attacked, hitting a 10-footer in the lane 14 seconds later. The Plainsmen's last-second shot was short and the Bullpups were set for their fifth overtime game of the year.
The Bullpups fell behind again, 55-52, with less than a minute left. Again they rallied. Jake Sayman's putback with 26 seconds remaining cut the lead to one, then Kennedy took advantage of Evergreen's lack of organization on the inbounds to steal the ball, leading to Parry's two free throws.
Parry, who scored five of his 11 points in overtime, hit one free throw for a tie. The Plainsmen took a timeout to set up a play, but freshman Jared Fullmer, who played only a minute, was called for a moving screen, sending Walker to the line with 10.8 left. He missed the first.
"I just went through the same routine I always do," said Walker, a junior who had to play the shooting guard because of Michael Johnson's injury absence. "I tried to think about anything, to clear my mind and just get it in."
He hit the second attempt, and in the final 10 seconds the Bullpups wouldn't let Evergreen get a shot.
Ryan Murphy paced the Bullpups with 20 points and 12 rebounds, helping G-Prep to a 42-36 advantage on the boards.
"It was just a grind-it-out effort," G-Prep coach Mike Haugen said. "They just find a way to get it done. It's not always pretty, but that's how we do it."
Evergreen ended the Bullpups' football season in the State 4A semifinals. It was also the Plainsmen who opened G-Prep's basketball season with a 68-54 win in Spokane.
But the hoop game was the weekend after the semifinals, so neither team's football players participated.
G-Prep will meet Inglemoor at 12:30 p.m. today.
Inglemoor 63, Ferris 52
The Saxons (21-6) hadn't finished 0-2 at state since 1992 when they were eliminated by Inglemoor, the Vikings' only state big-school win.
History repeated because Ferris couldn't stop Inglemoor in the opening half – the Vikings shot 50 percent in building a 34-24 lead – and then couldn't get anything to fall in the fourth quarter, hitting 3 of 18 shots.
In between, Ferris' reserves – Steve Stockton, Josh Rhodes, Jace Mattinson, Bryon Stevens and Joel Wukelic – sparked a comeback that eliminated a 13-point lead.
But the Ferris rally was keyed by a trapping defense and when Inglemoor adjusted, the Vikings ran away.
"We tried to trap them and it worked, but when they made an adjustment, getting into the middle better, we didn't listen to the adjustment we made," Ferris coach Barry Olson said.
The Vikings (22-3) had Steve Campbell in the middle and the 6-foot-4 football quarterback directed the trap break en route to a game-high 17 points. Diminutive guard Skyler Riley added 14 points, including 7 of 8 free throws down the stretch.
Although 10 Saxons scored, only senior Ryan Shelby (11) was in double figures. Shelby scored four straight to open the fourth quarter and tie the game at 42.
"It's been a great year; I'm sad to see it end," said Olson.
Other games
Kentwood 56, Eisenhower 47: Blake Solomon and Aaron Boyce scored 15 points apiece, and the defending champion Conquerors (23-5) shot 19 of 35 from the field to defeat the Cadets (24-4) of Yakima and move into the semifinals.
South Kitsap 48, North Kitsap 41: Derrick Webb scored 13 of his 27 points in the final 3:06, and the Wolves (26-1) rallied from an eight-point, fourth-quarter deficit to defeat the Vikings (18-1) and make the semifinals.
Bethel 57, Snohomish 49: Jamil Turner, Jordan Sutton and Brandon Moore scored 13 points apiece, and the Braves (26-2) made the semifinals by overcoming the 29-point effort of the Panthers' (19-7) Jon Brockman.
Mountlake Terrace 63, Curtis 56: Christiaan Hammond scored 17 points, hitting 7 of 12 field goals including three 3-pointers, as the Hawks (21-5) defeated the Vikings (20-7) to advance to the semifinals.
Prairie 69, Pasco 53: Jeff Strom scored 19 points and the Falcons (23-7) shot 53 percent from the floor to eliminate the Bulldogs (20-7).
Roosevelt 58, Kamiak 49: University of Arizona-bound forward Marcus Williams finished with 29 points and 14 rebounds as the Roughriders (21-6) eliminated the Knights (17-8), who made their first trip to state.
Local journalism is essential.
Give directly to The Spokesman-Review's Northwest Passages community forums series -- which helps to offset the costs of several reporter and editor positions at the newspaper -- by using the easy options below. Gifts processed in this system are not tax deductible, but are predominately used to help meet the local financial requirements needed to receive national matching-grant funds.
Subscribe to the sports newsletter
Get the day's top sports headlines and breaking news delivered to your inbox by subscribing here.
---