Sports
GSL teams take different routes to semis
Fri., March 11, 2005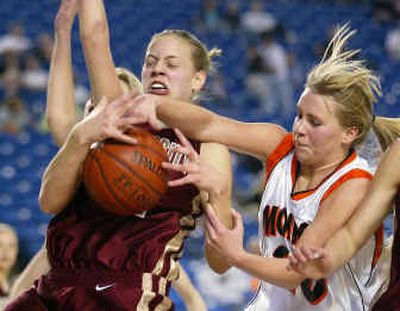 TACOMA – State basketball is a matter of survival of the fittest and the Lewis and Clark Tigers came out of their melee against Prairie a 40-37 victor and essentially in one piece – if you discount the tooth Ula Tauala left on the court courtesy of a Falcon elbow.
It was a physical contest left largely to the players' devices and the Tigers shot abysmally as a result. But they survived to play at 7 tonight in a State 4A semifinal against Garfield and are assured their second state trophy in three years.
Also in the semis are the University Titans, who earned their second semifinal game in their third state trip. They breezed past Monroe 69-38 and play Snohomish at 8:30 tonight.
"It's going to be exciting, although we really didn't address that," said Titans coach Mark Stinson. "That shows how focused we are on getting to the Saturday night game."
And he offered congratulations to LC for reaching the semifinals as well.
"I didn't know how to react, it was such a nail-biter," he said. "But his girls stepped up at critical times."
Lewis and Clark 40, Prairie 37
The outcome of this game fell into the hands of a pair of freshmen guards, Prairie's Ashley Corral and LC's Brittany Kennedy, both wearing jersey no. 24.
The Tigers (25-2) were nursing a 38-37 lead with less than 20 seconds remaining and the Falcons with the ball. Kennedy partially blocked a Corral pass and corralled the loose ball. But LC's Ren Mallory missed the front end of a one-and-one free throw with 13 seconds to go, the ball bounced off Heather Bowman out of bounds and Prairie had one more chance.
This time, Kennedy knocked the ball free from Corral and LC recovered.
"I just keep in front and contain," said Kennedy. "That's what Jim (Redmon) told me to do. I use my quickness and reflexes, try to get in their heads and have them turn it over."
Prairie coach Al Aldridge saw things differently.
"We were going to run our strong side triangle and pound it inside," he said. "There was an awful lot of contact on the last play, an awful lot."
It was that kind of game. Plenty of contact went uncalled.
Tauala got her tooth knocked out in the first quarter and didn't return.
There were also the times Bowman was swatted on her forearms during shot attempts in the fourth quarter, but never got to the free-throw line.
And when Briann January scored as time ran out, she was undercut and went down hard, though nothing came of it.
"They said the game was over and let it go," said Redmon. "I didn't agree with that. (The contact) was not needed."
Bowman had scored 13 first-half points and had seven rebounds as LC led 27-19 at intermission.
In the second-half, she was the object of constant attention and the Tigers couldn't buy an outside shot.
When Bowman scored with 2:00 remaining for the 38-37 lead, it was just the fourth field goal of 24 second-half shot attempts.
The score from the right baseline came after Prairie had taken its only lead in the game, a lead that had lasted all of 27 seconds.
University 69, Monroe 38
Unlike the Tigers, U-Hi had no trouble shooting, outside or in. And they were able to contain 6-foot-6 Kirsten Thompson, whose 10 points were hard-earned.
"I think we're getting a little more used to it," said coach Mark Stinson of the Titans' shooting effort, which included 21 for 47 from the field, including six 3-pointers, and 21 for 27 from the line.
As for Thompson, he said, "No one's going to stop her, but we did a good job of slowing her down."
Jami Bjorklund took on the task at the behest of defensive coordinator Mark Kuipers, with plenty of help from the rest of the Titans.
Alissa Lanker opened each quarter with a 3-point basket and the Titans went on a 19-4 second-quarter run that sealed the outcome.
Angie Bjorklund scored 20 points in three quarters. Jami Bjorklund scored 15 and Lanker had 13.
Every Titan saw playing time and all but two scored.
Other games
Garfield 58, Auburn Riverside 45: Sammantha Tinned totaled 25 points and 10 rebounds, and Malia O'Neal added 14 points to lead the Bulldogs (24-1), last year's state runners-up, into the semifinals with a win over the Ravens (19-8).
Kentlake 39, Meadowdale 37: Tess Henley and Luv Rattler combined for 21 points and the Falcons (23-4) overcame a 16-point, third-quarter deficit to eliminate the Mavericks (22-3).
Eisenhower 67, Central Kitsap 57: Laiken Dollente and Marianna Lombardi combined for 33 points as the Cadets (24-3) of Yakima eliminated the Cougars (21-6), 0-8 in tournament history.
Snohomish 49, Richland 46: Sydney Benson scored 20 points, hitting 7 of 12 from the floor and 6 of 8 from the line, and added a game-best eight rebounds as the Panthers (24-1) defeated the Bombers (23-4) to make the semifinals.
Redmond 67, Foss 56: Mackenzie Flynn scored 18 points, and Tanna Radtke and Erika Edwards added 14 apiece as the Mustangs (19-7) ousted the Falcons (19-8).
Gig Harbor 36, Bethel 32: Rebecca Sexton totaled 11 points and 11 rebounds, and the Tides (19-8) hit 17 of 25 from the line to eliminate the Braves (23-4), who are 0-12 in state history.
Local journalism is essential.
Give directly to The Spokesman-Review's Northwest Passages community forums series -- which helps to offset the costs of several reporter and editor positions at the newspaper -- by using the easy options below. Gifts processed in this system are not tax deductible, but are predominately used to help meet the local financial requirements needed to receive national matching-grant funds.
Subscribe to the sports newsletter
Get the day's top sports headlines and breaking news delivered to your inbox by subscribing here.
---