News > Features
Office Envy
Fri., March 11, 2005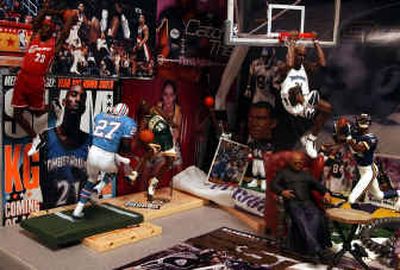 Fridays are frequently Hawaiian Shirt Friday at Jeter, Cook & Jepson Architects in Hartford, Conn. For the occasion, architect and palm-tree lover Michael Waszkelewicz, 50, retrieves a shiny artificial palm tree from a closet and hangs it from the ventilation system above his cubicle.
The palm could be an oddity, but it isn't. Waszkelewicz's cubicle is filled with live plants, diminishing the prominence of the fake tree. Covering one partition of the cubicle are postcards from Florida (with palm trees) and pictures of more palm trees. It appears Waszkelewicz likes the green stuff.
"It's calming; it makes you feel nice," he says, adding lightly, "The oxygen helps, too."
Cubicle space, much like the invisible personal space people create around them, is a conjured room giving the illusion of privacy and individuality in the workplace. The definition of what makes a cubicle an ideal work space varies from person to person and from profession to profession.
"As architects, designers, artists, it's nice to be able to express artistic freedom in your space," Waszkelewicz said.
Cubicles are like a second home for some, and they decorate them as such. Waszkelewicz, for instance, says his home decorations are much like his cubicle's. Others think of their cubicles as strictly related to work and keep their office space devoid of family photos or personal trinkets.
"Some people really distinguish their home life from their offices," says Steven Schiavo, professor of psychology at Wellesley College. Schiavo conducted research on faculty offices at Wellesley and found that professors who decorated their offices were more attached to their workplace and, therefore, made it more homelike.
"Decoration is really tied into a sense of ownership – this is my space; this is my territory," Shiavo says.
In a cubicle environment, which offers less privacy, decorations are also a way of making a connection with others, he explains. Called "impression management," decorating a visible space is a way to showcase what one wants to reveal about oneself.
"You might say that the person in the cubicle is doing it not just for herself or himself but for the visitor of the cubicle," says Rhoda F. Green, a New York City organizational consultant specializing in career and business planning.
This may be why some companies restrict how individuals can decorate their cubicles: Companies feel they must uphold a professional atmosphere to reflect the company's philosophy, especially for visitors.
Cubicle decorations are expressions of individuality, Green says, and people feel a need to express themselves at work, just as they do at home.
"They're looking to humanize the corporate setting," she says.
Zita Christian, coordinator of educational programs at Hartford's Bushnell Center for the Performing Arts, has done just that, creating a Zen-like atmosphere in her cubicle. Christian, 57, has designed her space to represent the four elements of nature, which emphasize a spiritual path Christian is taking. A dragon sitting on the windowsill represents fire; blue fabric beneath the dragon represents water; plants represent earth; and a butterfly represents air.
New Age music emanates softly.
"The items that are here are not just to fill up space, but it helps me to focus," Christian says of the decorations in her "house," as she refers to her cubicle. But her space was not always so abundant with things that bring her joy, such as a lamp filled with seashells she gathered.
When she started the job a couple of years ago, Christian was faced with numerous family tragedies.
"The decorating requires a kind of energy that I just didn't have," she said.
Designer Laura Bordeaux of Fx Design in Glastonbury, Conn., specializes in planning reconfiguring office space and developing color and structural schemes to create a more productive environment. Bordeaux says it is important that people personalize their workstation.
"So that they have pictures of their family members or pets or children's drawings and things like that, so they see why they are working," she says.
Natasha Rethke, interactive art director at Mintz & Hoke, a marketing communications agency in Avon, Conn., maintains what she calls "the obligatory husband-and-me-on-vacation photo." But Rethke's space is surprisingly bare for a creative employee who designs Web sites.
"I have so many diverse clients that I must get into their mindsets and their aesthetics," Rethke, 40, says. "Having my own decorations and memorabilia around clutters my creative process."
Rethke's decorations consist mainly of design books and other forms of inspiration specific to her current project.
The office world of Martin Khodabakhshian, 30, couldn't be more different. An associate producer at ESPN in Bristol, Conn., Khodabakhshian's tiny cubicle, which he uses only to place phone calls, is filled with Todd McFarlane sports and movie-character figurines.
"I'll get my inspiration here," he says.
Khodabakhshian grew up collecting "Star Wars" and GI Joe figures, and when he began working at ESPN, his collection grew into the sports realm as he became friends with other co-workers who collected McFarlane figures.
The figures are a natural part of his day-to-day work, Khodabakhshian said. If he worked for Steven Spielberg, he says, he would probably have more movie-related figures.
As if proving his dedication, Khodabakhshian points out that all of the figures on a wide ledge above his cubicle are football-specific during the football season and are switched to a baseball theme in the spring.
Local journalism is essential.
Give directly to The Spokesman-Review's Northwest Passages community forums series -- which helps to offset the costs of several reporter and editor positions at the newspaper -- by using the easy options below. Gifts processed in this system are not tax deductible, but are predominately used to help meet the local financial requirements needed to receive national matching-grant funds.
Subscribe now to get breaking news alerts in your email inbox
Get breaking news delivered to your inbox as it happens.
---