News > Features
In the cards
Mon., March 14, 2005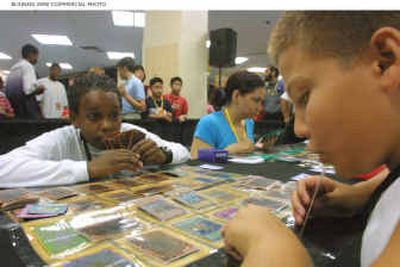 AKRON, Ohio – What's there to do on a Saturday?
Drew Wolverton and Jonah Hart
swick already have that figured out:
Meet up with some friends at Game Trader in Cuyahoga Falls, Ohio. Talk a little trash. And play a few hands of the wildly popular collectible card game Yu-Gi-Oh!
"It's mostly like a strategy game," 12-year-old Drew explained after a match. "It's to get the brain to think. It uses equations."
"Don't bring school into this," Jonah interrupted, digressing into a debate about who's better at math.
"I only like it," the 11-year-old continued, "because it's really fun – and to get away from your parents."
Millions of other kids have their reasons, too, and together, their love of Yu-Gi-Oh! is driving the hobby gaming industry to new heights.
Collectible card games, in general, are a magnet for money. Since the first one hit store shelves in 1993, the games have become a multimedia phenomenon with television shows, video games, movies, comic books and toys. Collectible card games also provide a steady stream of sales because players must keep buying packs of playing cards to increase their chances of winning. They collect them like baseball cards, digging through sealed packs looking for the right one to win their game of choice.
Gaming industry experts say it's a marketing strategy made in heaven.
But some people aren't impressed. People like Rosita Jackson. Earlier this year, the Akron woman blamed her 11-year-old son's death by suicide on his apparent obsession with Yu-Gi-Oh! Jackson and others say fantasy-themed games can lead to dangerous and obsessive behavior.
The argument isn't new. Before Yu-Gi-Oh!, people said the same thing about the card game Magic: The Gathering. Before Magic, people said it about the role-playing game Dungeons & Dragons.
"There's a fear that kids will get so wrapped up in this fantasy world that they won't be able to distinguish fantasy from reality," explained Christine Brucker, marketing manager of the Game Manufacturers Association in Columbus, Ohio. That fear hasn't stopped Yu-Gi-Oh! and other games like it from flying off store shelves.
Sales of collectible card games dwarf other industry mainstays, such as board games, miniatures, and role-playing games.
Half the $400 million made annually belongs to collectible card games. And that's just from specialty shops. Sales at big-box chains aren't tracked.
"It's the biggest profit center for the industry," said John Jackson Miller, editorial director of the card-game magazine Scrye.
The reason is the manufacturers have stacked the deck, so to speak, for guaranteed sales.
Unlike traditional card games in which the deck is limited and pre-determined, players of collectible games build their own decks from an ever-changing pool of cards. Cards they collect.
To win, players have to buy sealed pack after sealed pack, searching for the most powerful cards to make their decks unbeatable. The goal is to build a customized deck that can counter any opponent's strategy. The rarest cards are hard to find, but can ensure a victory.
"If you want to keep up with the Joneses, you've got to buy more cards," Miller said.
Building a deck is a strategy — an expensive one.
Five "booster packs" of common, uncommon and rare cards cost about $20. Plus, specialty shops sell some cards individually, giving birth to a whole aftermarket of price guides and collectors' magazines.
The patented, collectible-card-game concept is generally credited to Richard Garfield, who designed Magic: The Gathering back in 1993.
Magic is still the top-selling game in the genre — in front of Yu-Gi-Oh! — and it has spawned a pro-circuit of players vying for hundreds of thousands of dollars in prize money and scholarships.
Lee McLain, who judges Magic tournaments around the world, said many of the "serious" players have ties to Northeast Ohio. The combination of universities and tech sector jobs, has made the region a fringe-gaming haven akin to Silicon Valley and Rochester, N.Y.
"You get a lot of high-strategy game players," said McLain, a 35-year-old Cuyahoga Falls resident. About 160 collectible card games have been released since Magic's debut. Many have targeted adults and even more have targeted children, but few have inspired the same kind of following as Magic.
Pokemon was one them, and more recently, it's been Yu-Gi-Oh!
Tim Keller, co-owner of Game Trader, said about 20 places in Northeast Ohio like his host Yu-Gi-Oh! tournaments.
Kids, ranging in age from 5 to 15, pack this store every Saturday, hoping to win credit for purchases at Game Trader. They bring their own decks and pay $3 to challenge friends and strangers in the weekend tournaments.
"I just like to play against different people and see their different strategies," said 12-year-old Justin Williams, of Cuyahoga Falls.
Several boys around him nodded.
"It's kind of popular with the male gender," added a grinning Jonah, glancing around the room full of boys tossing cards and challenges. "A lot of girls don't like it. I wonder why."
Unlike Magic, which has been compared to chess in strategic difficulty, Yu-Gi-Oh! is designed for children.
It's based on a Japanese comic book series about a boy who can transform into the Game King whenever he is challenged. The cartoon of the same name that draws kids to the television explains everything.
Yu-Gi-Oh! isn't the first card game to have a television tie in. (Actually, Star Trek did it first in 1994, and Pokemon did it better a few years later.) But Yu-Gi-Oh! was the first to have a show just about how to play a game.
Since then, there's been Card Captors, Duel Masters and to an extent, Dragonball Z. None has been as successful.
"You have a cartoon that teaches you how to play the card game. Bring in the shovel. I have more money," McLain said, waving his hands in the air. "… It's marketing at its best."
Local journalism is essential.
Give directly to The Spokesman-Review's Northwest Passages community forums series -- which helps to offset the costs of several reporter and editor positions at the newspaper -- by using the easy options below. Gifts processed in this system are not tax deductible, but are predominately used to help meet the local financial requirements needed to receive national matching-grant funds.
Subscribe now to get breaking news alerts in your email inbox
Get breaking news delivered to your inbox as it happens.
---