Sports
Bulldogs prepare for pressing Eagles
Thu., March 17, 2005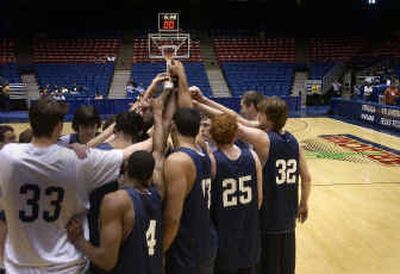 TUCSON, Ariz. – Gonzaga defensive specialist Erroll Knight probably appreciates defensive handiwork more than the typical college basketball player.
That's why he has considerable respect for Winthrop's attention to defense in general and his defensive assignment, Eagles junior James Shuler, in specific. No. 3-seeded Gonzaga faces the 14th-seeded Eagles today at 4:25 p.m. in the first round of the NCAA Tournament at the McKale Center.
The Eagles rank ninth nationally in points allowed (59) and 16th in field-goal percentage (39.6). They're 19-0 when holding opponents to less than 40 percent shooting.
"They limit all the big men's shots, that's something (Bulldogs) Coach (Mark) Few harps on," Knight said. "They do a good job of pushing people off the block. They're quick and long and they get a lot of deflections. When they're in their 1-1-3 zone, the two guys up top are really long and they deflect a lot of balls."
Winthrop starts four players between 6-foot-5 and 6-10, but it doesn't have anyone who weighs more than 230-pound reserve Billy Houston. By comparison, GU's Ronny Turiaf is 6-10 and 249, and J.P. Batista is 6-9 and 269.
"We're not trying to put an emphasis on one thing," Turiaf said. "We know this is a good team. Their big guys shoot 3s very well. We know they're a tough matchup for us. But we know if we play together we have a good chance to come out on top."
Winthrop utilizes a press, which will put a premium on Gonzaga's ball-handling and passing.
"They like to press and try to rattle people," GU's Sean Mallon said. "We just have to be patient and I think we'll be OK."
Tech-nically speaking
Nathan Doudney, who suffered a season-ending knee injury in GU's seventh game, will be an interested spectator on the bench, not only for GU-Winthrop but tonight's nightcap, Texas Tech-UCLA. If GU and Texas Tech win, they would play Saturday.
Doudney played two years at Texas Tech before transferring to Gonzaga. He sat out last year under NCAA transfer rules. In Doudney's two seasons, Texas Tech lost in the first round of the NCAA Tournament and advanced to the finals of the NIT.
"As a competitor, I'd like to beat some place that I left, but I don't know if I really hope one way or the other," he said. "If Tech wins and we win, I'll help our guys and the coaching staff prepare and do whatever I can to help us win. I know most of their players and how they play.
"It'd be a fun environment for me. I wish I was on the court, but I can't control that situation."
Doudney said his knee is healing on schedule and he hopes to take part in off-season workouts, particularly this summer.
A write-off?
It wouldn't be the NCAA Tournament, or any sporting event, without some team complaining about a lack of respect.
Coach Gregg Marshall and several Eagles said they've been reading unfavorable press clippings and plan to use them as motivation. Unfortunately, a couple of Eagles also referred to Gonzaga as Gon-zawga, which was common when GU was a relative NCAA tourney newcomer seven years ago.
"Pretty much everybody has just counted us out," Shuler said. "That's nothing but a great deal of motivation for some guys who have worked hard all year. It's like a slap in the face."
Team player
Winthrop's Houston might not have a big effect today, but he's already put his stamp on this season. Houston, a starter for more than two seasons, approached Marshall in late December and asked to be removed from the first unit.
"He'd never been the most skilled or talented player, but he brings tremendous energy and passion," Marshall said.
"He comes to me as we're walking off the floor and said, 'Coach, I think we would be better off as a team with me coming off the bench.' I said, 'You don't have to do that, Billy.' He said, 'Coach, I just want to win, I'll still do my thing, but so and so is playing better.' "
Marshall replaced Houston with Phillip Williams and the Eagles soon took off on their current 18-game winning streak.
Notes
Attendance in the interview room was perhaps five times larger when Texas Tech coach Bob Knight was at the podium compared to Winthrop's Gregg Marshall. Knight offered a friendly barb or two, but was generally on his best behavior during the 15-minute session. … GU's Ronny Turiaf on his biggest NCAA Tournament fear: "I don't have any worries, none. Maybe the only one would be to have another Nevada game (when GU lost in the second round) and have some fouls early and not being able to help my team. I just want to go out and play as hard as I can." … Marshall said he has many openings on next year's schedule, a frequent problem for midmajors with several winning seasons. "Our women's coach sent over their schedule to let us know when they're using the facility," he said. "Other than conference games, we have one game scheduled next year, so I told her, 'You're way ahead of me.' "
Local journalism is essential.
Give directly to The Spokesman-Review's Northwest Passages community forums series -- which helps to offset the costs of several reporter and editor positions at the newspaper -- by using the easy options below. Gifts processed in this system are not tax deductible, but are predominately used to help meet the local financial requirements needed to receive national matching-grant funds.
Subscribe to the sports newsletter
Get the day's top sports headlines and breaking news delivered to your inbox by subscribing here.
---