News > Spokane
'Eyesore' causing problems in Valley
Thu., March 17, 2005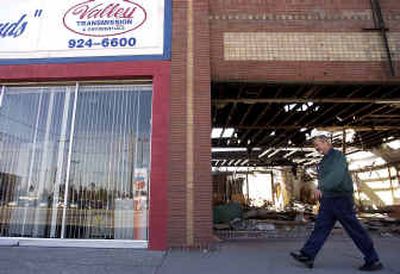 The burned-out building on the 8700 block of East Sprague is a hard-luck case that took down several property owners and is threatening two more.
For the past four years, the familiar eyesore, located a few doors west of Deja Vu Showgirls, has served as a reminder of a sweeping fire that gutted two buildings and damaged a third.
With crumbling walls and a gaping hole in the roof, the building has sat idle while thieves scavenged fixtures and passers-by wondered what the heck was taking so long.
One previous owner filed bankruptcy and the next defaulted on taxes; both were incapable of paying to clean up the property, which contains asbestos that requires an estimated $25,000 in specialized hazardous materials removal.
"Everybody gets to a certain point and nothing happens after that," said Mike Holden, owner of Valley Transmission, who has an up close and personal view of the disaster.
"I don't miss having the tattoo parlor next door, but at least it was a lot nicer," Holden said.
The situation frustrated building officials from Spokane County to Spokane Valley, which inherited the mess after incorporating two years ago. Both jurisdictions declared the building dangerous, although neither enforced a cleanup.
Neighbors complained to both jurisdictions, fearing that someone will get hurt by heavy bricks that are periodically falling on an adjacent car lot, west of the building.
Mike Van Dinter built a car lot on the former site of a motorcycle shop, which was gutted in the fire.
Although he constructed a fence to contain the crumbling bricks, he's concerned about employee safety and potential property damage at Executive Auto and Truck Sales, which leases the lot.
"It's just an eyesore. It's just nasty. I can't scream anymore, I can't yell anymore. I'm just going hoarse," Van Dinter said.
Van Dinter and Holden both offered to purchase the property, but the previous owner declined their offers.
The building might continue on its hazardous path if the new owners can't afford to do a complete hazardous site cleanup that's required by Spokane County Air Pollution Control Authority.
"We're sitting back and trying to figure out what our options are and where to go," said Doug Gore, who bought the property with business partner Michael Lee.
The men own Northwest Renovators Inc. and purchased the parcel for $23,000 at a county tax auction in January.
In deciding to buy, Gore said, they relied on an asbestos mitigation estimate from Affordable Asbestos that was commissioned by the previous property owner and placed cleanup costs at $5,000.
Seneca Cluck, an air quality specialist for SCAPCA, said that asbestos removal survey is inadequate because it doesn't address building deterioration and contaminated debris.
"When they bought that property, they took on the responsibility that any cleanup with asbestos would have to be addressed," Cluck said.
The extent of the cleanup costs was not disclosed when the county auctioned the parcel to reclaim back taxes.
"If we would have known there was a problem, we would have announced it at the sale. If you don't know, how can you tell them?" said Linda Martin, tax collection supervisor for the county.
Gore believes the county was negligent in failing to divulge the extent of the cleanup required by SCAPCA.
"I feel pretty much that we've been taken advantage of. The county wanted to get it off their books and didn't care how they did it," he said.
Neighbors are less concerned with asbestos – which they figure has washed and blown away after years of weather – than with the falling bricks.
In July, after trying for over a year to work with the last property owner, Spokane Valley started getting cleanup estimates, explained Tom Scholtens, a building official.
The city has the right to clean the property and place a lien on it. However, Sholtens said that might violate private rights and prove costly if that money isn't recovered when the property is sold.
"The city doesn't have the resources to invest in this type of mitigation problem. That's why we haven't been more aggressive in cleaning it up."
While Spokane Valley is committed to solving the problem, Scholtens said, the building will likely sit as the city works with the new owners.
Van Dinter believes the recent sale adds an element of dark humor to a surreal saga.
"From the day we tried to purchase it, it just keeps getting better and better every time," Van Dinter said.
"It's too bad, but somebody has got to take responsibility here."
Local journalism is essential.
Give directly to The Spokesman-Review's Northwest Passages community forums series -- which helps to offset the costs of several reporter and editor positions at the newspaper -- by using the easy options below. Gifts processed in this system are not tax deductible, but are predominately used to help meet the local financial requirements needed to receive national matching-grant funds.
Subscribe now to get breaking news alerts in your email inbox
Get breaking news delivered to your inbox as it happens.
---