News > Nation/World
Baseball's McGwire offers no denials on steroid use
Fri., March 18, 2005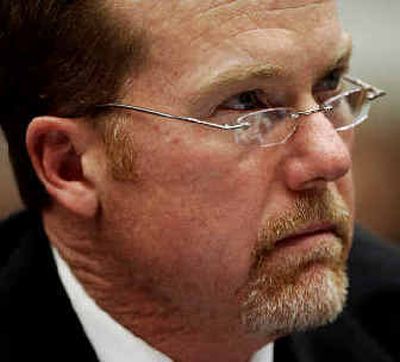 WASHINGTON – Lined up shoulder to shoulder, some of baseball's biggest stars told Congress Thursday that steroids are a problem for the sport but denied that use is widespread. Mark McGwire, whose prodigious home runs helped fuel a surge in baseball's popularity, refused to say whether he took the drugs.
On a day of extraordinary drama, the House Government Reform Committee attacked baseball's new steroid policy, then questioned five current and former players, all of them wearing dark suits and ties instead of uniforms and caps.
Under oath, Jose Canseco – whose best-selling book helped prompt the hearing – said anew that he had used steroids as a player. Current stars Sammy Sosa and Rafael Palmeiro said they haven't. McGwire repeatedly declined to respond directly, saying his lawyers advised him not to answer certain questions.
"If a player answers, 'No,' he simply will not be believed," said McGwire. "If he answers, 'Yes,' he risks public scorn and endless government investigations."
McGwire, peering at lawmakers over reading glasses, was pressed to say whether he had taken performance-enhancing substances or whether he could provide details about use by other players. He responded repeatedly, "I'm not here to talk about the past."
Asked by Rep. Elijah Cummings, D-Md., whether he was asserting his Fifth Amendment right not to incriminate himself, McGwire said: "I'm not here to talk about the past. I'm here to be positive about this subject."
Asked whether use of steroids was cheating, McGwire said: "That's not for me to determine."
Still, choking back tears, he said he knew that steroid use could be dangerous and would do whatever he could to discourage young athletes from using them.
Red Sox pitcher Curt Schilling was his usual outspoken self. Unlike the other players, when asked whether known steroid users in baseball should have their records stripped, Schilling responded: "Absolutely not." He said of Canseco, "He's a liar," as Canseco, his black hair slicked back, sat stone-faced.
Rep. Bernie Sanders, I-Vt., told Schilling: "You sound like a politician."
Canseco sat at the same table with the other players and told the lawmakers that he could not fully answer their questions because of concerns his testimony could be used against him. His book included claims that he injected McGwire with steroids and that Palmeiro used them.
During a break after the players' opening statements, five of the stars gathered in one nearby room, and Canseco went to another.
Their testimony came after committee members accused baseball of ignoring its steroid problem for years and then, only under pressure, embracing a weak testing program.
Lawmakers were particularly critical of the plan's penalties, including a provision allowing for fines instead of suspensions. A first offense could cost 10 days out of a six-month season, or perhaps a $10,000 fine.
Using most steroids without a doctor's prescription for medical purposes is illegal. Baseball banned steroids in September 2002 and began testing for them with penalties in 2004.
McGwire, who ranks sixth in major league history with 583 home runs, broke the one-season record with 70 in 1998, a mark since broken by Barry Bonds of the San Francisco Giants.
Bonds and Jason Giambi of the New York Yankees were not called to the hearing. They testified in 2003 to a San Francisco grand jury investigating a steroid-distribution ring.
"Why should we believe that the baseball commissioner and the baseball union will want to do something when we have a 30-year record of them not responding to this problem?" asked Henry Waxman of California, the committee's ranking Democrat.
"Why should we believe it's all going to be done now the way it should be done?"
Baseball commissioner Bud Selig sat with arms crossed and lips pursed for much of the hearing. He craned his neck to get a better view as the players spoke.
In prepared testimony he planned to give late in the day, Selig defended the steroids policy drawn up in January, saying it was "as good as any in professional sports."
Baseball had fought attempts to compel the players to testify, but Waxman and committee chairman Tom Davis, R-Va., threatened to pursue contempt charges if they did not appear.
More than four hours after the hearing began, the players walked in one by one as spectators, lawmakers and media in the cramped hearing room fell silent.
Schilling was the first to enter. He sat at one end of the witness table, with Canseco at the other. Palmeiro, Sosa and McGwire were in between.
Schilling took a shot at Canseco, saying the former slugger's book claims "should be seen for what they are: an attempt to make money at the expense of others."
All of the players offered condolences to the parents of two young baseball players who committed suicide after using steroids. The parents testified, too, along with medical experts who talked about the possible effects of the drugs: heart disease, cancer, sterility, and depression.
"Players that are guilty of taking steroids are not only cheaters – you are cowards," said Donald Hooton of Plano, Texas, whose son, Taylor, was 17 when he hanged himself in July 2003.
"You hide behind the skirts of your union, and with the help of management and your lawyers, you've made every effort to resist facing the public today," Hooton said.
The group of players included three of the top 10 home run hitters in major league history – McGwire, Sosa and Palmeiro.
Canseco, the 1988 American League Most Valuable Player who retired in 2001, told the panel that "because of my fear of future prosecution … I cannot be candid with this committee."
Local journalism is essential.
Give directly to The Spokesman-Review's Northwest Passages community forums series -- which helps to offset the costs of several reporter and editor positions at the newspaper -- by using the easy options below. Gifts processed in this system are not tax deductible, but are predominately used to help meet the local financial requirements needed to receive national matching-grant funds.
Subscribe now to get breaking news alerts in your email inbox
Get breaking news delivered to your inbox as it happens.
---