A&E > Entertainment
Next Xbox will feature online purchases
Fri., March 18, 2005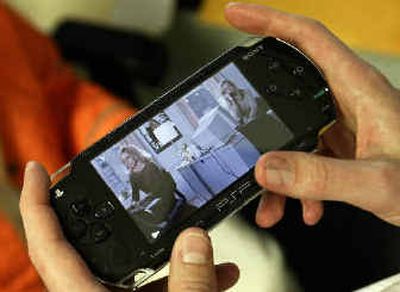 Microsoft and Nintendo both rocked the Game Developers Conference last week in San Francisco by disclosing a few details about their next-generation game consoles.
Microsoft demonstrated how the Xbox sequel will feature Xbox Live screens that are consistent across all games, so that all online matchmaking will be handled in one place by one company. No more creating a custom playlist of songs for each game, either; the next Xbox will carry your favorites from one game to the next.
Microsoft's J. Allard told the conference that the next Xbox will allow for mini-purchases of content, such as buying a tricked-out racing car for a racing game for amounts between a dime and a dollar – something that's been proposed many, many times for Web sites, but never really has successfully been implemented. He also hinted that the next Xbox's controllers may be wireless.
But the focus of Allard's GDC speech was the role of consoles as the center of a high-definition living room. If you were lucky enough to wear the correct color badge at the speech, you won one of hundreds of high-definition televisions he gave away at the end of the speech.
Meanwhile, Nintendo said that its next-generation console, code- named Revolution, will feature built-in Wi-Fi protocols that will allow gamers from around the world to play with each other over the Internet.
The first stars shine
You heard about the new Walk of Game (inside Sony's huge Mereon shopping complex in San Francisco) last year, and it's finally come to pass. The first stars have been installed for Shigeru Miyamoto (creator of "Mario Brothers" and "Donkey Kong") and Nolan Bushnell (co-founder of Atari and the driving force behind "Pong") for Lifetime Achievement, the game "Halo," and characters Link (from the "Zelda" series), Mario and Sonic the Hedgehog.
Movies coming for PSP
Adding to the buzz over the upcoming release of Sony's PlayStation Portable handheld gaming device, Lion's Gate Entertainment said it will offer movies in the gadget's Universal Media Disc format. A dozen movies will be released to start, including "The Punisher," "House of the Dead," "Total Recall" and "Rambo: First Blood." Newer movies will go for $20 to $30 each, while older titles probably will sell for $10 to $20.
New 'SOCOM' boosts offline fun
"SOCOM" fans are likely to love the next installment. The hugely popular online Navy SEALS game for PlayStation 2 is in development now for its third installment, and early word on it is reasonably impressive.
The developer told GameDaily, an industry publication, that much more focus will be placed on the single-player experience. That's novel for a game whose audience traditionally has spent all of its time online.
'Matrix' to be out Tuesday
"The Matrix Online," the massively multiplayer online game set in the world of the movies, has gone gold and should hit streets Tuesday.
Local journalism is essential.
Give directly to The Spokesman-Review's Northwest Passages community forums series -- which helps to offset the costs of several reporter and editor positions at the newspaper -- by using the easy options below. Gifts processed in this system are not tax deductible, but are predominately used to help meet the local financial requirements needed to receive national matching-grant funds.
Subscribe to the Spokane7 email newsletter
Get the day's top entertainment headlines delivered to your inbox every morning.
---