News > Business
Toyota is on a roll
Fri., March 18, 2005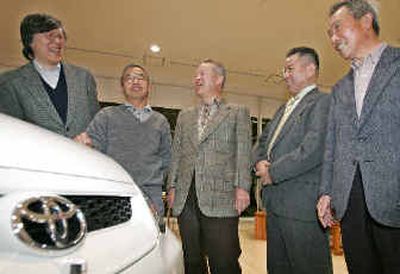 When General Motors Corp. warned this week that it will lose money in the first quarter of 2004, the No. 1 automaker cited reasons including disappointing sales in North America.
Another explanation, one not mentioned publicly: Japan's Toyota Motor Corp., a company on a roll, is helping to steal away GM's market share.
After overtaking Ford Motor Co. in 2003 as the world's No. 2 automaker in annual global vehicle sales, Toyota held that spot last year and is expected to solidify its position this year and in 2006. And it's quite conceivable that Toyota, which has set a goal of a 15 percent global market share sometime after 2010, might overtake GM as the world's top automaker.
GM controls about 15 percent of the global auto market. If Toyota, now at about 10 percent global market share, succeeds in reaching its 15 percent target, it will match GM, which is losing share to other Japanese automakers as well.
"Over the last several years, Toyota has been carrying out its strategy surely, rising one step at a time," said Nobuaki Yanachi, auto analyst at UFJ Tsubasa Securities Co. in Tokyo. "It's in a stage now when it's preparing for its next big jump."
In North America, Toyota will begin producing pickup trucks at a plant in Texas that will be up and running next year. It is considering still another plant in North America, the world's largest auto market, although it hasn't said where.
Toyota, which has consistently tried to produce cars wherever they are sold, has five other car plants in North America, including a joint venture with GM. The Japanese company is expanding in other growing markets, set to open a plant in the Czech Republic this year for the European market, as well as considering a plant in Russia.
Toyota is also making good headway in China, a market with tremendous potential that all the world's automakers have their eyes on. Toyota's fourth car-assembly plant in China is set to start production next year.
Good mileage, ecological features and reliability are key to Toyota's global reputation
Fumio Otsuka, a 54-year-old computer engineer in Japan, has always had Toyotas.
"It's not about looking cool. The Toyota car appeals to the regular person," he said.
But Toyota has also managed to keep a relatively fresh and innovative image. Its Scion brand, which targets younger buyers with its adventurous designs and marketing gimmicks, is one example.
Another is Toyota's push in the automotive ecological technology called hybrids. Hybrid cars, including the Prius sold in the United States, Japan, Europe and Australia, deliver the most efficient drive by switching back and forth between a gasoline engine and an electric motor, relying on the electric motor at slow speeds and then kicking in the engine as speed picks up.
Toyota has sold 343,000 hybrid cars around the world so far, still a tiny portion of its overall sales but more than any other automaker in the world.
Last year, Toyota sold 7.52 million vehicles around the world, including its truck subsidiary, Hino Motors Ltd., and Daihatsu Motor Co. Ltd., which makes minicars. GM, meanwhile, produced 9.1 million vehicles and Ford sold 6.80 million vehicles.
In 2003, Toyota's worldwide sales totaled 6.78 million vehicles, including Hino and Daihatsu, while GM produced 8.8 million and Ford's sales stood at 6.72 million.
Local journalism is essential.
Give directly to The Spokesman-Review's Northwest Passages community forums series -- which helps to offset the costs of several reporter and editor positions at the newspaper -- by using the easy options below. Gifts processed in this system are not tax deductible, but are predominately used to help meet the local financial requirements needed to receive national matching-grant funds.
Subscribe now to get breaking news alerts in your email inbox
Get breaking news delivered to your inbox as it happens.
---