News > Business
Regional expressions
Thu., March 24, 2005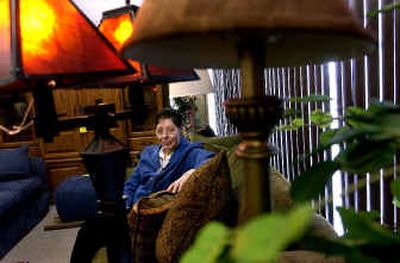 SANDPOINT – Gretchen Kinne knows "Sandpoint Style" when she sees it.
If a house has a certain modest elegance, a cleanness of line enhanced by native wood and rock; windows situated to let in natural light, and a location featuring the sound of train whistles, then the house has "Sandpoint Style," in Kinne's view.
Kinne, the owner of Sandstone Interior Design, has distilled her ideas on local architecture and design into seven style points. She's putting on free seminars about "Sandpoint Style" for local builders, and she'd like the style points to become an educational tool for newcomers moving to fast-growing Bonner County.
In the past decade, Bonner County's population grew by 40 percent. Since Sunset Magazine named Sandpoint as the "best small town in the West" last year, the local real estate and construction market has boomed.
Kinne's style points discuss choices for native wood, native rock, natural light, local artwork, and furnishing that reflect the owners' lifestyle. Under "sticks," the category that discusses native woods, she writes, "local craftsmen may log and mill your lumber right on your property." Under furnishings, "leathers add softness … and durability for outdoor lifestyles."
But Sandpoint Style is more than tips for building and filling a trophy home.
They include a philosophical element reminiscent of Gallatin County, Montana's New Code of the West. The code introduces newcomers to the realities of living in rural Montana, from waiting up to 72 hours for a snowplow to clear county roads, to property owners' responsibilities for controlling noxious weeds.
Kinne's style points take a gentler, more design-oriented tack.
"It would be nice for people to realize that they can appreciate the things that are here," she said. "They don't have to import everything. I guess I want them not only to have a respect for the sensual beauty of this place, but for the passions of the people who live here."
Kinne, 55, moved to Sandpoint from Seattle in 1992. The former community college design instructor stopped in Sandpoint to visit her sister after a sabbatical year in Europe, and felt an immediate kinship to the area.
"I was unprepared for how beautiful it was," Kinne said. "I waited for it to wear off, but it never did."
Sandpoint's arts culture reminded her of Paris' fine furniture district, where French patrons, dogs in tow, waited outside of design studios to talk to master craftsmen. The respect for creativity fostered egalitarian exchanges, a trait Kinne thinks Sandpoint shares as well.
"It's less class-oriented," she said. "You can have two men side by side in jeans and fishermen's sweaters. They may be discussing a topic like wood working. One might be a millionaire, but there would be mutual respect. That's one of the pieces that makes this place work."
In Sandpoint, said Kinne, your plumber could spend his free time painting oil landscapes. Your waitress might be a wildlife photographer.
"People have their jobs, and then they have their other jobs," she said. "Everyone here has a passion."
To make a living in Sandpoint, Kinne worked as a restaurant hostess, sold clothes for Coldwater Creek and taught art classes before establishing a design consulting business. Her home was a travel trailer on 34 acres.
Later, Kinne married a Sandpoint native. The couple now lives in a log home on property that's been in her husband's family for half a century.
"I think Sandpoint Style is already in place," Kinne said. "I've just put it into words."
Len Hannaman, a custom home builder, agrees. Many of his customers do want their homes to reflect the area, its sense of culture and history, said Hannaman, owner of North State Industries in Sandpoint.
They like knowing that the rocks in their fireplace came from nearby Lightning Creek, or that their mantel was built with logs from an old cabin in Bonners Ferry, he said. Some of the wood was inscribed in the 1800s.
"My customers absolutely go nuts when they hear that story," Hannaman said.
Local journalism is essential.
Give directly to The Spokesman-Review's Northwest Passages community forums series -- which helps to offset the costs of several reporter and editor positions at the newspaper -- by using the easy options below. Gifts processed in this system are not tax deductible, but are predominately used to help meet the local financial requirements needed to receive national matching-grant funds.
Subscribe now to get breaking news alerts in your email inbox
Get breaking news delivered to your inbox as it happens.
---